Seriously, is there any candy that is better than Easter Candy?  I think the candy that hits the stores for Easter Baskets is some of the best candy available.  Yes, I still believe it is pathetic how over-commercialized Easter is, and how much it detracts from what our focus should be during Resurrection Sunday.
But good grief, I am a failure when it comes to resisting Cadbury Creme Eggs.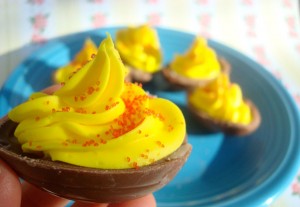 My best friend in high school and I would buy these by the handful, freeze them and consume them for months past Easter.  To this day, I can't see a Cadbury Egg without thinking of her.
Today, I came across what just may be the best collection of recipes ever—13 recipes using Cadbury Creme Eggs!  I don't cook, but I don't know how I'm going to pass up trying these recipes out!
You can find them HERE.  I'll let you know how they turn out……