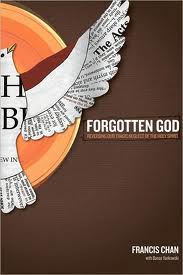 I am teaching Sunday School in the morning for a good friend of mine.  I do so with much trepidation.  Who am I, to attempt to speak on the Holy Spirt, part of the triune God?  I don't even have my Jesus or My God even close to figured out, and now I am tasked with teaching others the theology of the Holy Spirit.
And, it can't be made up,  that right smack in the middle of preparing for Sunday school to teach on the Holy Spirit, I am given the topic to my final paper for my Seminary New Testament Class.  Anyone want to take a guess at the topic???
Yep.  The Holy Spirit and it's role and manifestation of Grace.
In the study prep for Sunday School, as well as the research being done for my paper, I think I have nailed down some solid ideas that at least acknowledges who the Spirit is, although for full comprehension, he is beyond our reach.
But as of yet, my work on this subject has been keenly academic in it's manifestation.  When the Bible says "Love the Lord your God with all your heart, soul, mind and strength, then we must admit two things.  That list is both entertained amongst these elements: (ie the heart, soul mind and strength are all connected by a common thread.)  But that list also can be interpreted as a list of separate concepts….the singular heart……the secured seat of the in your innermost being…….the use of the mind to intellectually and effective come to scripture….and strength in body, to be ready when God calls.
I often joke that I have made it yet to the Holy Spirit to study him, my hands are full with learning about my God and my Jesus.  But the Holy Spirit is MY Holy Spirit as well, seeking a personal relationship with me: Indwelling in me, praying for me, giving me good gifts.
But the Holy Spirit was a gift of God's to us.  Chan writes it so much more precisely than I could, so I'll add his thoughts here:
"WHEN JESUS WAS ON EARTH, HE SAID TO HIS DISCIPLES,"IF YOU THEN, WHO ARE EVIL,KNOW HOW TO GIVE GOOD GIFTS TO YOUR CHILDREN HOW MUCH MORE WILL THE HEAVENLY  FATHER GIVE THE HOLY SPIRIT TO THOSE HWO ASK HIM? (LUKE 10:14)
GOD IS A GOOD FATHER WHO WANTS TO GIVE GOOD GIFS TO HIS CHIDREN.  SOMETIMES I FORGET THIS TRUTH AND BEG AS THOUGH HE NEEDS CONVINCING.  IT'S AS RIDICULOUS AS IF MY KIDS THOUGHT THEY NEEDED TO BEG ME TO HUG  THEM.  IT DELIGHTS MY HEART TO HUG THEM.
Whew.  These are helpful thoughts, but they also cause me to wonder to what degree do I allow the spirit to control my life.  I wonder if there ever were any other Biblical characters that were just as blasted stubborn as I am.
Turning back to the topic at hand:  All I know to do, is to do the things I know to do and to study well to be prepared to teach.  To wake up in the morning and ask God for mercy.  To ask God for mercy now before I fall asleep.  And that my God will teach me about the Spirit, because there is much I do not know, and there is much that is unknowable until we get to go home.