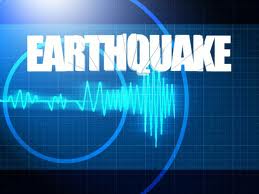 As most of you know, except for my friends in other countries-and you may have even heard by now–we had an earthquake today in Virginia.  This is the third earthquake I have experienced; this one being much tamer than the jolts and shaking I've felt on the islands of Hawaii.
But this small earthquake (we did have to evacuate for a bit) has me remembering that much larger earthquake in Hawaii.  The only way I can explain that earthquake is that one could "hear" it approaching as the lava rocks that form our islands rattled against each other.  The sound was unreal, as though the very rocks were crying out.
And I guess, one day they just might.
Because once when Jesus was rebuked and told to keep his rejoicing and praising disciples quiet,  Jesus' answer was:
40 He answered, "I tell you, if these were silent, the very stones would cry out." 
So, if Jesus' followers were silent, the very stones would cry out.  They would cry out.  But what about me?  Am I willing to praise God publicly?  I struggle to do so even privately!  How shaken all would be, to hear the rocks cry out!!
But let's think about that word "shaken".  Due to some health issues compounded by some anxiety issues, I have slight tremors in both of my hands and feet.  Sometimes those tremors are so pronounced that they encompass my entire arm.  Other times it is barely noticeable, except to me.  It's often embarrassing, like at work when I go to hand a patient a pen to write a check with.  Or when I have to hand a doctor a letter to sign.  Or when I am helping to lead worship and am holding a mic.  It's humiliating, it's humbling.
One of my medication seems to help, but does not erase the tremors completely.  It's like being in a constant state of unsettledness.  A constant state of panic lying just under the surface.
I have been shaken by life as well.  Many of my readers know what that is like.  Many of you are living a personal nightmare.  Someone you love dearly has died.  Your business has failed.  You are sick with cancer.  Your child has shoplifted.  Your husband has been sent to prison.  Your child has been hurt deeply.  Your finances are turned upside down.  And so many, many other things that are too sacred to even mention here.
So, my friends, you know what it is like to be shaken.
I'm a bit shook tonight, a bit unsettled.  But I'm using this opportunity to write in this very quiet room.  I'm using this opportunity to preach to myself this passage:
Psalm 62:5-8
 5 For God alone, O my soul, wait in silence,  for my hope is from him. 
6 He only is my rock and my salvation,  my fortress; I shall not be shaken. 
7 On God rests my salvation and my glory;  my mighty rock, my refuge is God. 
8 Trust in him at all times, O people;
pour out your heart before him;   God is a refuge for us.   Selah 
For God alone….o my soul, o my soul.  For God alone, o my soul wait in silence.  Wait in silence. Why are we waiting?  Because our hope comes from God.  He is my rock.  Salvation.  Fortress.
I shall not be shaken.  Even when I am shaking, even when I am trembling with fear in the middle of the night, I shall not be shaken.
Trust Him at all times.  All Times.
We certainly did not trust the building we were in when the earthquake started swaying it back and forth.  We evacuated everyone out of there, quickly.  It took faith to trust that the building was safe for some of the people to enter back in.  Some did not trust it, and they got in their cars and left.  It was a matter of trust.
And it's a matter of trust with God as well.  A matter of faith.
Pour out your heart to Him. When you pour something, it comes flowing out, interrupted only by a blockage or some sort.  Maybe the "pourer" stops pouring.  Or maybe something stands in the way, like a dam.  But this verse says to pour out your heart to Him.  There is a certain amount of courage that takes.  I know that well.  My soul knows it well.
God is a refuge.  A place of safety.  O how I need to sense that this is true tonight, God.  Please grant me the peace that you are my refuge—a very present help in time of need.  Be my help in this very moment.   Please be peace to me.