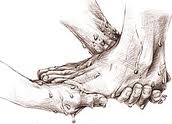 During dinner tonight, I tried to explain to the kids what Maundy Thursday is all about.  We know Good Friday as the day Christ was crucified, and we know Resurrection Sunday, but I wasn't sure how much they understood Maundy Thursday.  As you can expect, with a house full of teens, the discussion was lively—at times very serious, at other times quite hysterical.  I think Jesus doesn't mind that.
But in explaining to them that Jesus washed his disciples feet, my soul set aside my thoughts to flesh out here where I do my best work-in writing.  Because I don't fully understand Maundy Thursday myself.  And I long for my kids to understand it, thus I have to wrestle with it myself in order to be on a firmer foundation when teaching them during our dinner lessons and conversations.
My feet are ugly.  I have fingers for toes, they are so long.  I'm tough on my feet, they take a beating daily.  They are not pretty, demure feet.  They are flat from the years in Hawaii wearing nothing but flip-flops.  My toes are knobby.  My feet are ugly.
I tried to imagine what it must have been like to be a disciple, having him wash my feet.  In reading John 13th, I am struck by Jesus' answer to Peter's question:
6 He came to Simon Peter, who said to him, "Lord, do you wash my feet?" 7 Jesus answered him, "What I am doing you do not understand now, but afterward you will understand."
This wasn't some mystical occurrence.  It wasn't even a tremendous gift of Jesus to his disciples (although, gift it was).  It wasn't some new ordinance to be practiced alongside baptism, and the Lord's Supper.  In fact, Wayne Grudem (author of Systematic Theology) advocates several reasons as to why foot washing was not intended to be a new ordinance or regularly practiced ceremony that are too lengthy to explore here.
What's beautiful is that Jesus acted out of love for his disciples, and then, just as he promised Peter, he explained his actions so that they would understand.
Read Christ's words post foot-washing:
12 When he had washed their feet and put on his outer garments and resumed his place, he said to them, "Do you understand what I have done to you? 13 You call me Teacher and Lord, and you are right, for so I am. 14 If I then, your Lord and Teacher, have washed your feet, you also ought to wash one another's feet. 15 For I have given you an example, that you also should do just as I have done to you. 16 Truly, truly, I say to you, a servant is not greater than his master, nor is a messenger greater than the one who sent him. 
Jesus, as master and teacher and Lord humbled himself to wash the disciples feet out of servanthood and love.  He did this as an example, that the disciples should humble themselves to serve one another as well.  Washing the dusty feet of house guests was the job of the servant, and yet this Teacher and Lord became a servant to man, washing their feet, healing their illnesses, teaching and loving them, then dying on the cross for their sins–the ultimate sacrifice and humbling and servanthood.
I still have much to learn.  I fail so often.  But tonight I am reminded that my Jesus washed the feet of his disciples out of love and servanthood, and He washed me clean out of love, servanthood, forgiveness of sins, death on a cross, and resurrection that gives me hope both for now and for the day when I can go home.