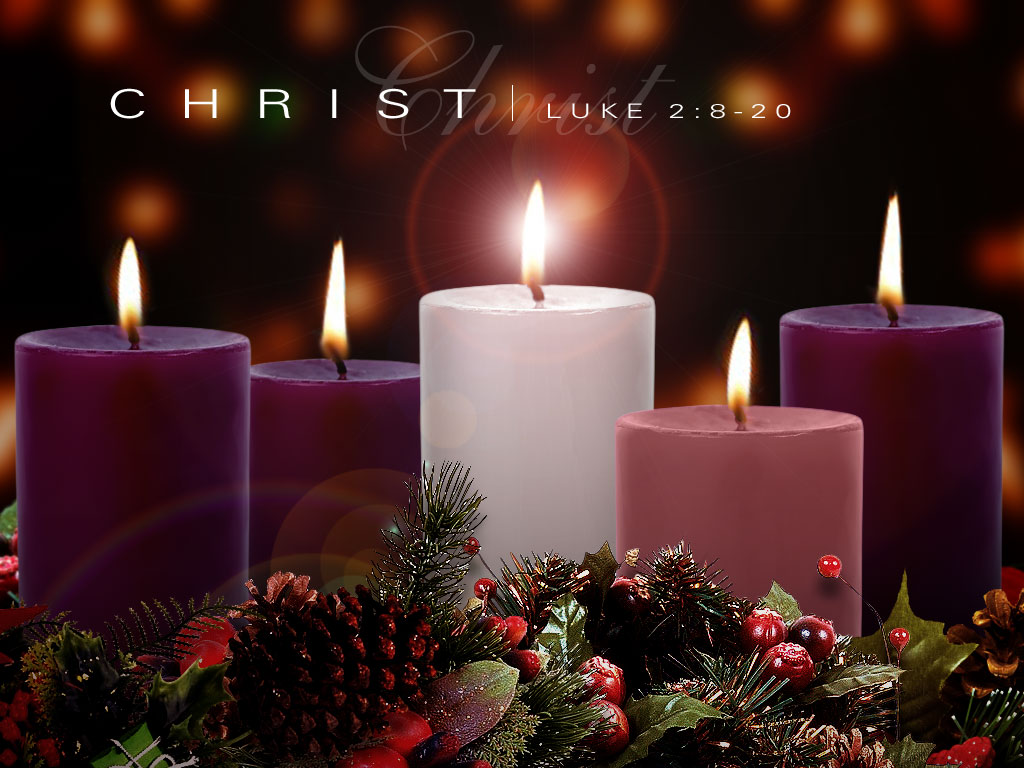 1 Comfort, comfort my people, says your God. 
2 Speak tenderly to Jerusalem, 
and cry to her 
that her warfare is ended, 
that her iniquity is pardoned, 
that she has received from the LORD's hand 
double for all her sins. 
3 A voice cries:
"In the wilderness prepare the way of the LORD;
make straight in the desert a highway for our God.
4 Every valley shall be lifted up,
and every mountain and hill be made low;
the uneven ground shall become level,
and the rough places a plain.
5 And the glory of the LORD shall be revealed,
and all flesh shall see it together,
for the mouth of the LORD has spoken."
Advent is a season of anticipation, of expectation of the arrival of the Messiah, Jesus Christ. On this first Sunday of Advent, we read that God says "Comfort, comfort my people".  Israel had persistently sinned against God.  Judgement was coming in the form of captivity in Babylon.  And yet, in spite of this their hardened hearts and their sinful ways, God still loved them.  He still desired for their souls to turn to Him.  This brief, beautiful verse has God the Father, the one who has to enact judgement because He is a just and righteous God, still reaching out and pursuing the children of Israel, instructing the prophet Isaiah to "Comfort my people."  Notice, He still refers to them as His people.  He has not abandoned them.  He still calls them His own.
———————————————————————————————————————————————————–
Verse 2 starts out with gentle wooing and pursuing from our God.  He instructs the prophets to speak tenderly to Jerusalem.  What an amazing picture!  When we are hurting, what do we desire?  We desire that someone speak tenderly to us.  Not harshly, as we might even deserve, but tenderly and with compassion.  That is what God is wanting done here.  He is wanting to comfort his people and speak tenderly to them, giving them hope that war has ended!  Her sin has been forgiven!  These are words of comfort, tender words of hope!
———————————————————————————————————————————————————–
But even with this hope, God knows there most be more.  He has a coming plan for the forgiveness of the sins of the people through the ultimate sacrifice of His only son, Jesus.  And we see in verses 3-4 a beginning prophecy of the coming Messiah.  Verse 3 hearkens unto John the Baptist, who was sent to prepare the way for the Messiah.  We see this fulfilled in Matthew 3:1-3:
3:1 In those days John the Baptist came preaching in the wilderness of Judea,2 "Repent, for the kingdom of heaven is at hand."
3 For this is he who was spoken of by the prophet Isaiah when he said, 
"The voice of one crying in the wilderness: 'Prepare the way of the Lord; make his paths straight.' "
Verse 5 brings it all together.  For in verse five we find out that the glory of the LORD will be revealed, not just to the remnant of Israel.  No, this is a revealing to all people, "all flesh shall see it together", including you!  Including me!  How is this so?  How can that be, so many, many years later?  Because this glory is to be revealed in God's son, Jesus Christ.  We see this in John 1:14:
And the Word became flesh and dwelt among us, and we have seen his glory, glory as of the only Son from the Father, full of grace and truth.
Do you seek comfort this Christmas season? Is your soul in need of comfort? Are you hurting? Rest assured that God sees and knows, even if it doesn't seem like it. Even if it seems you can not sense His presence. He is there. I know this.  I know this well.  He seeks to comfort you, to speak tenderly to you.  Christmas can be a very hard time for some.  Amidst the festivities and parties, there can be grief, loneliness, stress, sadness.  These are things that I honestly struggle with during the holidays, for I wish so many things were very different for my family.  Maybe you do too.  Maybe in your mind, you know that the season calls for joy, yet your soul is heavy.  Seek His comfort.  Seek out his tender words to you in scripture.  Know that this God who seeks to comfort you, sent His son in the form of a baby, to be the Savior of the world, and to be the Savior of your soul.
———————————————————————————————————————————————————-
On this first Sunday of Advent, I pray comfort for you my friends.  Comfort of knowing Jesus as your Savior.  Comfort of knowing that He sees and knows and wishes to speak tenderly to you.  Comfort in the joy of God so loving you and I, that He sent His only Son, that whoever believes in Him shall not perish, but have eternal life.
———————————————————————————————————————————————————–
Celebrate this season with a child-like anticipation; a child-like wonder at the baby, our Savior, wrapped in cloths, lying in the manger.
———————————————————————————————————————————————————–
Don't miss the anticipation of Christ and wonder of His love during this advent season.