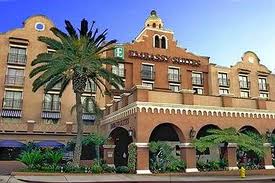 Wow.  I've not written on here in over a week.  Certainly  not because I don't have anything on my mind—I have LOTS on my mind, probably more than usual, if that's even possible.
No,  I've been crazy busy with work and preparation to go on a work trip.  Last week I put in 12-13 hour days, and had much to do to get the kids ready for me to be gone.
I'm writing this to you from the top floor of the Embassy Suites, right across from LAX. See the picture above.  I love airports, so I love to look out my window and see the planes coming and going, and all the lights.  The noise doesn't bother me at all.
And I'm laying on my bed with no fewer than 7 of some of the softest pillows on earth.
And this place makes made-to-order omelettes for breakfast.  I love breakfast.
And my room came with a bathrobe.  I love bathrobes.
I feel very, very spoiled.
But trust me, I'm working hard.  These meetings are important as we prepare for another meeting in GA in two weeks.  So we are all under the time crunch.
And, of course, I miss my crew.
But, I thought I'd let you know that what has been true all of my life–that I have somehow completely missed out on the quality of being graceful–continues to be truth. Yep.
I can just hear my mom saying now from heaven, "Good Gracious, child, we can't take you anywhere!"
So, let's see, where do I begin?
The trip started out great.  Made it Newport News Airport thanks to some friends, the Gough's, from church.  I was a bit early, so I sat and waited.
THAT was my first mistake.  You see, several several months ago, I went to see my kid's choir concert at the Middle School.  If you've not had the pleasure of sitting in that auditorium, thank your good Lord in heaven.  Those seats–wooden, mishapen–well, let's just say that SOMEHOW I acquired an injury sitting in those seats on my okole (tailbone for you haole's).  If I'm not careful, it flares up and hurts like the dickens.  Well, Newport News Airport isn't exactly the seat of luxery–literally.  Their seats at the gate are, yep, wooden.  Not thinking, I sat in them for at least 45 minutes.  When I stood up, I knew I was in trouble.  Deep trouble.  Yep Yep Yep.  My poor Okole.  And I knew it would hurt the rest of the day.
The first flight was fine.  A bit over an hour.  I made it through Delta Hell (otherwise known as ATLanta Airport) with no problems.  I boarded my next five hour flight, to find I easily had the worst seat in the house.
I found myself, and my sore tailbone, squished between a really big guy and an Asian who wanted to argue with me about my backpack.  I never put my backpack in overhead bins.  It always goes under the seat in front of me.  I want to be able to get my stuff.  He didn't want it there.  I insisted.  He didn't want it there.  I insisted.  I won, because a lady asked him to change seats with her.  YES!  Score one for me!
The entertainment option screen in front of my chair wouldn't work.  At all.  It kept bumping back to the beginning of my program.  So I tried to watch out of the corner of my eye (not very stealthily) the guy's screen next to me.  I don't think he appreciated it.  The screen tilts.  He tilted it away from me.  Fine.
The lady sitting next to me was across from her mother.  Her mother was so sweet, but I believe there must have been a bit of dementia or Alzheimer's involved.  She asked her daughter the same questions dozens of times.  Dozens.  Her daughter, very sweet herself, patiently answered her mother, for the first 4 hours or so.  But that last hour, well, let's just say that her patience was running a bit thin.  We were all tired by then and new the answers to the questions of where they were going, why they were going, and several other questions.
And then, it happened.  Not having entertainment, and not really having room to read a book comfortably, I found myself getting sleepy.  I tilted my chair back.  Ahhhh, it provided some relief for my Okole.  But.  Then.  I.  Nodded.  Off…….with my head falling squarely on the large guy next to me who didn't want me to see his screen in the first place.  Nice.  I've got skills.  I apologized greatly.  He was gracious…….but not so gracious when it happened a second time.  Nope.  He grunted.  Yep.  He actually grunted.  After that I got my book out and forced myself to read to stay away, even though it was uncomfortable holding my elbows in, trying not to touch anyone.
But, my friends, it doesn't end there.
I was doing great today at the meeting.  Met the COO.  Got my paper work turned in.  Contributed to the meeting, actually got a lot of work done this morning before the meeting began.  Ate a great breakfast….I was on a roll.  Until.
Yep.  It happened.
As one of my colleagues and I were leaving so that he could give me a ride back to the hotel (he lives in the area), I managed to trip, and promptly tumble down a fairly long flight of stairs.  Now, if you saw the Oscars last night, you saw the Actress that GRACEFULLY tripped walking up to the stage to receive her award.  This was NOTHING like that.  At all.
So, here I sit, with my bruised, swollen ankle and rug burned knee and elbow.  Pouting.  Why couldn't God have given me more grace.  I mean, he's given me SO much grace–I'm talking about getting just a teaspoon of the physical kind of grace.
Oh well.
There are 4 more days to go at this meeting.  What worse could happen??
I soooooo shouldn't have asked that question.