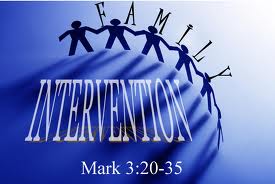 Maybe it's just the mood I'm in tonight.
But I'm looking to be argumentative.  Looking for a debate.
The more I read and listen to scripture, particularly contextually, the more I both embrace and at the same time find myself completely mystified by sections of it.  Tonight I am mystefied.
Mark 3:20-35 is one of those passages that I just. don't. get.  I read the commentaries, I read the words, but they go beyond the expected. It's like this…..I get comfortable with a characteristic or an attribute of my Jesus, and then He does or says something that turns everything on my board upside down.  This is one of those occasions.
I don't have time nor energy tonight to address the entire passage, but will point out the highlights and some conclusions I've come to in my study of this passage earlier today.  Here is the passage:
20 Then he went home, and the crowd gathered again, so that they could not even eat. 21 And when his family heard it, they went out to seize him, for they were saying, "He is out of his mind." 
 22 And the scribes who came down from Jerusalem were saying, "He is possessed by Beelzebul," and "by the prince of demons he casts out the demons." 23 And he called them to him and said to them in parables, "How can Satan cast out Satan? 24 If a kingdom is divided against itself, that kingdom cannot stand. 25 And if a house is divided against itself, that house will not be able to stand. 26 And if Satan has risen up against himself and is divided, he cannot stand, but is coming to an end. 27 But no one can enter a strong man's house and plunder his goods, unless he first binds the strong man. Then indeed he may plunder his house. 
28 "Truly, I say to you, all sins will be forgiven the children of man, and whatever blasphemies they utter, 29 but whoever blasphemes against the Holy Spirit never has forgiveness, but is guilty of an eternal sin"— 30 for they were saying, "He has an unclean spirit." 
 31 And his mother and his brothers came, and standing outside they sent to him and called him. 32 And a crowd was sitting around him, and they said to him, "Your mother and your brothers are outside, seeking you." 33 And he answered them, "Who are my mother and my brothers?" 34 And looking about at those who sat around him, he said, "Here are my mother and my brothers! 35 For whoever does the will of God, he is my brother and sister and mother." 
I think that I love it, that his family is saying that Jesus is "out of his mind."  I'm not sure why I love it, but I do.  Maybe because they echo sometimes what my sentiment is toward the things that Jesus does—he's out of his mind!  Like when he sent the demons into the pigs who promptly threw themselves off of the cliff, destroying livestock and livelihood.  Out of His mind!  I can see him eating with sinners and tax collectors–no problem there.  But when he gets angry and cleans out the temple?  That's hard to imagine-to picture in my mind.  "He's out of His mind."
But I've come to the conclusion that it's not really that He's out of His mind, as it is that we will never really understand His mind.  There are things that are revealed to us now that we need to know and to understand.  There are things that are not revealed to us now because we are not ready to understand them.  It is not time.  My inquisitive mind wants it to be time; my impatient mind must wait and trust that God knows best when to reveal to me what I need to know and when.
But then let's jump ahead to verse 31, where Jesus' mother and brothers are standing outside and call to him.  The crowd tells Jesus "Hey, your mom and brothers are outside looking for you."  And instead of going to them, he answers so strangely:  "Who are my mother and my brothers?"  And then he looks around at the crowd and says "Here are my mothers and brothers, for whoever does the will of God is my mother, my sister, my brother."
My first instinct is to wonder if this is being disrrespectful to his earthly mother and brothers who have come to seek him out.  I want to say to Jesus "Just get up and go see what they want, or what they are worried about!"  But he doesn't do that.  Maybe He knows why they are there.  Maybe they are there because they are afraid He has lost his mind.  I don't know.
The commentary I looked in had this to say (and I paraphrase):  Jesus, without severing his earthly family in these moments, drew a wider picture of the messianic community of faith as the "core family of God" that essentially takes precedence over one's earthly family.  That's a lot to chew on.  Family is important.  I love my crew with all my heart.  And I don't think that God is saying to place the church above my family.
But how interesting is it, that He says that "Whoever does the will of God is my brother, my sister and my mother."  What must it been like, sitting there in this small circle or crowd, and to hear God refer to you as his sister?  His brother?  His mother?  And I wonder how Jesus' family reacted to those terms being used.  For, in the spiritual realm which is ultimately the only one that matters, Jesus' earthly family was also a part of His spiritual family.  For example, I am Keli's mother–always will be.  But I am also her sister through Christ–always will be.
So God widens our definition of family–stretching it almost beyond what our minds can comprehend.  Almost, but not quite.  We get it.  We get it.  And we need to act like we get it, as we are out living this life in this world, and in our churches.
Interesting, I started out wanting to argue and debate.  I've ended up by being grateful that I am a part of a spiritual family that loves me far greater than my earthly family ever will.  These are deep thoughts.
Deep thoughts for Spring Forward Saturday, that's for sure.