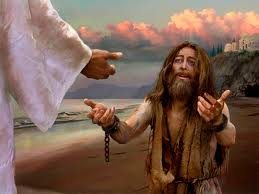 Yesterday, a dangerous person committed a heinous attack on Boston.  One that created fear and chaos.
And the reality of living in this world that is not our home, is that it is full of dangerous people.  Now, labeling a person as dangerous is a pretty broad label.  In my mind, it can extend from the terrorists who attacked on 9/11, to the person in a local church who seems bent on dividing that church in any way possible.  Maybe that spectrum is too large; I don't know.  But what I do know, is that dangerous people are very real, and they do create fear and chaos.  Oftentimes, unexpected; other times we can predict it and see it coming.
I had the strangest reaction the night of 9/11.  I don't remember particularly being afraid during the day–angry, sad, shocked–but not fearful, despite the myriad of rumors that were flying around the nation.  However, even though I don't remember feeling fear, I insisted that night that we sleep with every single light on in the house, except for the lights in the kid's bedrooms.  And so we did.  We lived in a huge house at that point in our life, sort of in the middle of some woods.  And our house was probably the only house on the street that was lit up like that–even in the garage.
Now why on earth did I react that way?  Having those lights on didn't change anything.  It didn't make us any safer.  In fact, we were already safe.  But there was something about the light dispelling any hint of darkness that allowed my mind to eventually fall asleep.  And still to this day,  when I am awakened by a nightmare, on will go the lights, to try to dispel the darkness and the heaviness of the air surrounding me.
I know a pastor who is currently preaching a series sermon on fear.  You can see his first sermon here, based on Mark 4.  It was an excellent, important sermon and I wrote a response to it here.
This past Sunday, the next topic in the series on fear was "Fear of Dangerous People", based on Mark 5:1-20.  The sermon hasn't been posted yet, but when and if they do post it, I'll provide a link here.
But I am amazed at the timing of this subject matter.  For the very next day after this passage was to be addressed, we experienced the horror of the bombings at the Boston Marathon, committed by a dangerous person or a group of dangerous people.
So I took a look at the passage.  It's a fairly familiar story.  If you've not read it (even if you have), I would suggest that you do so.  You can find the passage HERE.  Jesus arrives at the country of the Garasenes.  And immediately after he steps off of the boat, He is met by a dangerous man.  A man with an unclean spirit.  The only explanation I can come up with for that phrase ("unclean spirit") is that Satan or a demon had a hold of his soul.  Now I do not know what I think about demons, and I'll not pontificate on that here.  All I'll say is that this was clearly a dangerous man.  How do we know that?  Take a look at verse 4:
for he had often been bound with shackles and chains, but he wrenched the chains apart, and he broke the shackles in pieces. No one had the strength to subdue him
Sounds like a dangerous man to me!  And he was living among the tombs.  Think of how fearful the Garasenes must have been of him.  Obviously they had, several times, tried to bound him with chains, only for the man to get loose again.  He was a terror upon that society.
In verse 6, it reads:
6 And when he saw Jesus from afar, he ran and fell down before him.
What I find interesting about this is that this dangerous man, when he saw Jesus, instead of running away from Him (which seems like the logically thing to do for one who is dangerous and demon-possessed), he ran TO Jesus and fell down before Him.  I'm still chewing on this idea, so I don't have much to say about it, other than to point it out to you and let you chew on it as well.  🙂
Here the story turns strange.  The dangerous man begs Jesus to leave him alone.  Jesus asks what the name of the spirit is, to which the reply is Legion, meaning "many".  This spirit then begs Jesus to send them into a herd of pigs instead of being sent out of the country.  Now this was no ordinary herd of pigs.  This was a herd of pigs numbering 2,000!!  I grew up in Iowa.  I've seen lots of herds of pigs.  But never before have I seen a herd of pigs numbering that many!
Jesus gave the spirits the permission to do so, they entered the pigs, and then all 2000 of the pigs rushed down a cliff and drowned in the sea.  What a strange, strange story this is!
Obviously, watching all of this disturbed the pig herdsmen.  They rushed to tell others what had happened.  A crowd gathered, and sure enough, there was the previously dangerous man, sitting there in his right mind.  Sane.  Healed.  Safe.
And you know what?   This terrified the people of the region.  How could this be?  They were used to this man being dangerous, living among the tombs, and now he was in his right mind?  And 2000 pigs had plunged into the sea?  And instantly they became terrified of Jesus.  They instantly began to see Jesus as a dangerous man, because of the power of God that He possessed.  And they begged Him to leave their area.  Their fear overtook them.  Their panic overtook them.  And they sent away the one person who could heal all of their souls.  They sent away Jesus, out of fear that He was a dangerous man.
Jesus left, but not before the healed man begged to go with Him.  But Jesus didn't allow it; instead, he told the man to tell others what the Lord had done for him.  And that's exactly what he did.
But what are we to take away from this story?  Especially in light of the tragic events of yesterday?  I look forward to hearing the next sermon in the series, because I'm curious as to what this pastor has come up with in terms as an answer to this question.  But in my own study, this is the conclusion I have come to.  This world is not our home.  We are passing through.  And in this land that we are passing through, there are dangerous people.  There have been dangerous people close to me in my own life–terribly dangerous people.  How do we reconcile the evil and the fear that these people illicit?
We recognize and acknowledge that evil exists.  How many times in the Old Testament are we told that Israel and many kings of Israel and Judah did what was evil in the sight of the Lord?  Look at Herod, who wanted baby Jesus killed, thus killing all the babies around Jesus' age.  Pure evil.  And today, the news is full of stories of evil.  Your own life may have been touched by someone's evil behavior.  We cannot pretend  that it is not there.  We cannot pretend that it doesn't happen.
We need to recognize that God cannot and does not abide evil.  Look at this passage in Psalm 5:4-6, it clearly speaks for itself:
4  For you are not a God who delights in wickedness;
5  The boastful shall not stand before your eyes;
6  You destroy those who speak lies;
the Lord abhors the bloodthirsty and deceitful man.
We need to recognize that God has the power to overcome evil in this world, as he did for this insane man in the Gerasenes.  Why does He allow evil in the first place?  I don't know.  What I do know is that I can choose to drive my own self crazy asking that question, or I can take the hard step of trust and believe and acknowledge that God sees, knows and is not surprised–and is in control.  Some days I can do this–take this step of trust.  Other days I am plagued, so very plagued, by the problem of evil, that I can easily slip into irrational fear and depression.  But what I do know is that my God is a God of steadfast love, and He will not forsake me, even in the face of evil.
This may be the hardest point of all.  I know it is for me.  God can change a person's soul that is full of evil, into a soul that belongs to Him.  How do we know this?  Because we have evidence of it right here in this story in Matthew 5.  But also because we are the evidence–if you are a believer and a follower of Christ, He has destroyed the evil in your soul that was there before you repented of your sins.  And He continues to destroy the evil that would like to gain a foothold in your life, as long as we continue to go to Him and confess to Him.  But what is hard to swallow, is recognizing and acknowledging that God has the power–and the desire–to change even the most evil of souls.  Even the souls of the person or people involved in yesterday's attacks.  I know that's a very hard pill for me to swallow.  Maybe it is for you, as well.
I was looking over someone's book wish list on Amazon, and a book caught my eye that shocked me.  It is titled Dark Journey: Deep Grace–Jeffrey Dahmer's Story of Faith.  And I thought–Jeffrey Dahmer??  Faith??  Grace??  Isn't this the man who is one of the most notorious serial killers in history?  Too intrigued over the idea that a man who created as heinous crimes as those could come to a place of faith in God, I've purchased a copy and am waiting for it to arrive.
But then I look at my own life.  My crimes against God are heinous as well.  I have defamed His name in so many ways.  Yet He offered me Deep Grace–so deep that I cannot even fathom the depths.  He gave His son for my horrific acts of sin.  Why should I–why should you-be surprised that He can do so with dangerous people as well?  Earthly justice must still be meted out.  And the day of heavenly judgement–for all of us–will come.  But God's forgiveness and grace truly is an ocean, and we are all sinking.