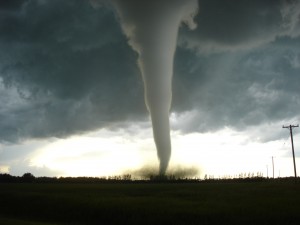 Well.
If you live in Seaford, where I live, we had a bit of excitement and worry last night.
I had just finished working for the day, when I picked up the phone, expecting there to be a Severe Thunderstorm alert on it from my Weather Channel application because the weather was stormy.  I was in for a shock.  York county was under a tornado warning!  Of all things!
My first thought was that York county covers a lot of area, so the chances of the severe weather coming to Seaford were slim to none.  Until I turned on TV.  And saw the storm on radar.  And saw that signature "hook" that helps define a tornado.  And saw it was headed right toward Seaford Road.  And therefore, right toward us.  Great.  Just Great.
Having lived in the Midwest, I've weathered many a tornado warning.  I've actually seen only one actual tornado while driving across Iowa.  I've been in many severe thunderstorms with the threat of tornadic activity.
But after the events in Oklahoma this week, this tornado warning took on an edge of severity.  Especially as the meteorologist started calling out street names all around our street–street names we are very familiar with.  It was coming for us.
As I stood at my open door watching the swirling clouds and praying, I found myself in awe of what was going on above me.  The magnitude of the power of the storm, the unpredictability of it, and the darkness of the atmosphere was so much like what we call "storms" in our lives.
It's no wonder we refer to the dark times in our lives as "storms".  Their power is beyond us.  There is great unpredictability involved.  And the darkness can seem so thick, it could be sliced with a knife.  I have known such storms.  And you have, too.
As I stood at the door watching the storm pass above us—I fluctuated between seeking shelter in our bathtub, watching the meteorologist on TV as he excitedly gave us the rundown on the position of the storm, and staying rooted where I was, unable to move in any direction–just watching the eerie sky and world outside.
And isn't that like us sometimes?  When in a storm, we don't know what to do.  We become flummoxed.  Do we get caught up in analyzing the situation like the meteorologist?  Do we become paralyzed and only able to stare disoriented-ly at the chaos around us, or do we run for the nearest shelter from the storm.
While standing there, a verse from Psalms came to my mind.  I couldn't remember where it was found, but found it after we were safe.  It's a verse that speaks directly to this situation, and it's found in Psalm 57:1:
Psalm 57:1 Be merciful to me, O God, be merciful to me, 
for in you my soul takes refuge; 
in the shadow of your wings I will take refuge, 
till the storms of destruction pass by.
Does this not just say exactly the right words, when we are in a storm of our life?  God calls us to Him for refuge.  And we should cry out to him, like this verse does.  I don't imagine the Psalmist passively and quietly saying "Be merciful to me, O God."  No!  I imagine he cried out to God with all that was in him—Be Merciful To Me, O God, Be Merciful to Me!
And then the author of this Psalm, who is allowing us to look over his shoulder as he "writes" this, speaks truth.  "For in you my soul takes refuge."  Yes, sometimes we need physical refuge.  After Jack's arrest, my family and I needed physical refuge–a safe place to hide.  But more important than that is our soul—and only in God can our souls take refuge.
I love the definition of "shelter"–a protection or shelter from danger or trouble.  The next part of the verse—"in the shadow of your wings I will take refuge"—brings to mind the picture of a soaring bird, who gathers his fledglings under his wings for protection from the prey that would devour and eat them.
How long does our soul take refuge?  How long do we sit under the shadow of His wings?  Until the storms of destruction pass by.  And, my friends, that can take a very long time when storm after storm batters our souls and we become weary.  We must hang on.  We must remain in the refuge of our God, our Father, who gathers us to Him for protection.
How do we do that practically?  Through prayer, through pleading honestly with your Father God.  Through staying in scripture and studying His Word, letting those words seep into the fiber of our souls.  Because it is when we do this, that we find true refuge.
Last night, the tornadic storm passed us by.  It slowly lost it's power as it headed out to see.  Things calmed down, a hush settled outside as the rain subsided.  There was peace.  And generally, when we look back on the storms of our lives, we can see that God also grants times of peace.  Times of being settled.
My friends, let's remember to run to God for shelter–only He can provide refuge for our souls when we are in dire trouble and affliction; when the storm seems like it will never subside.
And let's remember to pray for those in Moore, Oklahoma who are living in a storm right now of facing rebuilding their lives and mourning the loss of loved ones.  May they find refuge in our Father's arms.