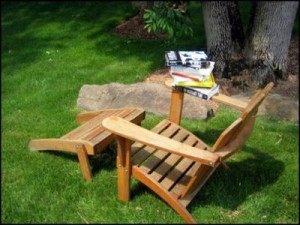 Summer is here, and it's time to decide on my Summer Reading Plan.  As I've done in the past, I'm sharing it with you, in hopes that you'll find a book that piques your interest.  You can click on the pictures of the books and it will take you to their Amazon page.  Also, I'd love to hear what you are planning to read this summer!
1.  And the Mountains Echoed by Khaled Hosseini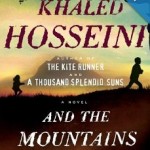 I have already started reading this, and am pretty absorbed in it.  It's written by the same author as The Kite Runner and A Thousand Splendid Suns.  Here's the Amazon description:
Khaled Hosseini, the #1 New York Times–bestselling author of The Kite Runner and A Thousand Splendid Suns, has written a new novel about how we love, how we take care of one another, and how the choices we make resonate through generations. In this tale revolving around not just parents and children but brothers and sisters, cousins and caretakers, Hosseini explores the many ways in which families nurture, wound, betray, honor, and sacrifice for one another; and how often we are surprised by the actions of those closest to us, at the times that matter most. Following its characters and the ramifications of their lives and choices and loves around the globe—from Kabul to Paris to San Francisco to the Greek island of Tinos—the story expands gradually outward, becoming more emotionally complex and powerful with each turning page.
2.  Faithful God:  An Exposition of the Book of Ruth by Sinclair Ferguson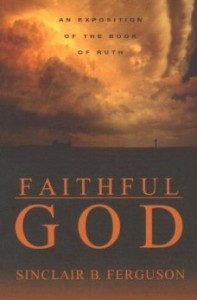 I've always wondered if there is more to the book of Ruth then what I see at first glance.  This books suggests that there is much more, and that in fact, it teaches us about Jesus.  I've only skimmed the book of Ruth, but I know the "story".  I'm looking forward to looking deeper into this small book of the Bible.
3.  Weakness is the Way:  Life with Christ Our Strength by J.I. Packer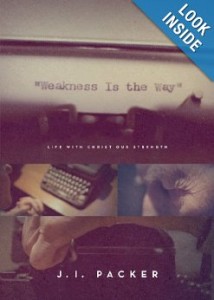 Amazon Description:
For Christians, weakness should be a way of life. Yet most of us try desperately to be sufficient on our own, and we resent our limitations and our needs.
Renowned theologian and Bible teacher J. I. Packer reflects on his experience of weakness—having been hit by a bread truck at a young age and now facing the realities of aging—in order to teach us the importance of embracing our own frailty, and also to help us look to Christ for strength, affirmation, and contentment. Find here a path from discouragement to freedom in light of our all-sufficient God.
4.  Stom Kings:  The Untold History of America's First Tornado Chasers by Lee Sandlin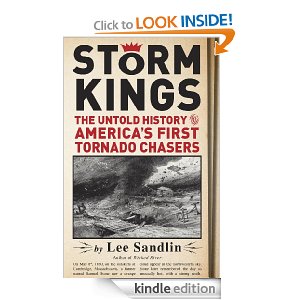 I "borrowed" this book from Dr. Al Mohler's summer reading list.  I've always been fascinated by storms, and this looked like it would be just quirky enough to be my "off the beaten path" book for the summer.  Here's a review:
"Storm Kings is not merely a theoretical or data-driven history of tornados and meteorology. Using his skills as a brilliant storyteller, Lee Sandlin places the reader in the middle of a storm, where he becomes an eyewitness to the helplessness, fear, destruction, and psychological aftermath of tornados. . . . Lee Sandlin uses the old song about "ghost riders in the sky" as a metaphor for today's amateur storm chasers who continue in the tradition of James Espy and John Park Finley. Professionals and amateurs alike continue their quest—thundering onward across the endless skies. . . . The author takes us along for the ride. Readers will definitely feel its gale force."
—New York Journal of Books
5.  Rhythms of Grace: How the Church's Worship Tells the Story of the Gospel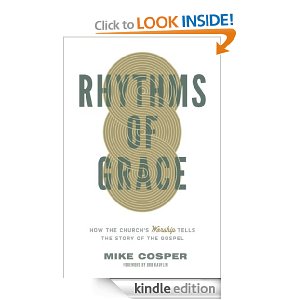 Since joining a new Sunday School class that is loosely centered around studying Worship, I've become more interested in Worship as a spiritual discipline and a means to share the Gospel.  That's exactly what this book sets out to convey.  I'm also surveying it to see if it would be a good book to study with a small group.
6.  7 Men and the Secret of Their Greatness by Eric Metaxas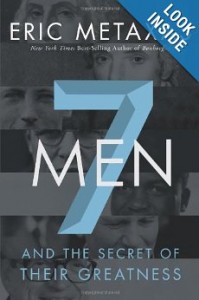 I've read so many really great reviews on this book.  It examines the lives of 7 men: George Washington, William Wilberforce, Eric Liddell, Dietrich Bonhoeffer, Jackie Robinson, John Paul II, and Charles Colson.  Much to be learned from each of these men–I'm looking forward to this being my (sort-of) biography for the summer.
7.  The Mystery of the Holy Spirit by R.C. Sproul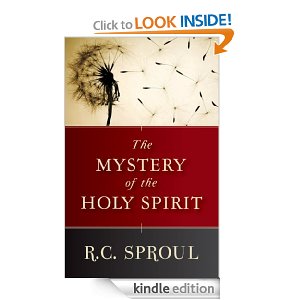 This book I'm actually forcing myself to read.  I've come to terms with God being God and Jesus being Jesus, but I am totally mystified by the Holy Spirit.  I understand that the Spirit is part of the Trinity, but I certainly don't understand trinity and I don't understand the Holy Spirit.  I'm hoping this will help shed some light on the many questions I have about this subject or "person".
8.  The Insanity of God by Nik Ripken and Gregg Lewis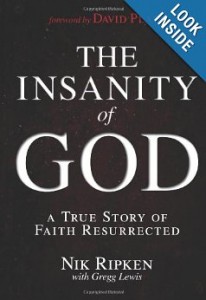 Amazon description:  The Insanity of God is the personal and lifelong journey of an ordinary couple from rural Kentucky who thought they were going on just your ordinary missionary pilgrimage, but discovered it would be anything but. After spending over six hard years doing relief work in Somalia, and experiencing life where it looked like God had turned away completely and He was clueless about the tragedies of life, the couple had a crisis of faith and left Africa asking God, "Does the gospel work anywhere when it is really a hard place?  It sure didn't work in Somalia.
How does faith survive, let alone flourish in a place like the Middle East? How can Good truly overcome such evil? How do you maintain hope when all is darkness around you? How can we say "greater is He that is in me than he that is in the world" when it may not be visibly true in that place at that time? How does anyone live an abundant, victorious Christian life in our world's toughest places? Can Christianity even work outside of Western, dressed-up, ordered nations? If so, how?
9.  Engaging with God:  A Biblical Theory of Worship by David Peterson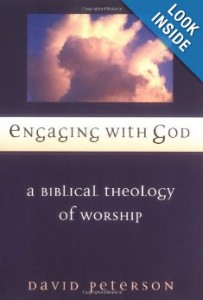 Another Worship book, but this one draws me to it because of the author's exploration of worship in both the Old and New Testaments:
Through careful exegesis in both Old and New Testaments, David Peterson unveils the total life-orientation of worship that is found in Scripture. Rather than determining for ourselves how we should worship, we, his people, are called to engage with God on the terms he proposes and in the way he alone makes possible.
10.  The Silver Star: A Novel by Jeanette Walls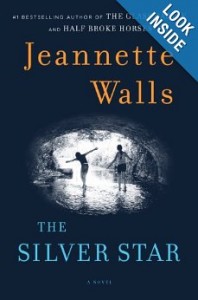 A mindless book to end the summer with.  I've read some of her other books; she's a good author who can tell a good story.