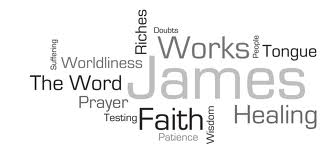 Last night, I had the honor and privilege of getting to teach our ladies Bible Study at church.  This summer we are studying James.
I was so excited, so nervous, so ready, so not ready.
This would be my first time to truly interact with a group of people at church beyond sitting in the balcony and participating in choir and Worship Team Ministry, since my ex-husband was arrested.  I've gone to no social events.  I've avoided the red room, the foyer, and the middle of the gym.  This was going to be a big step, because there was no place to hide.  But I was ready.  For the most part.
I prepared and prepared.  I studied the scriptures, I used my Logos, I bought a beast of a commentary.  I put a lot of time into studying.  I wanted to be beyond well-prepared.  I wanted to do a good job.  I wanted to make God "proud".
But none of that happened.  No, instead God showed up and schooled me.
In the midst of those two hours, I learned that James very well could have been an unbeliever.  There was enough evidence that showed that Jesus' mother and brothers (where was Joseph???) thought Jesus might be mad.  They may have even been embarassed by him.  And yet in 1 Corinthians 15:7, we are told that Jesus appeared to James.  But no more details than that.  At all.  What was said?  What was James' reaction?  Why did Jesus appear to James alone instead of all his brothers at that point?  What did Jesus say?  I want to know, but like we saw last night, it may just be none of our business.  It may have been a very intimate, personal moment between Jesus and his half-brother.  This is not-nothing.
There is so much more to what came out of studying last night.  So much more.  When we were finished, I was overwhelmed.  Exhausted.  I slept better last night than I've slept in weeks, even oversleeping and not waking up until 7:10–a crazy thing for me who is nearly always out of bed by 5:00am.
I realize now how guilty I was in not first asking God to "show Himself" last night above and beyond my preparation, but I'm so thankful that He did.  So thankful.
Yes, I was totally schooled last night.  And so much the better for it.