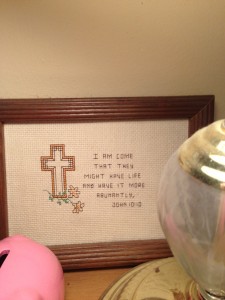 I don't have very many things that belonged to my mother.
I used to have her Bible, but somewhere, somehow I lost it.  That was disheartening.  I have a couple of ceramic angels that she used to collect, and then I have the cross-stitched picture shown above, that I keep on my desk. (Don't mind the dust on my lamp, please).
If anybody remembers the early 80's, you might remember that cross-stitching was a big deal.  Seemed like mom was forever cross-stitching something.  I tried my hand at it, and being a "impatient, un-crafty" person, I never did finish any projects that I started.  Crafts just are not my thing.  (You should have seen the year I was in charge of crafts for VBS–talk about disaster!)
Anyway, somehow in all our moves and loads to Goodwill through the years, I've managed to hang on to this small picture.  It really reminded me of mom, and I liked the thought that her hands made something that I now treasure because it came from her.
But I also treasure it for a completely different reason.  I want you to look REALLY CLOSELY at the picture.  Go on–get real close and read the Bible verse, but remember you are going to ignore the dust.
Ok, did you see the mistake?
The verse is John 10:10b which says:
I came that they may have life and have it abundantly.
This is straight from Jesus–these are His words.  The first part of the verse, if you click on the link above, says "The thief comes to kill, still and destroy."  But not the Messiah–no, His was not a mission to overthrow the Roman government the way many people hoped that He would.  But His mission was to give life—and not just life, but abundant life.  Life given to us through His death on the cross for our sins and His resurrection 3 days later.
But if you were able to look close enough at the picture–some of you may have needed your reading glasses–you would have been able to tell that my mother misspelled the word "abundantly".  She forgot the "d".
Now that I'm a follower of Christ, I treasure this little square piece of fabric even more, for it's mistake–the missing "d".  Because it reminds me of something that I need to be reminded of often.
Yes, my Jesus came to give me–and you–abundant life.  And I do have abundant life.  But while we are here on this earth–that abundant life is not going to be perfect.  No, in the midst of the joy and laughter there will also be trials and suffering and temptations.  Just because I'm a follower of Christ does not mean that my life will now be perfect–far from it, in fact.  We are told to expect these things.  Take a look at James 1:2—
Count it all joy, my brothers, when you meet trials of various kinds, 3 for you know that the testing of your faith produces steadfastness.
Practical James, the half brother of Jesus, tells us to count it as joy "when" we meet trials of various kinds.  Not "if", but "when".  That word "when" is a game changer.  It means we will have trials in this abundant life.  Our lives will not be perfect as followers of Christ.  Remember, the "d" is missing from my picture!!  It's an imperfect abundance here on this earth.
But that imperfect abundance here on this earth will change into perfect and holy abundance when Jesus returns or He takes us Home to be with Him.  Life is short my friends.
But what do we do in the meantime?  We try to follow James' words–count it all joy.  Why?  Because we KNOW that the testing of our faith produces steadfastness.  Steadfastness in our soul.  Steadfastness in our minds.  Steadfastness in our faith.  Steadfastness that is only there because we know His steadfast love toward us.
And every day as I work throughout the day at my computer, I'm grateful for my mother and her missing "d" in "abundantly", because it helps to put life into perspective and reminds me to count it all joy as the trials do their work to produce steadfastness in my life.