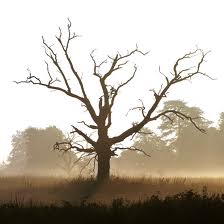 It's HOT.  And it's getting ready to storm.
And it's been quite a day.
I had to drive to Chesapeake for a Doctor's appointment, in a vehicle that I'm borrowing that does not have air conditioning.  It was a hot ride there.  And then on the way home, right before I entered the Hampton Roads Bridge Tunnel, a young girl rear-ended me.  Fortunately I saw her coming in my side-vew mirror and realized she was going to fast and was going to hit me (traffic was stopped at the time-the typical HRBT backup).  Yep….she hit me.  But I was able to minimize some of the damage by steering quickly to the side and letting off of the brake a little.
It wasn't a bad collision at all.  It could have been much worse, obviously, if traffic was actually flowing  We pulled to the side of the road and I got out only to find one incredibly hysterical young lady who was crying so hard she was hyperventilating.  I couldn't imagine that she'd been hurt, and once I got her calmed down, I was relieved to find out she had not been hurt.  It was her first wreck, and she was quite upset, but the damage was minimal.  After exchanging information and making sure she was calmed down enough to drive, I helped her pull back out into traffic and continued on my long, hot drive home.
When I got home, I was not just thirsty, I was parched.  I think I put down two complete bottles of water in under a minute, and my thirst was still not slaked.
I spent the rest of the day in this hot house, taking notes from teleconferences and alternating between pouring sweat and drinking tons of water.  I just couldn't get enough water today.
I felt like the tree across Seaford Road.  We had a derecho (a bad wind storm??) come through Yorktown a week or so ago.  While we stood outside watching the trees whip and snap back and forth, we heard a large crack and then the sound of a huge tree coming down.  But we didn't find it until the next day.  It was on the cemetery property near our home.  The humongous towering evergreen had snapped in half and came tumbling down.  It's still laying there today.  But I noticed something different about it as I drove past it earlier.  It's turned completely brown already.  Cut off from the source of water and nutrients, it has died and turned brown and brittle.  One match would cause a huge bonfire.
Those are two very long stories to say this………sometimes I am that snapped off tree.  Dry, brittle, parched.  Stick a match to me and I'll go up in flames.  I thirst, but water won't satisfy this thirst.  No, my soul is looking for something so much more.  Either circumstances that I have created for myself through sin and rebellion, or circumstances that life has thrown at me has left me dry and brittle.
Psalm 143 is one of the many Psalms that cry out for mercy.  That admits to God the thirsting longing of our souls.  Read with me:
give ear to my pleas for mercy! In your faithfulness answer me, in your righteousness! 
2 Enter not into judgment with your servant, for no one living is righteous before you. 
3 For the enemy has pursued my soul; he has crushed my life to the ground; 
he has made me sit in darkness like those long dead. 4 Therefore my spirit faints within me; 
my heart within me is appalled. 5 I remember the days of old; 
I meditate on all that you have done; I ponder the work of your hands. 
6 I stretch out my hands to you; my soul thirsts for you like a parched land. Selah 
7 Answer me quickly, O Lord! My spirit fails! 
Hide not your face from me, lest I be like those who go down to the pit. 
8 Let me hear in the morning of your steadfast love, for in you I trust. 
Make me know the way I should go, for to you I lift up my soul. 
If ever there was a "thirsty" Psalm, this sure personifies it.  The Psalmist starts out talking about the enemy's pursuit of His soul and how his spirit faints within him.  He remembers the days of old, when God showed His mighty hand–he meditates on all that God has done before. And then there it is, right in the middle in verse 6:
I stretch out my hands to you; my soul thirsts for you like a parched land.
Can you hear the anguish of his cry?  His soul is dry.  He feels the enemy breathing down his back.  He knows of God's mighty works before, but the psalmist needs God to rescue him now with living water–and quickly, for his spirit fails.  He begs God to not hide His face from him.  And then he settles…..in verse 8……
"Let me hear in the morning of your steadfast love, for in you I trust."  All this thirst and parched land, all this crying out to God in misery ends in a quiet settledness that only God can provide.  "For in you I trust."  and "Make me know the way I should go, for to you I lift up my soul"—the thirsty, dry soul.
This is me.  This is you.  This is all of us.  We find ourselves in a parched place that only God ca bring relief to.  Will we cry out to him for mercy, or will we rebel like in Psalm 68:6:
God settles the solitary in a home; he leads out the prisoners to prosperity, 
but the rebellious dwell in a parched land. 
The rebellious dwell in a parched land….a land that is never receiving of thirst quenching living water.  My soul is rebellious by nature, but I certainly do not want to live there.  At all.
As I sit here, I hear distant thunder.  We are under a severe thunderstorm watch.  I hope the rain pours down, cooling the air, cooling my house that is at 82 degrees right now.  But all of that is superficial compared to the hope that my God will have mercy on my parched soul and grant me the living water of His word tonight as I sit in this house all alone–Just God, me and Biscuit (and a couple of lizards and two fish that have had about 50 babies that they are slowly eating).
Father God, only you can slake the thirst of our souls.  We remember the days of old, we recall your ways.  We are asking for your outpouring of cool living water once again in our dry, dusty lives.  You are the God of all comfort.  Only in you will we trust in the midst of our parched conditions.  Come quickly Lord.