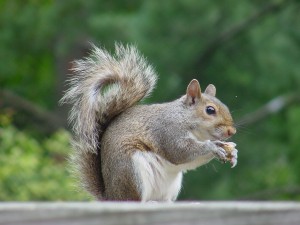 I hit a squirrel on Thursday.
Nailed it; dead as could be.
I really had no choice.  There was a car behind me so I couldn't slam on my breaks.  There were cars in the other lane, so I couldn't swerve around him, and there was very little shoulder on the right hand side of the car.  With a sickening "thud" I knew I had got him.  And all of my crew, at one time, said "MOM!!!!  You just killed a poor squirrel!!"
The saddest part about it, is the poor little guy didn't know what to do, or which direction to go.  In the middle of the road he hesitated and two or three times went back and forth, unsure of which direction would get him to safety the quickest.  But from my vantage point I could clearly see, had he run straight across the road without hesitation and turning to and fro, he would have made it.
Last night I watched "Chariots of Fire".  I had never seen it before.  I grew interested in it because I read a chapter about Eric Liddell, one of the main characters in the movie, in a book I am reading by Eric Metaxas. (The book is titled 7 Men)  Liddell was a shoe-in to win the 100 in the Olympics.  However, because his heat was on Sunday, he refused to run, because he held to the premise that Sunday was the Sabbath and therefore no work or play should be done on the day set aside to honor God and to rest.  This greatly disturbed many people–the Olympic committee, the British Olympic committee, his school (Cambridge) and his fans.  But Liddell never hesitated for one moment.
Because he would not be running in the 100, they placed him in the 400 which is a completely different run race with a totally different technique.  All were sure the sprinter would run out of energy before reaching the 400 mark.  To make matters worse, Liddell had the outside lane.  This put him at a disadvantage because he would not be able to see the other runners very well in order to judge his pace and his place in the race.
When the shot rang out and Liddell took off, he shocked the world by not looking left or right, but sprinting straight down his corridor–faster and faster, finishing first with his iconic posture of head back, mouth wide open and arms flailing.  It was an unforgettable moment in the history of sports.  Not just because he won, but because of his commitment to his faith, and the way in which he ran and won.
What does this mean for me?  What does it mean for you?
I don't know about you, but this certainly isn't the race (meaning life) that I signed up to run.  If I had known the anguish that was coming in my early years, I might not have ever started the race.  And it certainly was not in my race plan to be a single mother of four children with an ex-husband incarcerated for horrific crimes.  It was not in my race plan to have all my dreams shattered by one phone call from the police.  It was not in my race plan to have absolutely no clear view of the future that lays before me.
And yet, that is where I am at.
I had coached myself for years.  Be tough.  Be untouchable.  Use alcohol and other means to dull the pain.  I was a hard, demanding coach.  I expected myself to give everything I had; grit.  Sheer will.  Determination.  Toughness.  Dullness.
In between those years and my husband's arrest, I met God.  In a very real way.  He pursued me, even as I was running fast in the opposite direction.
But so shortly after becoming a believer, my world was shattered again with the arrest and the sudden realization that I was to be a single mom of four kids, with the stigma of having a felon for an ex-husband.  I was broken.
However, as the days and months have passed, I can both identify with that poor squirrel and the amazing Eric Liddell.  I identify with that dead squirrel because so often that is what I am like–instead of running the race as fast as I can on the route laid before me, I hesitate.  I falter.  I go to and fro, allowing old demons pull at me and convince me to stop in the middle of the race, or worse yet, turn around.
But then I identify with Liddell as well.  This is not the race I had planned to run.  At all.  In any way, shape or form.  But it is the race that is set before me.  And honoring God means not looking left or right, but throwing my head back in awe of the God who created me, and running straight forward as fast and as hard as I can, trusting Him that He does have a plan for my life.
This is Biblical.  It is scriptural.  Take a look at Hebrews 12:1-2:
Therefore, since we are surrounded by so great a cloud of witnesses, let us also lay aside every weight, and sin which clings so closely, and let us run with endurance the race that is set before us, looking to Jesus, the founder and perfecter of our faith, who for the joy that was set before him endured the cross, despising the shame, and is seated at the right hand of the throne of God.
Oh, the weights are heavy and I foolishly hesitate to put them down.  The sin does cling so closely, that it is hard work to shed it.  And I'm tired.  And I know you are tired, too.  There are days that I think I do not have the endurance it takes to run this race.  Today happens to be one of those days, as I prepare to leave for a grueling work trip.  However, it IS the race that has been set before me.  And there is a different race that has been set before you.  And looking straight to Jesus–and not to the left or the right–is the way forward.
He is our coach.  Run fast.  Run hard.  Run in full confidence that He knows the course He has set for you and for me.  And He is the founder and the perfecter of our faith.