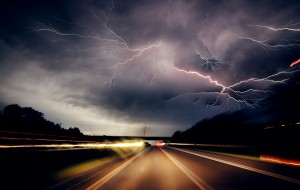 I know I've written a lot about my recent trip to Illinois.  My readers may be tired of listening to these stories.  🙂  This will be my last one (I think).
On the way to Illinois, my route took me through West Virginia.  This is definitely my favorite part of the trip, because of the towering hills and the windy roads.  It's so different from where we currently live, that I thoroughly enjoy the change of scenery.
On this day, however, the clouds hung low and the sky got darker and darker even though it was only about 6:00 or so.  I knew I was headed into a storm.  The hills surrounding me were surreal, with small whiter clouds floating down into the valleys.  It was so beautiful.  But I had this uneasy feeling that the brewing storm was going to be a monster of on.
And I was not wrong.  I drove into it abruptly–running into a curtain of solid rain.  Lightening was flashing all around and the thunder was loud enough to drown out the pounding rain–and hail.  Not big hail, but small peppering pieces of hail on my windshield.  I love a good storm.
But I prefer to weather a storm in my own home, wrapped up in a blanket, safely watching it from inside.  Not driving up and down winding roads that are standing in water and with very little visibility.  I wasn't scared, just perturbed.  It was slowing me down.  It was impeding my progress.  It was holding me back from my goal of making it to Illinois.
As I drove under several overpasses, I noticed cars stopped under them.  I understood the two cars that actually fit underneath the overpass, safe from the storm.  What I didn't understand were the lines of cars on either side of the overpass, sitting in the pouring rain and not moving.  Maybe some of them had poor wipers.  Or maybe they were frightened of the storm.  But each overpass had at least six or seven cars where only two could fit in the dry (which wasn't very dry) area under the overpass.
I've been through a lot of storms in my life.  Both meteorological storms, as well as the storms we encounter just because we live in a fallen world.  In this storm, I knew my goal, I knew my path and I knew that if I kept pushing forward, I would drive out of the storm faster than those who were sitting paralyzed alongside of the road.  I put my cruise on 40mph, the speed that felt safe, had my lights and blinkers on, and steadily moved through the rain, lightening and hail.  Sure enough, within a short while the sky began to lighten up and the rain began to slow.  I eventually pushed my way out of the storm.
We would all do well to remember this during certain storms of our lives.  I know sometimes I pull over to the side of life and sit in the rain, completely paralyzed as to what to do about the storm.  But other times I have looked at the storm and with God's protection and gently pushing hand, I've pushed through the storm and made it to the other side faster than I would have if I had stopped in fear.
It was the same way with my broken ankle.  I knew that after the 8 weeks of no weight bearing, I could choose to push myself hard in physical therapy to get rid of first the walker than the cane, or I could sit paralyzed and make no progress.  I chose to push hard and was able to walk without a limp faster than had I decided to sit.  Yes physical therapy was very painful.  Yes, it was a bit scary to put weight on that foot.  But it had to happen, and sooner was better than later.
So what can we do when the storms of life are raging?  First, we go to God.  Without going to God, we certainly are going to become paralyzed with fear and worry about the storm.  Joshua 1:9 tells us this:
"Have I not commanded you? Be strong and courageous. Do not be frightened, and do not be dismayed, for the Lord your God is with you wherever you go."
After having gone to Him, we keep going.  Keep pushing forward.  One step at a time.  And I'll be honest with you–there are times when it is going to seem like you are never going to reach the other side of the storm.  And honestly, maybe you won't.  But God calls us to put our Faith and trust in Him–for He is with us wherever we go—we just have to go,and not stand still.