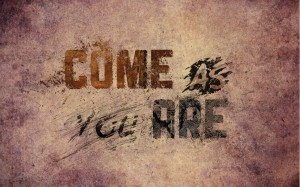 I don't even quite know what to say about the last 24 hours.
I didn't expect to suddenly be awakened at 10:30pm by an acute asthma attack completely out of nowhere.
I didn't expect to spend the entire night in the ER getting fluids, treatments and steroids.
I foolishly–FOOLISHLY– didn't expect to see such a strong presence of God at church this morning.
And I certainly did not expect to be so moved by that and the words of the song I was singing this morning so as to end up losing my composure.
I'm a pretty independent person.  For example, like an idiot I ended up insisting on driving myself to the ER last night at around 11:30.  As the attack worsened instead of letting up, I realized that was a pretty stupid thing to do.  And there is not much that is more humiliating or humbling, than being unable to breathe and having to trust and do all that the doctors and nurses are telling you to do in the moment.
By about 5:00 or somewhere around there, they decided to discharge me, but not until they had put another bag of IV fluid into me…my second bag.  By now I was feeling great–so much better.  So, I decided to be smart (read that as being an idiot).  I decided that I no longer needed any help, and that to speed things up so I could get home sooner, I'd get completely dressed—while still having my IV in.
Yep Yep Yep.
Things were going fairly well.  I was pushing and pulling my IV through the armholes of my gown and my tank shirt without any issues.  But then I got to my sweater that I wore over my tank top.  hmmm.  I started out like before but hit a snag….the armhole was smaller, the sleeve was longer and the more I pushed and pulled, the more I could feel it tugging at the needle in my arm.  Until the inevitable happened.  Yep–yanked the needle out of my arm, tore the tape and made a bloody mess all over my fairly new-to-me sweater that I really liked.  Not only that, but my independence and stubbornness was now going to turn to embarrassment and humiliation as I pushed the call button to call for the nurse.  There I'm standing, IV bag only halfway through my sleeve, my arm bleeding and the needle yanked out.  And she had to help me fix the whole mess–and then insisted on starting ANOTHER IV to get the rest of the fluid in, using the other arm.  That's, of course, after she chastised me.
What's this have to do with Worship this morning?  A lot actually.
I'll admit it, I'm always very leery of evangelists and "revivals", and I have good reason to be.  And I'm not one who tends to accept the "Say this prayer after me" way to salvation, because there is no magic formula that will ever bring you to a personal relationship with Jesus.  But the evangelist/comedian (and he was very funny), spoke plain truth this morning…about life, about sin, about forgiveness, and about heaven, that for once I didn't have that "pit of the stomach" feeling that something wasn't real.  No, this guy was the real deal.
And this was evidenced at the end of the service when 40 plus of my dear friends went to the alter to pray.  No pretense there.  Just real life.  And what struck me most was their complete and very real dependence upon God.  They weren't worried what someone would think about them–they each knew they needed, well, something from God and were willing to humble themselves and kneel together at the alter, imploring God for His salvation and His forgiveness.
I was, unexpectedly, very moved.
And then I had to sing after that.  🙂
And the song I had chosen fit the situation so perfectly that it was overwhelming.  The title was "Come as You Are"—-dependent completely upon God, no pretense.  "Here I am God, with all my broken pieces and shameful  scars."  And I was wrecked.  Wrrecked by seeing these friends humbly committing themselves to God.  Wrecked over my own salvation experience, and wrecked that once again I had to be reminded that I am not as independent as I'd like to think that I am.  No, I need God.  Badly.  Every single day.
So, I blubbered my way through the song—another instance of God humbling me once again.  🙂
I don't know about you, but my dependence on being tough and independent is a sin.  A grievous sin, because God doesn't expect just part of me; no, He expects the whole.  And just like my independence in the ER last night got me into trouble, my independence apart from God gets me in trouble.  Every. Single. Time.  I need Him, oh I need Him.  Every hour I need Him.
So tonight as I face another week, I pray that God will honor each and every person's act of dependence on Him this morning.  I pray that God will show me daily HOW to depend on Him.  And I pray that God will give me the strength to battle the independence within my soul–causing me to humbly approach His throne "Just As I Am".