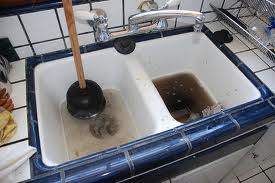 We have a drain in this house that we fight with on a regular basis.
In fact, so much so that I probably should take stock in the Draino company.
It's our kitchen drain……it's slow to drain, gets clogged easily, and all around is just irritating.
When you have a clogged drain, you have to purchase Draino or some other agent to get it unclogged (besides, of course, calling a plumber).  The reason Draino works is because it is caustic.  The harsh chemical eats away at the clog viciously, until the clog disappears.
That's also what happens when we use caustic words.
Caustic words are sinful, arrogant and eat away at relationships.  There is no place for them in any relationship.  Ephesians 4:29 states:
Let no corrupting talk come out of your mouths, but only such as is good for building up, as fits the occasion, that it may give grace to those who hear.
Talk can be corrupt just like drain corrupts a clog.  Harsh, caustic.  This is a command to let no such thing come out of our mouths, or in our writing.  Or even, to take it one step further, in our attitude.  No, instead we are commanded to do the opposite:  build each other up.  Give grace to those who hear.
O, I want to be a person who gives grace to those that hear….or read….my words.
How do I know this?  Because I foolishly and sinfully have been caustic before.  As recently as last night.  And after a restless night of sleep, I am fully aware this morning–through God's discipline–that my words were ugly, sinful and wrong.  I am ashamed.
And should my friend read this blog, I hope they will realize how very, very sorry I am.
Ephesians 4:31-32 reads:
31 Let all bitterness and wrath and anger and clamor and slander be put away from you, along with all malice. 32 Be kind to one another, tenderhearted, forgiving one another, as God in Christ forgave you.
We are to put away from ourselves our bitterness, our wrath and our anger and our clamor and our slander.  Put it away, throw it away. No good comes from it.  Instead, we are told to be kind to one another.  To be tenderhearted toward each other.  And forgive one another, because God, through the giving of his son Jesus Christ as a sacrifice for our sins—including our sins of corrupting talk that eats away at relationships.
God has given me a swift kick–deserved and needed–this morning.  I don't want to be a person whose life has any bitterness, malice or wrath.  Instead, I want my words to build up those around me–my children, my friends, my coworkers, my neighbors.  I fail so often.  I failed horribly last night.  I am thankful for a God who forgives.