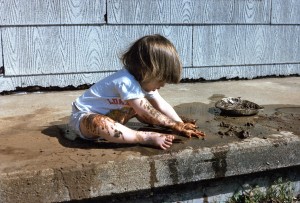 Life is messy.
My life is messy.  Your life is messy.
I'm sitting here, looking at the week ahead and, like I'm sure some of you are, feeling overwhelmed.  The work, the to-do lists, the problems that have to be solved–all of it from this end looks insurmountable.  And yet I know God gives us the grace and the mercy we need to do the things we are called to do in any given week.
But life is messy.
I read a blog post today at The Gospel Coalition that centered around the messiness of life, highlighting a prayer found in 1 Peter 1:3-7:
Blessed be the God and Father of our Lord Jesus Christ! According to his great mercy, he has caused us to be born again to a living hope through the resurrection of Jesus Christ from the dead, 4 to an inheritance that is imperishable, undefiled, and unfading, kept in heaven for you, 5 who by God's power are being guarded through faith for a salvation ready to be revealed in the last time. 6 In this you rejoice, though now for a little while, if necessary, you have been grieved by various trials, 7 so that the tested genuineness of your faith—more precious than gold that perishes though it is tested by fire—may be found to result in praise and glory and honor at the revelation of Jesus Christ.
I've read this verse before, but I don't think I've ever really "read" it until today.  Since this morning, I've been pondering verses 6 and 7 in particular.
I rejoice.  I do rejoice–that my God has granted me salvation.  Sometimes it is hard to believe that He has done so.  What I mean by that is that when I look at my life, both past and present, I don't always see a life worth saving.  In fact, I don't see a life worth saving.  But thank God, He does.  He does!  It's unfathomable at times.  Today is one of those times.
I do rejoice, but I also understand verse six.  For a little while, I have been grieved by various trials.  You have been grieved by various trials.  But what does Peter mean when he says "if necessary"?  Why is it necessary?  Why is it that the messiness of this life, which includes the various trials we are haunted by, be necessary?
We're tired.  I am tired of the messiness.  I like my life to be ordered and disciplined.  I like my life to run smoothly.  Don't you?  I'm tired.
But then we find the answer in verse seven.  These very trials, this very messiness, is a testing of our genuine faith.  And then it goes on to say something I've never thought of before.  My genuine faith is more precious to Jesus than gold.  How can that be?  Who am I, that God would find my faith in Him as precious?  I am nobody; I am nobody and yet the God of the universe thinks me as worthy to be tested for genuine faith, that to Him is precious.  Whew.
Another side to this is that ministry with people and to people is messy.  It is.  It is just messy.  It's wonderful and beautiful and heart-breaking and soul-aching and messy.  And yet Jesus delved into the midst of the people.  He touched their wounds–both the physical and those that could not be seen.  He dwelt in the messiness of life.
The book I'm reading right now is what I consider a must-read for every minister, and even for those not formally in ministry.  Because it focuses on the messiness of life, and how to allow God to minister through us to the deepest needs of people's lives.  And it also forces examination of our own messiness in the context of ministry.  I wrote more about the book in a post the other day, which you can read here.  The name of the book is Sensing Jesus.
O, my friends, my life is messy.  So many of you speak of how strong I am.  I assure you, I am not.  Blessed, yes.  Granted mercy and grace, yes.  But I promise you my life is so unbelievably messy.  Good grief, the mistakes that I make!!  And tonight I am sitting amongst the mess, asking God once again for the strength to wade into the mess in the days to come–where ever He might lead me.  Because I'm tired.  And I can't take another step without Him.
But I know that I have an inheritance that is "imperishable, undefiled and unfading kept in heaven for" me.  And I pray that my life–and yours will result in "praise and glory and honor at the revelation of Jesus Christ."