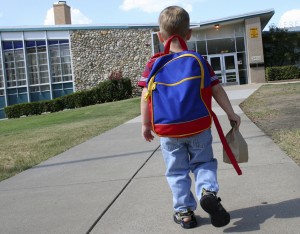 Today is the first day of school.
I've enjoyed looking at everyone's "First Day of School" photos on Facebook.
I've read posts from parents who are missing their kids.  I've read posts from parents who are enjoying the quiet.  I wrote my own post about the folly's of the Duffer Crew heading off to school this morning.
First days are always exciting.  A new beginning.
But really, every day is a "First Day".
And we as parents look back over the years and wonder where the heck did the time go?  We remember their first tooth.  We remember their first steps.  First day of kindergarten.  First broken heart.  First drive by themselves.  First day of a real job.  First day of college.
There is a kind of melancholy nostalgia that these "firsts" will never happen again.
However, I believe that God calls us to look at it a different way.
I love "first days"….First day of the New Year, First day of summer, First day of the school year.  The chance to "start over" or "start afresh".
But do you realize we have that opportunity every single day?  Each day that we awake is a new beginning with our God, with our family, with our friends.  This is something I've had to learn over the past three years.  That God is merciful.  That each day ends and a brand new one begins with the opportunity to spend time alone with God, to love my family even better, to be a friend and church member that serves.  That His mercies truly are new every morning.
But some mornings certainly don't infuse me with a sense of new beginning.  Some mornings I drag myself out of bed, and go through the "routine" of what should never be routine–my time with God.  And I face the day with a sense of dread or of being overwhelmed.  And I feel like I'm on an island, trying to slug out this life on my own.
But I'm not.
The verse that came to mind this morning is Romans 8:38-39:
For I am sure that neither death nor life, nor angels nor rulers, nor things present nor things to come, nor powers, 39 nor height nor depth, nor anything else in all creation, will be able to separate us from the love of God in Christ Jesus our Lord.
Let me highlight something in this verse that is particularly appropriate on this "First Day".  Paul is telling us here several things, but one of them is that the things that are present and the things that are to come, or anything else will never, ever be able to separate us from God's love.
Do you see?
It is a new day.  A new school year.  And there will be wonderful days.  And there will be awful days.  There we be joyous days and there will be hard days.  But no matter what kind of day it is, we can rest assured that the love God has for us will never go away.  Nothing this world throws at us, no sin that is deep as the ocean, no mistakes or failures or successes–none of these will separate us from God's love.
So, my friend.  Take comfort as you wait to hear about your kid's day at school that they, too can not be separated from God's love for them.  Take comfort in His love for you.  And remember that every day is a "First Day".