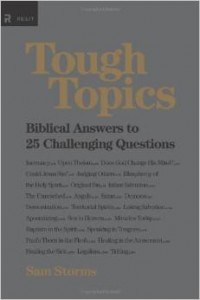 I'm a thinker, by nature. And as I thinker, I often find myself searching for answers to the tough questions. I want to know. And, since becoming a follower of Christ, I now no longer want to know just for knowledge sake, but because I have a deep desire to know the Biblical answers to many of my questions. Tough questions. Questions that, when I find the courage enough to pose them to friends or even to those in ministry, I sometimes receive discouraging results and no answers. Or, worst yet, I receive overused, completely senseless clichés. And I'm left wondering "Am I the only odd duck who ever wonders about these things?"
Author Sam Storms, in writing the book "Tough Topics", has shown that he is not afraid to ask the hard questions. Not only is he not afraid to ask them, he's not afraid to do the research to try to formulate theologically and Scriptural sound answers. And, what I really appreciate, is that he is also not afraid to admit when he doesn't know the clear answer, and he is not afraid to share others views on each subject.
I can usually fly through even the densest books fairly quickly—I read books like I eat chocolate. Voraciously. But this book took me by surprise, because it took me much longer to read then what I anticipated. In fact, I have recently begun to read "War and Peace" (on my bucket list) and I wonder if I'll be finished with that quicker than I completed "Tough Topics" by Storms.
This is a good thing, not a bad thing. Because he made me think for myself. He worded his arguments in such a way that I had to stop and consider the evidence myself. Sometimes I agreed. Other times I disagreed. But in both instances, his writing drive me to exactly where I needed to be–in scripture. Each and every chapter found me searching the scriptures myself–something each theological writer or Biblical preacher should desire from their writings or preaching. We should always, as listeners and readers, be provoked to return to God's word for ourselves, over and over and over again.
So if you are looking for the answers to some tough topics (Could Jesus have sinned? What is blasphemy of the Holy Spirit? Are those who die in infancy saved? Can Christians lose their salvation? and so many more), then I suggest you sample Storms' book. But be prepared to be challenged both mentally and spiritually. Be prepared to do hard work yourself, as you read, ponder, and search out scripture for questions that are not easy to answer but that are valid and often asked by both believers and non-believers alike, even if they are never voiced out loud.