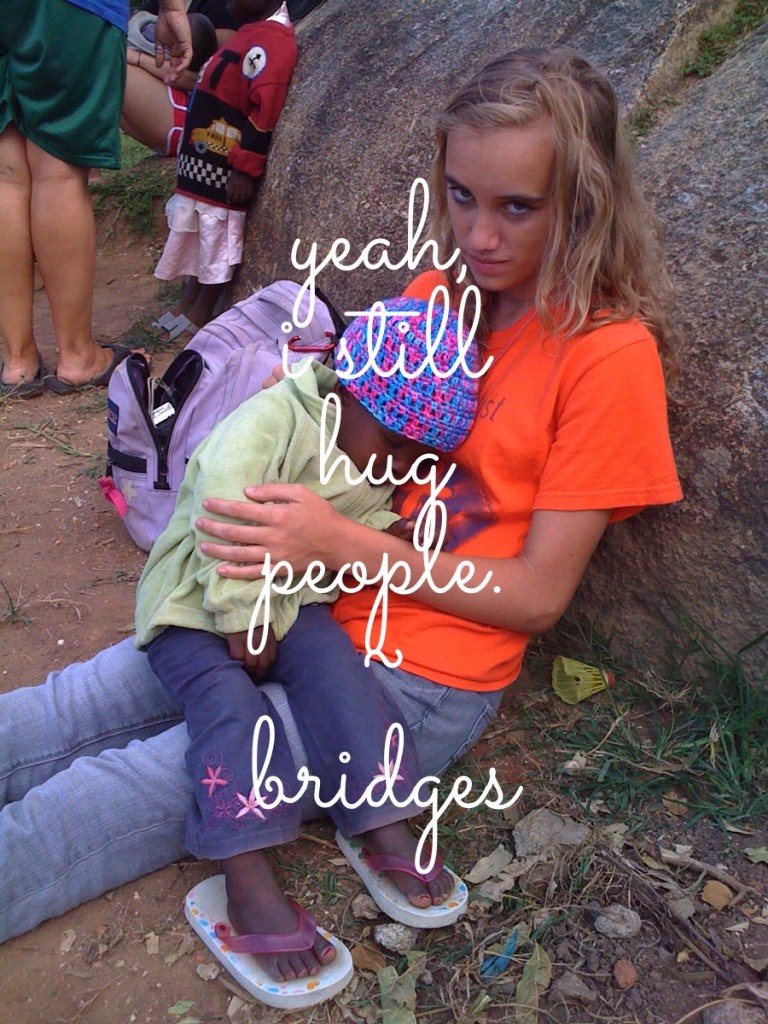 Many, many years ago I was a very young, self-important, straight-out-of-college social worker.  Idealistic yet cynical as well, I thought I had all the answers to the world's social and economic problems.  I had grand visions of "changing people's lives" and "changing the community".  After all, hadn't I just graduated with two degrees, one in psychology and sociology?  And, didn't I have both life experience and social work experience (um, which was in total a 4 month internship)?  I trusted no one but myself, and I was certain that what I was going to do the rest of my life would be earth shattering in the realm of the overly used phrase of "making a difference."
What does "making a difference" even mean, really?
I will never forget my first assignment.  It was an easy one.  One that I thought was "beneath me" at the time because it wasn't a challenge and I thought I was ready for the tough stuff.  I was to visit a family who had a lengthy relationship with the state government assistance program.  How hard could that be?  All I had to do was check on them and introduce myself, because I would be taking over their case eventually.  I grabbed some coloring books we kept in the office to give to the children and, with an air of huge pride, I drove to their home.  My first home visit, on my own.
I'm ashamed to admit that I wasn't shocked by the poverty I encountered in that small, run down trailer home in the rural countryside, though it was intense.  No, that did not faze me.  I wasn't shocked by the food and dishes that had obviously been sitting in the sink (and on the counter and on the table) for quite some time.  I wasn't surprised by the amount of small children running around in various stages of undress, eating candy while the so-called adults mindlessly played video games on an ancient TV and Atari system.
No, none of that wrecked me like it should have.  Instead, I was taken aback at their response to me.  They didn't see me as their "savior" or "rescuer".  They didn't care to read my pamphlets on cleanliness or job skills.  They wanted me out-of-the-way of their TV screen.
I was astounded, but forged ahead. By golly, I was going to prove that I had what it took to do this job and "make a difference".  I was going to have this family in tip-top shape in no time.  And I was going to prove that I was not afraid of "getting my hands dirty" to do so.
I didn't care about them.  I certainly didn't love them.  I cared about my image and proving to the world that I was in control.
In an effort to "prove" myself, I casually sat down on their dirty couch next to the youngest child in the room, who was about 4 or 5.  I started into my spiel on the programs we offered and the parenting classes they could take.  In the midst of my rambling and the video game's beeping, I glanced over at the little girl's hair.  And I saw her scratching her head and picking at something.
Lice.
In condescension and indignation, I asked the mother if she knew her daughter had lice.  She retorted back that of course she knew, they all did, and that they didn't have any money for the lice shampoo, and couldn't I figure out that's why her hair was cut so short?
With an air of contempt, I marched out of the trailer, replying "I'll be right back!"  I climbed into my car and rushed back to town to purchase lice shampoo.
I wish I could say that I did it because of my intense love for this little girl.  Oh, how I wish I could say that.  But that's not the truth.  I wish I could say that I bought that shampoo out of a loving desire to help model appropriate behavior to these parents who so obviously needed that in their lives.
No, I bought that shampoo as a crusading, "look at me" billboard.
But what was about to happen, I couldn't have predicted in a million years.  Because, when I returned back to that home and I got ready to shampoo the little girl's hair and lecture the parents, I hesitated.
I stood at the sink, worried if the lice would jump on me, as that little girl looked at me with curious, huge, dark brown eyes.  She needed me to lovingly and gently wash the lice out of her hair.  She needed me to tell her how beautiful she was while I combed her short hair and picked out the nits.  She needed me to love her.
I didn't want lice.  I didn't want to touch her hair.  But I wanted to make a point.  Ugh.
I grudgingly choked the (now absolutely ridiculous) squeamishness from my mind and followed through in washing her hair, and not with much gentleness or kindness, all the while admonishing the parents.  Did they need admonishing?  Honestly, yes.  Did they need that from me, a stranger, in those moments?  No.  They needed love.  That little girl needed love, not some stranger roughly and hurriedly scrubbing her hair and lecturing her parents in front of her.
She still haunts me.  I still see her deep well-like eyes.
Africa (and now the United States to a much, much minuscule degree in comparison) is facing the crises of Ebola.
I've read a fair amount of articles and opinions on the situation.  Some of what I've read have been scathing opinions aimed at the very people who are sacrificing their health and lives to care for those who are experiencing the living hell of Ebola.  The only two we really know about are the doctor and nurse who, in the care they have given, contracted Ebola themselves. (A third missionary doctor was reported as testing positive for Ebola today in Liberia). Behind and alongside them stand dozens of others who are willingly placing themselves in the battle during these hard days.  While others are rushing out, they are rushing in.  Out of love and obedience.  Doctors, nurses, lab technicians, strategists, pastors, caregivers and others–these are real people who are struggling with real-word, real-tough decisions.  Decisions that I can't even begin to fathom or pretend to know what I would choose.  Do I stay?  Do I go?  Do I touch this person?  Do I eat that food?  Do I comfort that grieving wife, son, mother?  Do I perform that nursing duty?  There are too many factors.  And one of those factors is the call to care.
Yes, there are dozens of questions this entire crises inflames–but to debate those questions is not my place.  At all.  I can't even begin to wrap my mind around those questions, so I'm certainly not qualified to discuss them from my living room.
No, my place is to examine my own soul and to challenge you to examine yours.
What does it mean to love well?  What does "being called to love" look like?  What do these words in 1 John 3:17-18 mean:
But if anyone has the world's goods and sees his brother in need, yet closes his heart against him, how does God's love abide in him? 18 Little children, let us not love in word or talk but in deed and in truth.
Does loving well mean throwing my opinion at a real world need and nothing more?  Or does it mean giving sacrificially and going unreservedly to those who are hurting?  To the old, the fatherless, the sick, the dying, the starving, the hopeless?
To those who need the lice washed out of their hair with loving hands?
I have a long, long way to go in this area–even so many years after standing at the sink washing that little girl's hair.  Even after observing the despair of prostitutes living and working in an inner-city setting of Kansas City.  Even after experiencing deep needs in Kenya 5 years ago.  Even after experiencing first hand tremendous and practical love demonstrated to my own family time and time again.
I have a long ways to go in the very real world need of love in deed and in truth.  I'm so thankful for those who are doing this well, here close to home and around the world.  They are heroes.
I listen to and scan NPR content occasionally.  I'm nerdy like that.  I'd like to share the quote of the day from October 2nd, as reported by Sam Sanders.  These are the words of Wilhelmina Okyne Bridges, a Dallas area nurse.  She had this to say this week:
"I still hug people.  Something gonna kill us.  If not Ebola, something will kill us.  So yeah, I still hug people."
I want to be the kind of person that says "Yeah, I still hug people."
~ Photo of my girl and sweet baby Vivian-taken on our trip to Tumaini in Kenya 5 years ago