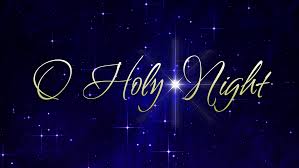 Christmas Eve.
All is calm, all is bright.
Well, ok.  Things aren't exactly calm.  One of my smalls (who really isn't very small anymore) is about to come unglued.  You'd think he was 5 years old again…the anticipation of the coming events of tonight and tomorrow are about to send him over the edge.  He's prancing around the house, checking the clock every few minutes.  He's ironed his shirt for church tonight—yes, you read that right.  I believe he has shaken and re-arranged every present under the tree 7 times, and he can't seem to keep out of the sweets reserved for tonight and tomorrow.
Oh, did I mention he is 16 years old?
The other three aren't far behind him in their giddiness.  They, too, have examined gifts, prepared their outfits, laid claims to who gets to pass out the gifts tomorrow and who gets to go first when we play Heads Up and who gets to read the Christmas Story aloud from scripture tonight.
So, yeah, they are a wee bit excited.
I am too.
Actually, I am looking forward to tonight more than tomorrow.  I love Christmas Eve.  I love helping to lead worship at church at 7 pm, and then returning at 11 pm again.  I love the stillness and sense of anticipation that fills the sanctuary.  I love driving around in between Christmas services to look at the lights.  I love coming back to the house and eating our traditional Christmas Eve meal of cheese, summer sausage and crackers, Sparkling Cider, and Christmas cookies while my crew opens their "Christmas Eve Gift" and we read the Story together before the 11 pm service.
I love the Hope of Christmas Eve.
I love it because the hope doesn't stay as solely hope–lonely, endless, aching.  No, this hope transforms into Hope Fulfilled.
This is because the words from Isaiah in chapter 9, verse 6 are truth:
For to us a child is born,
    to us a son is given;
and the government shall be upon his shoulder,
    and his name shall be called[
Wonderful Counselor, Mighty God,
    Everlasting Father, Prince of Peace
This baby born is:
Wonderful Counselor ~ With wisdom that supersedes any knowledge here on earth.
Mighty God ~ Beyond anything that can truly be comprehended.
Everlasting Father ~ Our true Father, who loves us perfectly, who sees and knows.
Prince of Peace ~ The only solution to the turmoil and heartache of this world and the unsettling of our souls and minds.
Merry Christmas from our family to yours.  May you know Him in all these ways.
May you truly sense His presence.  Real.  Tangible.  Personal.
A Thrill of Hope the Weary World Rejoices