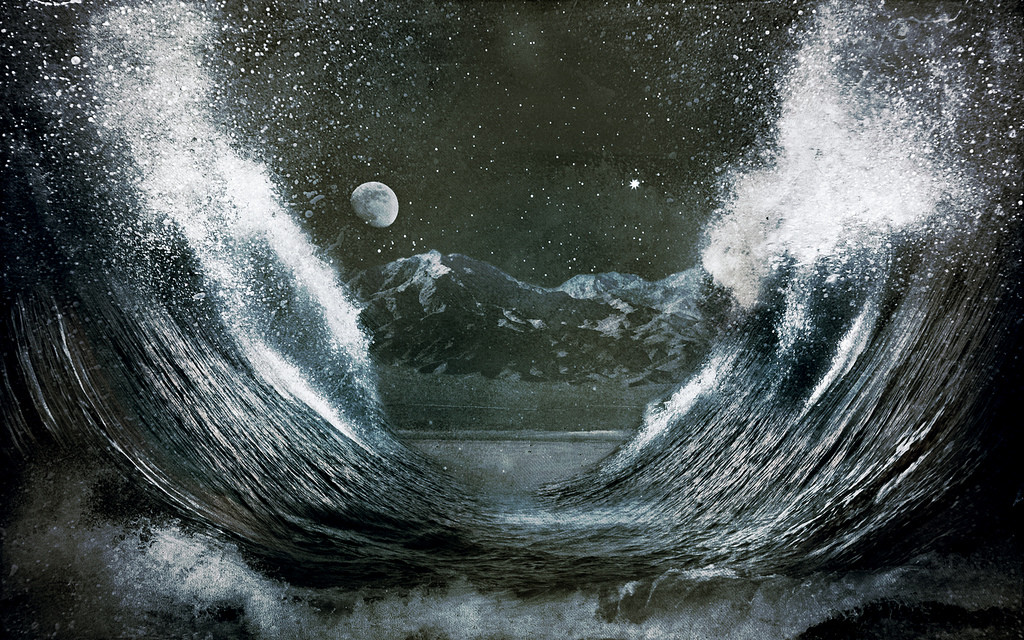 I can't even imagine it, really.
But, then again, I can.
The Israelites had fled.  They had watched as the Egyptians had been tormented by plagues from the hand of God–a consequence of Pharaoh's stubborn refusal to release the children of God, with the last plague resulting in a crushing blow, permanently–or so they thought–defeating their captors and setting them free.
There had to have been some chaos, in the fleeing–chaos in getting such a multitude of people moving in one direction–away from the Egyptians.  But surely there was some hope–hope that they had not experienced in quite some time.  Apprehension, too, I'm sure–fear of the unknown and of the future.  But surely the relief–the hope, was there.  Freedom.  From years of captivity.
But, then, panic.  Shock as the first person who saw the clouds of dust rising from the Egyptian chariots that had been ordered to pursuit the Israelites rose from the earth.  And then panic, as that person told the next person who pointed to the horizon and shouted for the crowd to look and then and then and then–panic.
And fear.
Would God have led them out, only to play some sort of cruel prank on them?  Only to see them slaughtered?  Raised their hopes that they had broken free from their chains of slavery, only to replace those chains with stronger chains of punishment?
Of course they panicked.  And feared.  And despaired.
Don't we?
Obviously, none of us have a raging mad Egyptian army in chariots chasing us, with no where we can run to for escape or to hide.  But we do have things that chase us–things that haunt us.  Things that we think we have defeated, that rear their ugly heads again.
And then we panic.
Sometimes the captor is our wrong ways of thinking.
Or nightmares that threaten to choke us.
But, sometimes it is our own sin that holds us as prisoners.
Sometimes, it is the pull to partake in something that you thought you had defeated.  That you thought had disappeared.  But in a split-second, it is there again, and instead of fighting, instead of running, instead of jumping into the Red Sea and swimming far away until either you get away or you drown, you stand, stare at your captive, and let it overtake you.  You give in to the blasted pull.
And then you panic.
You panic because you have failed.  You panic because once one Egyptian captures you, the rest will also overwhelm.  You panic, because you lose hope.  You panic because the chafe of the chains is too dreadful.
And, you see a multitude of Egyptians.  And you are tempted to give up.  To quit.  To succumb.
I find it interesting though, that Moses' first words in response to the Israelite's cries of panic were not "Run!  Save yourselves! or "Arm yourselves and attack!  or "Hide!", although, really, there was nowhere to run to, no weapons at hand, and no place to hide.  But, still, it seems that would be the first instinct.
No, he says this:
"Fear not, stand firm, and see the salvation of the Lord, which he will work for you today…."
Stand Fast, as in Ephesians 6:14.
Stand Fast, as in 1 Thessalonians 3:8
Stand Fast, as in 1 Corinthians 16:13
Stand Fast, as in Galatians 5:1.
And do not fear.
My soul, this is not easy.  Do not fear?  Stand Firm?  Do not panic?  Do not "submit again to a yoke of slavery"? (Galatians 5:1)
Sometimes, being taken captive again is easier than standing firm and fighting tooth and nail to defeat our enemies, even when that enemy is our very own sin.
But–and, I suppose, here is where the hope lies–we do not fight alone.
Oh, so many times, I fight alone.  I figure "I've got this.  I am strong."  But had the Israelites taken that slant, well, all of history would look so very different.
No, the "salvation of the Lord, which He will work for you today…" only comes when we stand fast and when this happens:
14 The Lord will fight for you, and you have only to be silent."
We have only to be silent-to silence our arrogance.  To silence our self-righteousness.  To silence our independence.  To silence the thought that somehow we have procured our own escape.  That we are safe.
To silence our panic.  Our despair.
To fight, by God fighting for us.
But, we don't just stand there.  We push, into the Red Sea.  We "…go forward", just as God told the Israelites through Moses, in verse 15.  One step after another.  We push forward; we do the work.  We do not slide backwards into despair and give up.
We fight the discouragement and the panic and the failures and the enemy by simultaneously standing fast and moving forward.
God, help us.  Help me.  To stand fast.  To see your salvation.