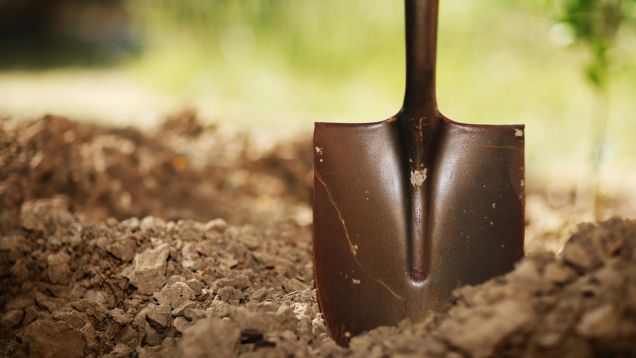 We are stumblers.
We fumble our way through life, tripping over ourselves.
Much of the time, these may seem like small stumbles.  We stub our toe on our sin of arrogance.  We bump our elbow on the sin of self-righteousness.  We trip and skin our knees over our sins of untruthfulness, or gossip, or pride, or greed, or covetousness, or a hundred other sins that mar our relationship with God.  And with others.
And, we repent, and set our faces toward God again.  We pick ourselves up–although, really, is it us who pick ourselves up, or is it God, who picks us up, brushes the dirt off with his forgiveness and mercy and grace, and disciplines us for our disobedience and hard-headed-ness–which stings, sometimes, like Bactine, but is necessary because we are thick-minded–and sets us back on His path?
But what happens when….what happens when it is a bit more than a stumble?
What happens when it is a yawning, gaping hole–a miry pit–that we fall into?
And what happens when it is a familiar pit, that feels a bit like home?  Strangely comfortable.  Oddly soothing.  Maybe not exactly, but a little bit.  Ok, maybe a little more than a little bit.
What do we do, when we stumble and fall not to the ground, but into a snare.  A trap.  A hole.  A cave.  And we are nearly too tired to climb out?
What then?
Because, the cave is not home.  It isn't.  It may look like it; it may "feel" like it is, but it isn't home.
I love the Psalms.  Most of them, anyway.  But sometimes I find them frustrating, because it isn't always clear what the author of the Psalms was thinking.  Or, what the circumstances were, that prompted the writing of the words.  Was it a narrow escape?  Was it a treacherous, dangerous situation?  Was it some amazing experience?  Was it just a bad day?  I want to know more.
And, so many of them plead for deliverance from their enemies.  And, it seems like they had a lot of them.  Well, we know David did (if you count not only Saul, but all of Saul's henchmen).
But what happens when we, ourselves, are our own worst enemies?
We know that, full well.  We all know that we can be, full well.
Psalm 7 is a "Shiggaion".
Used only twice in scripture, it comes from the verb "shagah".
And, according to the dictionary, "shagah" means "to reel about through drink."  That's interesting.
And, according to my Logos software, Shiggaion also means this:  Suggested translations include "frenzied"….. Some think the basic meaning is "to wander" in reference to a wandering style of thought or melody or to the unconnected expressions of a lament.
I'm not sure what all that means, or why it is only used here and in Habakkuk 3 (a very important chapter/prayer to me).  But it is interesting.
Because frenzied wandering can sometimes land one in a pretty dark cave.
Psalm 7 is a cry of David, for deliverance from his enemies.  Again.  Once again.
I suppose, sometimes, we need delivered more than once from our enemies.  Especially when our enemies are ourselves.  Our own sin.
Especially when these words that David wrote about his enemy (Psalm 7:15), could actually be written about ourselves:
He makes a pit, digging it out,
    and falls into the hole that he has made.
We are masters at digging pits.  And falling in.  Or, rather, I am.
And so, we cry out to God, like David called out in the very first verse of Psalm 7:
O Lord my God, in you do I take refuge;
    save me from all my pursuers and deliver me,
2 lest like a lion they tear my soul apart,
    rending it in pieces, with none to deliver.
We yearn for deliverance from all of our enemies, even when the enemy is ourselves.  We fear the tearing apart of our souls by the lion.  The rendering of it to pieces, till there is nothing left except shambles.  At our own doing.
But, really, there isn't much reassurance in Psalm 7.  Like the adjective applied to it implies–the word "Shiggaion"–it is frenzied.  Frantic.  Disjointed. Wandering.
If all we had were Psalm 7, I don't think we would find much assurance that there was hope.  Oh, hope is there in Psalm 7, but not in a settling way.  It is there, but in a frenzied way.
And, sometimes…sometimes we need settled.
And we do find settled in other Psalms, such as these words in Psalm 116, that we cling to with a death grip (or, at least, I do):
These. Must. Be. Truth.
We need our soul delivered from death.  We need our feet delivered from the stumbling that tosses us head-first into the pit that we, ourselves, have dug.
Are digging.  Are in the process of digging.
We need the shovel ripped from our hands.
We need to say to our soul, "Return, to your rest.  Stop your frenzied wandering.  Stop your ceaseless digging of this pit.  God has dealt bountifully with you!!  Return to where you know you belong–to the rest that is God, your only hope."
Oh, to listen.  And act.  And obey.  And to stop digging.  And to walk and not stumble.
Brand, C., Draper, C., England, A., Bond, S., Clendenen, E. R., & Butler, T. C. (Eds.). (2003). Shiggaion. In Holman Illustrated Bible Dictionary (p. 1486). Nashville, TN: Holman Bible Publishers.