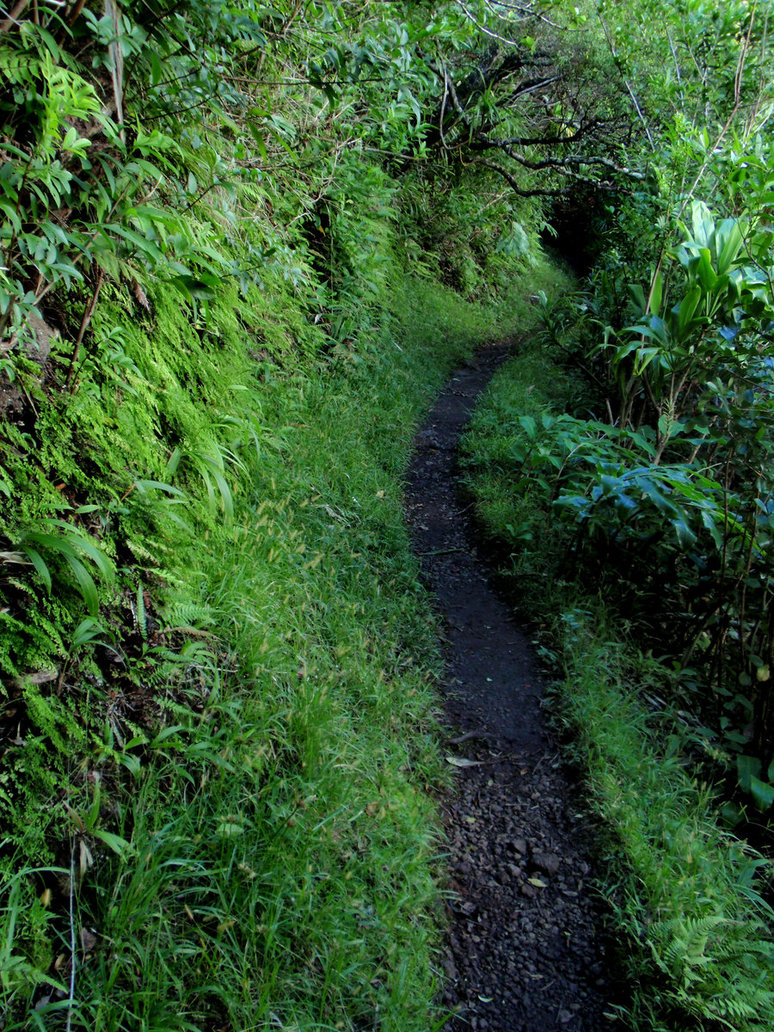 Who rises up for me against the wicked?
    Who stands up for me against evildoers?
17 If the Lord had not been my help,
    my soul would soon have lived in the land of silence.
18 When I thought, "My foot slips,"
    your steadfast love, O Lord, held me up.
19 When the cares of my heart are many,
    your consolations cheer my soul.
Psalm 94:16-19
I think there is not much more frightening, then when my foot begins to slip.
When it can't find purchase, to stand fast.
When I know that standing fast is what I need to do more than anything, and yet…
I feel the ground beneath me starting to give way.
Those–and these–are the times that I am most frightened.
I remember hiking once in Hawaii, with the kids when they were little.
We had decided to hike the Tantalus ridge, which would bring us right along the top of Tantalus volcano, to the very back of the valley we lived in, where we would then take the trail straight down, past Manoa Falls, and the abandoned Paradise Park, and then out again into the Manoa Valley neighborhood.
We enlisted some friends to give us a ride to the look-out where the trail began.  It was a beautiful day.  Blue sky, perfect temperatures.  This was going to be the longest hike that we had taken to-date as a family.  My "smalls" were very young to be doing such a long hike:  Bethany was 5 years old; Mark was six.  My two "bigs" were 8 and 9.  And, of course, we had Biscuit the dog with us.  We were excited–this was going to be a grand adventure.
Except we didn't take one thing into account.
One thing a person notices pretty quickly about Hawaii, especially in the area of Hawaii that we lived in, it is not uncommon at all for the clouds to build up throughout the day, crowning the volcano peaks, and then shedding themselves of their water in the mid to late afternoon.  We often called it "Liquid Sunshine", because many times it would be pouring, yet seem perfectly sunny, too.  The weather was fascinating.
We should have started out earlier in the day, really.  But there was much to do on this "day off", and we kept adding little things to the schedule, so by the time we started down the trailhead, it was mid-afternoon.
And about an hour into our hike, the liquid sunshine began.  It started to rain.
And then it started to pour.
The rain itself wasn't a problem.  We were all used to the rain–one gets very used to the rain, living in Manoa valley.  We trudged along, because really, there was no other choice.  There was nowhere to stop on this trail that hugged the side of the mountain, and was only maybe 2 feet wide.  If that.
So, we kept going.
And the rain kept raining.
And the trail became muddier and muddier and muddier.
After about an hour of this, I knew we were in trouble.  The trail was becoming treacherous.  And it was raining so hard, that we could barely see each other, let alone know where we were at.
And then, without warning, I watched my youngest child take a step, and then slide right off the mountain.
Usually I am not one to panic.  But this time, I did just that.  I completely panicked. And screamed.
In those split seconds, I imagined her falling all the way down to the valley floor.
I dropped to my hands and knees and looked over the edge, fearing I wouldn't see her…but there she was.  Terrified, muddy, crying, but she was there.  She had landed in a tree, just about a 10 inches out of the reach of my hand.
I desperately tried to grasp something–anything–and plant my feet on something solid in hopes that I could reach down and grab her and pull her back up.  But I could not find traction.  The mud was now more water than mud, and I could not get leverage with my feet.  In fact, over and over and over again, they slipped just like her little foot did, and I found that if I wasn't careful, I would pitch over the side as well, and may knock her out of her temporary safe perch on the tree branch below us.
And with each slip of my foot, I panicked just a bit more.
Through the pounding rain, though, my girl's father finally heard me screaming, and he stopped and backtracked to where we were.  He immediately leapt down to–well–something…I can't remember if he actually found ground to stand on at the level she was, or if he landed in the tree next to hers.  Either way, he was able to get enough firm sounding for his feet to be able to plant himself and then convince her to let go of the tree so he could pass her up to my waiting arms.
She was ok.  We were ok.  And after a few minutes rest so her father could climb back onto the trail, and we could gather our wits and calm down a bit, we proceeded on the trail.  In the rain.  And the mud.  But far more cautiously than we had before.
See, here's the thing:  it is terrifying, when we cannot find something solid to stand on.  It is frightening, when we feel our feet slipping, and we don't know how to stop them.
…Whether on a muddy trail on the mountain, or on the perilous trail of life here on earth.
The words in Psalm 94 are not quiet, hushed, meditative words.
At least, I don't think so.
No, I believe that the writer of this Psalms, as he penned these words, was in a panic.  A very real, very horrifying panic.
And, he knows the very real sensation of his foot slipping.
And the writer knows that his only hope, is God.
It is God who rises up against the wicked that surround him.  It is God who stands up in defense and protection of this writer's mind, soul and body.  It is God, and God only, who possesses the very steadfast, solid love necessary for the author to fight for purchase on this muddy thing we call life here on earth.  It is God–when the things of this world threaten to drown out reason and our own steadfast faith–it is God and only God who will not forsake or abandon us (94:14), and it is He who beckons us to the very reality of verse 17–He is our help.
And, He is the consolation that cheers our soul.  He is the very essence of liquid sunshine–the only hope that can break through the choking darkness, much like the sun often breaks through the rain in Manoa Valley, producing the most spectacular rainbows on the face of this planet.
It is, only our God, who can do this.
I don't know about your souls and minds, dear readers, but I know mine, and I recognize the slipping of my mind, and the panic in my soul.  It slips so often, because of so many different things:  lack of spiritual disciplines, choking fear, consuming worry, default cynicism and doubt, loneliness, deep griefs–and so many other things can cause my foot to slip.
But I also know this:  When that intense panic comes, it is to God, my Father, I must run to.
He, and He alone, can take my wavering faith and my slipping soul, and place them on Himself, who is the only true, firm and steady rock.
The Lord is my rock and my fortress and my deliverer, my God, my rock, in whom I take refuge, my shield, and the horn of my salvation, my stronghold.  Psalm 18:2
His steadfast love holds me up.  His consolations fans embers of joy into flames.
He, alone, is my stronghold.