I often file away interesting tidbits that I come across while meandering (um, wasting time) on the internet.  Here are a few things I've come across lately, that I've found interesting or helpful.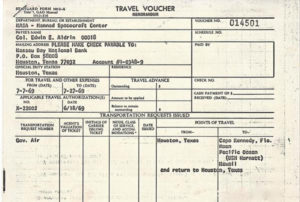 Buzz Aldrin's Expense Report
As a part of my work tasks for my job, I review expense reports before passing them on to our Corporate office.  As such, this week I thoroughly enjoyed reading this article by the folks over at Mental Floss, featuring Astronaut Buzz Aldrin's Expense Report for his trip to the moon.  He expensed $33.31, for that trip.  Love it:  B. Aldrin's Expense Voucher
That John 3:16 Guy
Another interesting read from Mental Floss this week–remember the John 3:16 dude?  The one you'd see at almost every single professional sports event–standing in a prime camera area, waving his John 3:16 sign around?  Here's an article about him, that is both fascinating and sad:  John 3:16 Dude
100 Books to Read, According to Amazon
I actually saw this list posted by a few different online sources—I think I saw it from Time.com, and maybe CNN.com as well.  Here it is, over at RealSimple.com–a list of 100 Books that, according to Amazon, we should all read.  I've not yet had a chance to peruse the entire list, but plan to do so soon, because, um, I love books and I love lists.  I may have to make myself a checklist of this list, and start plowing through them:  100 Books to Read
Delta v. Irma: Delta For the Win!
I love Delta.  I travel for work, and Delta is my airline of choice.  And after reading this article in The Washington Post, about a Delta flight that flew between the outer bands of hurricane Irma–I love them even more.  Take a look:  Delta Skillz