Friday Findings
I'm a curious soul – with a wide range of nerdy and geeky interests, ranging from space exploration to theological concepts.  I often find interesting items when stumbling about on the internet – and on Friday's I like to share my findings with you!
C.S. Lewis and Reading
Two of my favorite subjects.  C.S. Lewis is one of my all-time favorite authors, and reading is one of my all-time favorite activities, so when I came across this article at the Logos blog, I was instantly drawn in. Adam Shaeffer shares thoughts on Lewis' work "An Experiment in Criticism".  Shaeffer does a great job of introducing the thoughts about "reading well" in that book, and in so doing, made me want to pick up "Experiment" again, to re-read.  You can check it out here:  Lewis on Reading
Speaking of "reading well", you may also want to look into Karen Swallow Prior's latest book, "On Reading Well".  I've not yet dived in, but the reviews have been excellent and it is definitely on my "to-read" list:  On Reading Well: Finding the Good Life through Great Books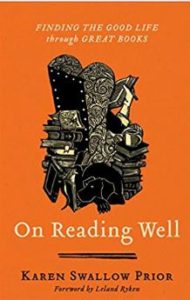 OK!!!
Why the heck do we say "OK?"  Have you ever just stopped and wonder where that word…if it even is a word…came from?  I must utter "OK" dozens of times a day – I throw it toward my kids, when they tell me they need or want something, and then I ask it of them, to make sure they've heard my instructions.  I type it in Skype conversations and emails with my customers.  I use it on the phone.  We all do – but why??  And, am I the only one who has wondered about it?
I guess not, because the folks at OpenCulture.com featured the ubiquitous "OK" and a great little video about it.  You can read the article here, and view the video below, at the end of this listing: OK?
Whirligigs
When we travel, I love to find the oddest, off-the-beaten path places and attractions (and restaurants!) to visit.  During hurricane Flo last week, I stumbled across an article about a park and museum in NC, that isn't very far from where my youngest is attending college.  It's the "Vollis Simpson Whirligig Park & Museum".  How much fun is that?  When we return my girl to her school after fall break, you can bet that stopping by this place will be on our task list!:  Wind & Whirligigs
Ginormous Book Warehouse
On occasion, I like to check out what the team over at "Only in Your State" has posted lately, for Virginia and other states that I love.  This past week, I was delighted to see this article about a month-long book fair in the Shenandoah Valley.  It runs from 20-September through 23-October.  We are currently looking for a free weekend to go check it out – we have a truck, we should be able to haul home a TON of books!  Do you live nearby?  If so – you might check it out as well:  Book Warehouses are the Best
Birthdays
Since yesterday was my birthday, how about some Weird Birthday Facts?
First – check out these interesting tidbits of birthday-related trivia, from the Paperstyle.com website.  Apparently, if you were born on October 5th, you share your birthday with a whole bunch of other people – more than average!:  Useless Birthday Trivia
And, if you want to find out what historical event happened on your birthday – you can do so here:  Of Course Today is Famous Because It is My Birthday, but What Else Happened?
(Bonus:  You can also look up any date in Wikipedia, and it will return a list of events, birthdays, deaths and other interesting facts!)