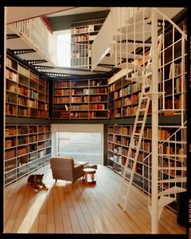 With the proliferation of e-readers on the market today, one has to question as to whether or not "real" books are coming to an end.
I certainly hope not.
I love what e-readers have to offer–instant access to purchase books, easy portability, the opportunity to read just about anywhere, and many more.  But I love what real books have to offer me as well.
This post by Kevin DeYoung summed up my experience with books with just the right words.  I've included my favorite paragraph from his post below:
Old books are like old friends. They love to be revisited. They stick around to give advice. They remind you of days gone by. Books, like friends, hang around.
And they prefer not to be invisible.
I can't tell you how many often I sit at my desk, push back my seat, and allow my eyes to drift around the room full of bookshelves. I'm not procrastinating, not exactly. I'm scanning the room to see my friends. Their covers jog my memories. They remind me of what I learned once. More than that, they remind me of my life–where I was when I first read Lloyd-Jones on the couch, how I knelt by the bed with tears when I read Brothers, We Are Not Professionals, how my life was so different 15 years ago when I read my dad's copy of the Institutes as a college student. If all my books disappeared on to a microchip I might have less to lug around and I might be able to search my notes more easily, but I'd lose memory; I'd lose history; I'd lose a little bit of myself.
Me too.  Sometimes I will just walk over to my bookshelves and read the titles, remembering both when I read a book and why.  I can pull a book off of my shelf and see all the marks and notes and highlighting I have done in those books and it brings back reminders of what I have learned about myself, the world, and my God through books.
When I became a believer, I had a similar experience to C.S. Lewis.  He shares in his book Surprised by Joy that at one point in his process of becoming a believer, he felt all the books were chasing after him.  Me too.
I hope books–real books–never go away.  I don't think that they will.  My books chase me.  They comfort me.  They kick me.  They teach me.  They challenge me.  And I am grateful for them.