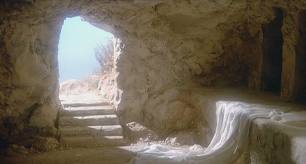 It's been a challenging day.
It's Easter.  Worship was amazing this morning.  Church was full.  There was joy.  There is joy.  There is a realization, a recognition, an acknowledgement, yes, and even a proclamation that He is Risen!  He is Risen Indeed!
But I've found today to be challenging in my soul for many reasons.  I surprisingly found myself goofed up during the worship songs this morning.  Moved to tears.  A few short years ago tonight I was baptized.  I followed my Jesus into baptism.  The joy that day is indescribable.  The pain, too of remembering what should be a happy memory (and it is a happy memory) hurts.  So much has happened since then.  And yet I know nothing can take away my relationship with my Lord and my God.
The day before that Easter, in scripture work I finally saw myself in Thomas–Thomas who, in his stubbornness wanted to see the evidence.  Me too.  Me too.  He saw the evidence in the scars of Jesus hands and feet and he proclaimed "My Lord and My God!!".  I saw the evidence in my changed life and I too proclaimed "My Lord and My God".  And I proclaim that today, in the midst of this sadness that has settled in my soul.  Joy does not equal happiness.  I still have joy.  I can preach to myself that joy tonight, through these tears.
I've read each of the accounts of the resurrection today.  I am most struck by Matthew's account, which I've included below:
28 Now after the Sabbath, toward the dawn of the first day of the week, Mary Magdalene and the other Mary went to see the tomb. 2 And behold, there was a great earthquake, for an angel of the Lord descended from heaven and came and rolled back the stone and sat on it. 3 His appearance was like lightning, and his clothing white as snow. 4 And for fear of him the guards trembled and became like dead men. 5 But the angel said to the women, "Do not be afraid, for I know that you seek Jesus who was crucified. 6 He is not here, for he has risen, as he said. Come, see the place where he lay. 7 Then go quickly and tell his disciples that he has risen from the dead, and behold, he is going before you to Galilee; there you will see him. See, I have told you."
 8 So they departed quickly from the tomb with fear and great joy, and ran to tell his disciples. 9 And behold, Jesus met them and said, "Greetings!" And they came up and took hold of his feet and worshiped him. 10 Then Jesus said to them, "Do not be afraid; go and tell my brothers to go to Galilee, and there they will see me."
So they departed quickly from the tomb both with fear and great joy.  I can relate to these woman.  Both fear and great joy.  Can you imagine?  Can you imagine how their hearts beat, how their breath quickened as they ran to tell the disciples?  And I love it that it was the women who went to the tomb, who knew first that He was not there.  Did they think for an instance that it was too good to be true?  Or did they believe immediately?  I would have been cautious, skeptical.  I would have been Thomas.
And they came up and worshipped at his feet.  They worshipped.  That is the proper response.  And that is the proper response for me tonight, despite the difficulty of this day.  It hurts.  It hurts.  And yet there is joy.  God is sovereign.  God is sovereign.  If God was not sovereign, there would be no resurrection story.  And if there were no resurrection story, there would be no hope.  But there is hope, and I must preach that to myself tonight as well.