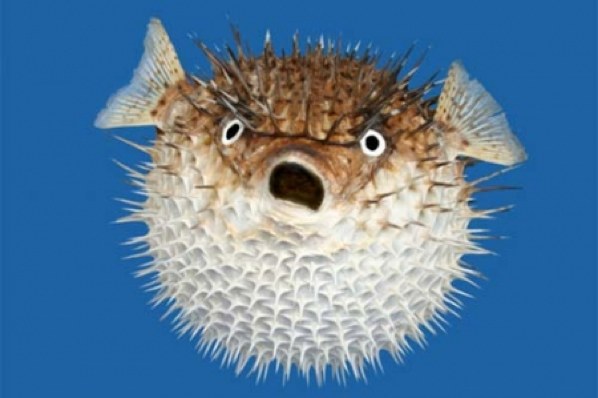 We have a puffer fish in our fish tank.
It's a cute little thing.  It's all round and spiky with buggy little eyes.  But no matter how much we torture the thing, we can't seem to get it to blow up like the puffer fish in the movie Finding Nemo.  And I've snorkled several times with puffer fish–all round and spiky and bugged eyed, but never puffed up, even though the site of me in snorkel gear is terrifying.  It's true.  I have a picture to prove it.
Tomorrow morning we continue on our study of Jonah.  I, unfortunately, may not get to attend due to work.  So here I am at 1:30 am, awakened, unable to get back to sleep, doing the best thing I know to do, and that is to look at scripture.
Ok, so last week we had Jonah FLEEING Ninevah, via boat, to Tarshish.  This week the plot thickens.
Take a look at the passage below:
4 But the Lord hurled a great wind upon the sea, and there was a mighty tempest on the sea, so that the ship threatened to break up. 5 Then the mariners were afraid, and each cried out to his god. And they hurled the cargo that was in the ship into the sea to lighten it for them. But Jonah had gone down into the inner part of the ship and had lain down and was fast asleep. 6 So the captain came and said to him, "What do you mean, you sleeper? Arise, call out to your god! Perhaps the god will give a thought to us, that we may not perish." 
 7 And they said to one another, "Come, let us cast lots, that we may know on whose account this evil has come upon us." So they cast lots, and the lot fell on Jonah. 8 Then they said to him, "Tell us on whose account this evil has come upon us. What is your occupation? And where do you come from? What is your country? And of what people are you?" 9 And he said to them, "I am a Hebrew, and I fear the Lord, the God of heaven, who made the sea and the dry land." 10 Then the men were exceedingly afraid and said to him, "What is this that you have done!" For the men knew that he was fleeing from the presence of the Lord, because he had told them. 11 Then they said to him, "What shall we do to you, that the sea may quiet down for us?" For the sea grew more and more tempestuous. 12 He said to them, "Pick me up and hurl me into the sea; then the sea will quiet down for you, for I know it is because of me that this great tempest has come upon you." 
So, God's not quite thrilled with Jonah at this point, and hurls a great wind onto the sea.  He doesn't just blow it….he hurls it.  Yeah, He's not so happy.
This, of course, leads to the mariners being terrified.  Being pagan, they each cried out to their own god.  Can you imagine? A boat load of pagans all crying out to seperate gods?  None of which have ears to hear?  And don't we do that, too, some time?  Instead of crying out to the one true God, we cry out to money to save us.  We cry out to jobs, houses, relationships, even the busyness of church to save us before we'll call on our God.  How silly the mariners were.  How silly we are.  There is only one true God that can save.
So while God hurled the wind, the mariners hurled everything they could find off of the boat to make it lighter.  A lot of hurling going on. And possible some stomach hurling, too, if the pitch and yaw of the boat was bad enough!  Not a pleasant image.
But where is Jonah?  Asleep in the bottom of the boat.  Not unlike Jesus who was once asleep in the bottom of a boat during a terrible storm.  I don't fully understand or appreciate the contrast/comparison thereof, so I'll just mention it here and let greater and clearer minds than mine figure it out.
So the captain wakes Jonah up—"Get up, you idiot, we're about to die!  Pray to your God!"  But here's the interesting thing.  The thing I want to point out.  It appears that Jonah never does cry out to God at this point.  We see no evidence of this in these scriptures.  Why?  I think He knew he was the reason for the storm.  And yet there was still some defiance in Him.  "Yeah, the storm is about me, but I am not going to acknowledge my God, not just yet."  I wonder what would have happened had Jonah cried out to God and repented and told God He would turn around and go back to Ninevah at this point?  Maybe a fish never would have entered the picture!
But, the mariners cast lots and the lots fall, of course, on Jonah.  He is the purpose for this terror. When they ask Him what they should do, his answer is interesting—"Hurl me into the sea and the sea will calm."  How did he know this??  I have no idea.  The men tried to avoid having to do so, but eventually there was no choice.  They hurled him into the sea.  Like they hurled the stuff to make the boat lighter.  Like God hurled the wind to cause the storm.
But take a look at these last three verses:
14 Therefore they called out to the Lord, "O Lord, let us not perish for this man's life, and lay not on us innocent blood, for you, O Lord, have done as it pleased you." 15 So they picked up Jonah and hurled him into the sea, and the sea ceased from its raging. 16 Then the men feared the Lord exceedingly, and they offered a sacrifice to the Lord and made vows.
Look at this:  Jonah STILL does not call out to His God, but instead it is the pagan mariners who do!!  And their prayer is Scripturally accurate:  "For you, O Lord, have done as it pleased you."  They recognized God for who He was.  They granted God the respect and honor due His name.  These Pagans!  And once the sea stopped raging (with Jonah in it)  these men offered a sacrifice to the Lord and made vows to Him.
I wonder if they kept those vows.
What a story.  And we know what happens next–Jonah is swallowed up by a great fish (not a whale—it does not say whale, could have been a whale, but not necessarily so.  It could have been a huge blowfish!!!!!)
There are times…many times….that the storms come and we don't know why.  They just do, appointed by God.  But than there are other times that the storms we find raging around us are a result of our sin.  What do we do when that happens?  Do we all out in repentance?  Do we beg God for his mercy?  Do we change our behavior?  Or are we defiant, refusing to call on God.
I've been both.  I imagine you have, too.
How much better it is to repent quickly and return to God–and watch the storm cease.  Oh, there are still consequences of our sin.  I know that full well.  You do too.  But quick repentance and returning to God does calm the raging storms caused by our sin.
It's called truth.  It's called repentance.  It's called God's mercy.