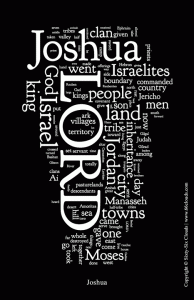 Joshua is not a story that I have studied much at all.
I just know the bare facts of it.  But while I was reviewing it today, I saw something in scripture that led to something else in scripture, that let me to think about the "rest" that God provides.
Scripture is amazing like that.
You see, Joshua was preparing the Israelites to cross over the Jordan and take possession of the land that God had promised them.  This was a monumental moment in the history of Israel.  Out of the twelve tribes, however, there were 2 tribes plus a 1/2 tribe that were going to stay on the other side of the Jordan because it was the land God had given them to possess and met their needs.
But Joshua both reminded them and informed them that they, too would be crossing over the Jordan to help their brothers in the battle to possess the land promised to them.  Once their brothers had rest, than they, too, could return home to rest. Note this in Joshua 1:14-15 below:
Your wives, your little ones, and your livestock shall remain in the land that Moses gave you beyond the Jordan, but all the men of valor among you shall pass over armed before your brothers and shall help them, 15 until the Lord gives rest to your brothers as he has to you, and they also take possession of the land that the Lord your God is giving them. Then you shall return to the land of your possession and shall possess it, the land that Moses the servant of the Lord gave you beyond the Jordan toward the sunrise."
The tribes of the Reubenites, Gadites and the 1/2 tribe of Manasseh armed up, because they understood that their rest would not come until the work had been completed for all the tribes of Israel.
40 years they had wandered in the wilderness.  40 years they had had no rest.  Rest was so close they could almost taste it!  But there was work to do first.
All of this led me to a passage in Hebrews 4 that speaks of God's rest.  Now, I must admit, I've read it several times and have looked at my commentary material and I still don't come close to truly understanding Hebrews 4 in it's entirety.  I hope to find more material on it later.  But even so, there is definitely a connection back to the story of Joshua.  Take a look at Hebrews 4:8-10.
For if Joshua had given them rest, God would not have spoken of another day later on. 9 So then, there remains a Sabbath rest for the people of God, 10 for whoever has entered God's rest has also rested from his works as God did from his.
Do you see?  If Joshua had let those 2.5 tribes rest while the rest of the tribes and brothers battled and worked it would not have been the true rest that God had spoken of about a day later on–after the land was possessed.
What does this mean for us?  There is still work to be done.  Work comes before rest.  Yes, we may be tired.  We may be weary of the fight.  But the battle is not over yet.  And part of the battle is obedience-true obedience-to God's Word.  The real rest–the eternal Sabbath remains for the people of God.  The Sabbath we have today is a picture of what is to come.  The Sabbath was made for man, not man for the Sabbath, as the saying goes.
Hebrews 4:11 states:
Let us therefore strive to enter that rest, so that no one may fall by the same sort of disobedience.
The writer of Hebrews uses the word "strive" in reference to entering that rest.  To strive is to work for something.  This next week at work is going to be stressful.  Some of the engineers will even be pulling double duty and working on the 4th, and possibly even next Saturday and Sunday.  Because of deadlines, there is much work to be done before rest.
I don't know about you, but I'm tired.  I'm sure you are as well.  And I long for the rest that only comes from God.  Peaceful sleep.  Refreshing times with my crew.  Blocks of time to read, study, write.  But most of all I long for eternal rest–that day when we will "enter that rest".  The rest of Home.  But for now, there is work to be done.  There are children to be brought to America for adoption.  There are homeless that need a peanut butter and jelly sandwich.  There are four children to be raised.   There are prostitutes that need to know they are loved, no matter what. There are prisoners that need to be taught God's word solidly.   And there are people that are dying without knowing Jesus as Savior and Messiah.
There is much work to be done–much striving to be done in order to enter that rest.