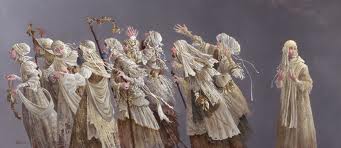 10 were healed.
One turned back.
One found more than physical healing.
This morning, our pastor gave a message about 10 people with leprosy, who were healed by Jesus.  The story starts in Luke 17:12:
And as he entered a village, he was met by ten lepers, who stood at a distance 13 and lifted up their voices, saying, "Jesus, Master, have mercy on us."
Leprosy, while not prevalent in modern times, was a terrible disease.  Devastating.  Those with leprosy would be ostracized, cast out, considered unclean.  I read a fascinating book about one of the last leper colonies in the United States.  The title was "No Footprints in the Sand" by Henry Kalalahilomoku Nalaielua.  Fascinating book.  Tragic book.  But it truly gave a picture of the agony that is leprosy.
These 10 lepers had obviously heard of who Jesus was and of His works and miracles, because they addressed Him directly by His name:  Jesus, Master.  And they begged for mercy.
Jesus had mercy and healed these 10, and there is much that could be written about that.  However, I want to focus on another part of the story that starts in Luke 17:15:
Then one of them, when he saw that he was healed, turned back, praising God with a loud voice; 16 and he fell on his face at Jesus' feet, giving him thanks. Now he was a Samaritan.
10 healed.
One turned back.
One gave thanks.  A Samaritan.
Our pastor pointed out this morning that Jesus was disappointed.  I've never thought about that before–that Jesus could be disappointed.  But it makes sense; He was God made flesh to live among men.  He felt the same things that we feel.  But He was sinless, unlike you and I.  Take a look at Jesus' response in Luke 17:17:
Then Jesus answered, "Were not ten cleansed? Where are the nine? 18 Was no one found to return and give praise to God except this foreigner?"
Disappointment.  Yes, you can hear it in His voice, can't you?  "Where are the nine?"  "Did none of the others return to give praise to God?"  No, they didn't.  They carried on, hurrying to the priest so that the priest could proclaim them well, as commanded by Jewish law.  Only the one turned around, fell on His face in deepest gratitude and humble thanksgiving.
Our Sunday School is studying Prayer, using scripture and the book Prayer:  Does it Make Any Difference? by Philip Yancey.  This book was of great importance to me in my journey to becoming a follower of Christ, because prayer is such a strange entity.  The question arose this morning: "Why do our prayers so sound like lists for Santa Claus?"  Where are the other elements of prayer?  Absolute adoration?  Painful yet necessary and cleansing confession?  And true thankfulness?  Thankfulness that would cause us, like this healed leper, to fall on our face before God?
I fail so often, to give Him the thankfulness He deserves.  I am so much like the other 9, when I want to be like the one.
What was the result of the one's thankfulness?  Hold on to your computer, because this shocked me this morning-I'd never seen it before.  Look at Jesus' response to the one in verae 19 of Luke 17:
And he said to him, "Rise and go your way; your faith has made you well."
This was not the same message the 9 received.  No, look closely, because there is something different here.  Something we don't want to miss:  "Your faith has made you well."  That word for "well" is equivalent in the greek to the word "Saved".  The one had been saved.  Yes, saved from the dreadful disease, but also something so much more.
His responsiveness to Jesus—the one who turned back and started a relationship with Jesus by expressing His deep gratitude and praise–this one received something eternal.  He was given eternal life.  His faith had led to Jesus forgiving His sins and granting Him salvation.  My soul
I don't want to be like the 9, even though I am so often like them.  No, I want to be like the one who sought relationship with my Jesus through His praise and thanksgiving—through His turning back and falling on His knees before Jesus.  Am I willing to do so?  This one did so, even though His companions did not.  He essentially was willing to forsook His friends in order to do what His heart yearned to do, which was to give praise–loud praise.  Oh God, that we would be like the one!
10 were healed.
One turned back.
One found an eternal relationship with the Son of God.