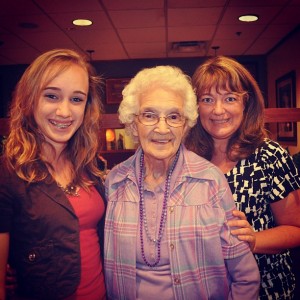 Wow!  I'm feeling quite out-of-synch.
I've just returned from Mt. Vernon, IL where I went for the funeral of my grandmother, Stella Marie Donoho.  In fact, I'm sitting here wrapped up in a beautiful quilt given to me by one of her daughters while I was there.  Each block of this quilt contains family names of people I don't know, lovingly stitched by my grandma.  Some I've heard their names before—like Esther and Milford White–but for the most part I am truly unsure of who they are.  And yet it feels good to be wrapped up in something my grandmother made with her own hands, that also contains a heritage and legacy of names, even though I don't know them.
I think I'm out-of-synch because I'm very much out of my routines.  A trip to California with meetings that began at 5:00am and then a quick trip to Illinois that included two 14 hour straight drives, have my routines all messed up.  My disciplines right now are non-existent.   I'm looking forward to getting back into the routines of my life–getting some continuity and consistency back that I very much depend upon.
The trip to Mt. Vernon, while long and draining, was very much the right thing to do.  Getting to spend time with my sisters and with cousins I barely know and have seen so few times through the years, was very good.  One cousin I hadn't seen in well over 20 plus years, maybe even 30.  He used to let me play with his race car track when I was little and we would visit grandma's house.
I saw people at the funeral home that new me as a baby and toddler.  It was a time warp, listening to them tell stories.
I am overwhelmed, absolutely overwhelmed by the kind words and thoughts and prayers posted on my Facebook Wall.  I've read every single one of them, more than once.  Your love for me and my crew continues to bless us and to keep us moving forward day after day.
For the funeral, I was asked to read what I had written about Grandma in my last post.  What an honor.  And then, my cousin Chris and I were allowed the privilege of singing the two songs Grandma had picked out for her funeral:  Under His Wings and Great is Your Faithfulness.
As we belted out "Great is Thy Faithfulness" (because belting it out helped prevent either one of us from tears), I was struck by that phrase "Great is Thy Faithfulness".
We are told to have faith in God, and it is true–we should have that faith.  The kind of faith that trusts Him in all circumstances of our lives.  However, the author of this song (Thomas Chisholm) did not write "Great is OUR Faithfulness".  No, he wrote about God's faithfulness to us.  Without God's faithfulness to us, we could never be faithful to Him.  But it is precisely His steadfast love and faithfulness that gives us the ability to trust and have faith that He is real, that He is near, that He is God.
The song references Lamentations 3:22-23:
22  The steadfast love of the Lord never ceases; his mercies never come to an end; 23  they are new every morning;great is your faithfulness.
Here's another characteristic of God's steadfast love:  it never ceases.  His mercies never come to an end.  What if they did?  What if we could not count on them being new every morning that we awaken?  How hopeless life would be!  How futile and bleak.  Not just bleak.  Dark, unyielding.  His faithfulness is great; and because of that, we can face each morning anew.  I forget this so often.
The last verse of the song is:
Pardon for sin and a peace that endureth,
Thine own great presence to cheer and to guide;
Strength for today, and bright hope for tomorrow
Blessings all mine, with ten thousand beside.
My God gives me strength for today.  Not for tomorrow, not for next week, but for right now.  For this day.  For this hour.  And sometimes I have to remind myself that He has given me strength for this exact minute.  Great is His Faithfulness.
And bright hope for tomorrow.  Without Christ we have no hope of going home–of eternal life.  Oh how I long to be at home with my grandma and my mom.  What a beautiful day that will be.
While at the cemetery for the interment, my youngest sister and I broke away from the group for a bit.  We crossed over the cemetery grounds–quite a distance–to look for my mother's memorial stone.  I have not been back to see it, I don't believe, since her death.  But this time I wanted to see it.  We got to where we thought it was approximately and looked and looked.  However, we never found it.  At the time, this really messed with me.  But then I remembered that stone is just a stone–that is not her home.  Her home is with her God. She has a peace that endureth.  Blessings are hers, with ten thousand beside.