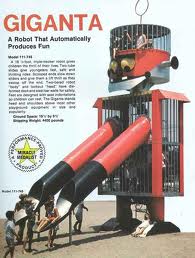 When I was a little girl, I was afraid of a robot.
This particular robot was located at a park I would walk to occasionally.  It was extremely large (to my young eyes) and frightening.  It consisted of a metal cage that made up the robots body, with a separate cage on top that made up the robot's head.  There was this long ladder that one had to take in order to get to the second level, where the robot's "arms" were two scary tube slides.  From the second level, you could take another rickety (read: rusted bolts) to the inside of the head where supposedly you could see far into the distance.
I drove by the robot slide this past weekend while in Mt. Vernon, IL.  I can't believe it is still standing, honestly.  They have removed the head, but you can still imagine it as being a robot if you try real hard.  I've found pictures of what it used to look like and have added them to this post.
My older cousins, all boys, would climb that thing like it was nothing and seemed to have so much fun sliding down.  They tried to cajole me into joining them, but eventually they would give up.  Most of the time, they would tell me to get out of their way.  This is because I would stand at the bottom of the ladder, gripping the sides and trying to will myself up that dumb ladder.  I wanted so much to not be afraid—to be brave.  But I would tremble and almost cry (though never in front of those "boys") at the thought of putting my foot on the first rung.
Now this was when I was 4 or 5.  Later, when we would go back to Mt. Vernon, IL to visit, I would climb it without an ounce of fear–even making it as dangerous as possible, by seeing if I could break the ladders or one of the rusty bolted bars of the robot's head.  As I got older, not much scared me.  Life itself was scary enough to let something as ridiculous as a robot slide scare me.
I can remember as clear as day, that gut-wrenching fear of that silly robot.  Oh, I wanted to be brave.  I wanted to be courageous!!  But it wasn't there in my trembling legs and pounding heart when I was little.
Fear is a strange thing.  Even today there are times that fear and panic will grip me until I am almost paralyzed, unable to move in any direction.  I'm sure you know the experience as well.  The one that says "This is irrational God, but right now I am terrified.  You've got to help me."  I experience this mostly in the nighttime, when the darkness and the weight of the air seem to smother me and choke me.
But I also experience it other times, too.  Sometimes at the most irrational things–such as entering the foyer at church.  Or opening a letter from prison.  Or fear of losing friends that no longer have any interest in being friends.  These are irrational, silly fears.  I am ridiculous for experiencing them.  And yet I do–my heart pounds, my hands tremble.  Where is my courage?  Why am I not brave?
The phrase "Be Strong and Courageous" or derivatives of it, are used 15 times in scripture.  That's a lot, when you consider the length of the phrase.  Here are a couple of examples:
Joshua 1:9:  Have I not commanded you? Be strong and courageous. Do not be frightened, and do not be dismayed, for the Lord your God is with you wherever you go."
Psalm 27:14:  Wait for the Lord; be strong, and let your heart take courage; wait for the Lord! 
Looking at each instance where these words are used, I discovered that it is not a "You should be" or a "You would be if" or "Why aren't you?" but rather it is a command.  It is expected that we are to be strong and courageous.
Sometimes, in the midst of intense fear, I think "It's very unfair of God to expect me to be strong and courageous!"  But those are the times when I am missing the rest of the story….that God is with me wherever I go.  That I should "Wait for the Lord."  I'm not very good at either of those two things.  Maybe you struggle with them as well.
I have been camping out a lot lately on Psalm 4, for a completely different reason than what I've written about here.  However I realized (because I almost have the Psalm memorized) that words in that Psalm apply to the situation of intense fear.  Take a look:
Psalm 4:1: You have given me relief when I was in distress.
Psalm 4:8:  In peace I will both lie down and sleep; for you alone, O Lord, make me dwell in safety. 
I love these verses.  The first one reminds me of what God has done for me in the past–he has given me relief when I was in distress–and being afraid is definitely distress!  And in Psalm 4:8, when the night closes in around me, the assurance this verse gives me helps to settle my soul–only God alone makes me dwell in safety in the midst of a world and a life full of danger and fearful circumstances–both in the past and today.
I came to love that robot slide.  I loved the fact that it was rickety.  I loved the fact that I could see for miles from inside the robots head.  But most of all, I loved the fact that I was no longer fearful–I was brave and courageous.  But that only came from growing up–becoming older, and realizing there are far, far worse things to fear than a simple robot slide.
And today I know a different response to the fear that plagues me.  It is to run to my Jesus.  It is to obey the command of being strong and courageous, because God is with me.  It is to know that God is with me wherever I am.  It is to know that He has given me relief before and will give me relief again.  He alone will make me dwell in safety.