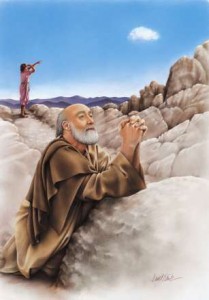 This morning as the rain poured down, I was reminded of a verse in James that speaks about the rain.  The verse is found in James 5:18:
Then he prayed again, and heaven gave rain, and the earth bore its fruit.
The "he"  in this verse is Elijah.  You may be thinking "So what?  He prayed.  It rained.  The earth's plants grew."  But there is so much more behind this.
James reminds us in the verse before this that:
Elijah was a man with a nature like ours, and he prayed fervently that it might not rain, and for three years and six months it did not rain on the earth.
Elijah was man with a nature like ours…..he was human just like you and I are human.  Yet he prayed that it wouldn't rain, and it didn't—for 3 1/2 years!  And then he prayed again that the rains would return–and they did.  What kind of faith does that take?  Can you even imagine such faith?  I can't.  I truly can't.
But the more I've thought about it today, I wonder if maybe we have our thinking backwards.  We expect the expected to happen.  But do we expect the unexpected to happen?  I know I don't, though it happens over and over again.
The latest example that I have was this past Sunday at Seaford Baptist Church in Seaford, VA.  We experienced God's presence so strongly in our worship service.  40 plus people knelt at the alter seeking God with all of their souls–realizing that they need Him in such a very real way in their lives.  I wrote about the experience Here.
But I'll be honest with you–if you'll be honest with yourselves.  I didn't expect it.  I did not come into the gathering of my church family expecting God to change people's lives that drastically in that hour.
James tells us, essentially, that Elijah prayed fervently with the expectation of the unexpected.  It was not expected by anyone else that the prayer of one man–even a prophet–would result in 3 1/2 years of no rain!  But Elijah had faith.  He believed.  He expected it to happen.
My God has done so many unexpected things for me and my crew—unexpected in spite of my praying that He would provide.  I'm always extremely surprised.  I'm wondering if I should be?  Thankful, yes.  Joyful, yes.  An acute awareness of God's provision, yes.  A humble attitude at his blessings, yes.  Overwhelmed, yes.  But surprised?  I'm not so sure anymore.
We are finishing up our James Bible study next week.  Tonight I plan on asking the ladies these questions.  Should we be surprised when God does the unexpected?  How would expecting the unexpected change our prayer life?  How would expecting the unexpected change our reaction and involvement in corporate worship?
I don't know the answers.  These are just questions that I am wrestling with after the experience of last Sunday.  But I think they are worth exploring.
James also revisits the story of Job.  That's a completely different kind of unexpectedness.  It was unexpected that Job would lose all that he did.  But God is sovereign.  My God is sovereign.  And Job's reply was "Though He slay me, I will hope in Him."  In this case, Job accepted the unexpected, because He knew His only hope was God.  And as we see in James, Job was steadfast.  He stood fast.  I want to stand fast.
Expecting the unexpected.  Living a radically different life.  O, that God would grant me the faith of Elijah, the steadfastness of Job!!
And if He did, would I accept that faith and steadfastness as the unexpected or the expected?