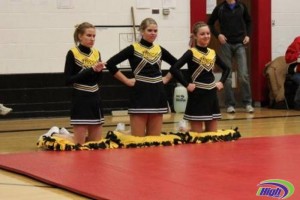 I know a little bit about the sport of wrestling.  In fact, one year I somehow got roped into being a cheerleader for wrestling.  You didn't know they had cheerleaders for wrestling?  Well, they do in Iowa.  We looked a lot like the girls in the above picture, except our colors were orange and black.  We would sit alongside the mat and do cheers like "T-A-K-E Take Him Down" and "Pin, pin, pin your man, We know, we know, we know you can!".  Yep.  It was absolutely, positively humiliating.  But through that (very) long winter, I learned something about wrestling.  The strength that it takes.  The patience that it takes.  The discipline that it takes.
I read a quote a few days ago on Twitter that kind of took me aback.  It was a tweet by Bob Kauflin, but I think the credit goes to someone by the name of Kevin J. Twit.  The quote goes like this:
"You don't have to wrestle well with suffering for God to love you."
Ouch.
There's a blow to my pride.  A much needed blow, probably.
You see, if I am honest with myself–and if you are honest with your self–there is a certain part of me that wants to say "Look, Father God!  See how well I am doing in the suffering that has come upon me and my family?  Aren't you proud of me?  Don't I earn your love now?"
But what is that response based upon?  Is it not based upon pride?  And is not pride one of my most difficult sins to battle?  And don't you find pride to be a difficult battle for you, as well?  Ugh.  I hate it.  I loathe it, because always in my pride I do foolish things–things that do not glorify my God.  And then I am ashamed.
So when I read this quote, it really hit home.  This is one of those nights (though they are becoming much rarer) when I am not wrestling well with suffering.  I can't play the prideful martyr tonight–which is a good thing, because the prideful martyr needs to be given an un-martyrlike death.  Forever.
No, instead I am wrestling with suffering tonight in intense loneliness and frustration with myself.  Here I am, lying in bed, hiding from the world, wrestling with suffering–not just my suffering, but the suffering of my children, of others I know who are struggling with storms in their life, with angst and bitterness and hurt in my soul.
I've watched two movies this week on Queen Elizabeth from the 1500's.  She suffered greatly, yet she wrestled that suffering to the ground and beat it to a pulp—rising to become a much beloved queen of England during a time of great growth and prosperity.  And I look at her and admire her courage, her strength, her honor, her resilience.  I want to do the same to suffering–wrestle it to the ground and then turn to my God and say "SEE??  I did it!""
But I can't do it.  I can't do it without His help.  I find I am too weak.
But this quote from today…….you do not have to wrestle with suffering well to be loved by God……penetrated a place in my soul that needed to hear those words, for I am not wrestling well.  Tonight I don't have the strength, patience or discipline that wrestling well takes.
Oh, I can't take this notion too far, so far as to make it an excuse to give up the wrestling–to give up the patience and discipline or to not accept he strength He gives me.  Not at all.  But I can focus more on His love for me than the fact that I am experiencing earnest defeat tonight.
God, do you love us when we do not wrestle with suffering well?  When we wrestle with it out of pride?  Or when we wrestle with it and lose?  Or when we refuse to wrestle with it at all because we are too tired to engage it in battle?
God, please love me in my wrestling, even when I fail to wrestle well; even when I fail to wrestle suffering in a way that is glorifying to you.  Thank you for loving all of us with a steadfast love that doesn't change based on how well or how poorly we wrestle with suffering.