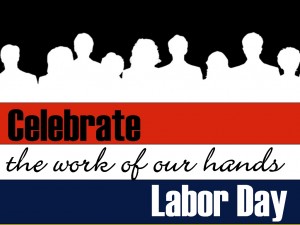 Happy Labor Day to those that have today off!
And to those of us who have to work today, maybe you can find a moment alone with God to ponder labor and rest.
The word "Labor" is found 128 times in the Bible (ESV).  God sees and knows that we labor, and labor hard.
And Jesus is definitely no stranger to labor.  Picture him in his father's carpentry workshop:  planing the wood, sawing the planks, shaping a table. He was a man like us, thus He knows what labor is.  Divine, yes.  But clothed in flesh to walk amongst us eating, drinking and laboring.
That's why Jesus can say, in Matthew 11:28:
Come to me, all who labor and are heavy laden, and I will give you rest.
He knows we labor.  He knows we are heavy laden with the cares and burdens of this world.  But He bids us to come to him.  The answer is not more efficient work, no matter how much I would like that to be the case.  The answer is also not "work hard, play harder", because there is not rest in that.  Not real rest, anyway.
The answer is to go to Jesus for real rest.  Rest that is greater than 12 hours of uninterrupted sleep.  Rest that is greater than a cruise or vacation.  No, there is nothing wrong with those things.  They are good.  But sometimes it is your soul that needs rest.  And that rest can only come from God the Father through Jesus Christ.  It's a rest unlike any other, because it's a rest that permeates through sin to forgiveness, through hurt to healing, through war within yourself to peace.
That is soul rest.