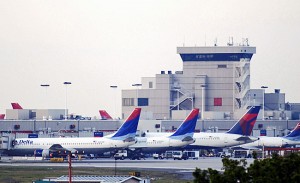 I'm sitting in the Atlanta airport waiting to board my final flight home.
It's been a trying week.  A good and successful week, but exhausting and challenging in many different ways.
Where I am sitting is the gatehouse for the commuter flights.  There are four gates right here in close proximity.  There is a flight boarding for Baton Rouge, a late flight boarding for Albany, GA, the Newport News flight and a flight for Peoria, IL.  The gatehouse is full of both deplaning and boarding passengers.  It makes for fascinating people watching.
It also makes me realize just what a small part I am of this universe.  And how diverse God has created us to be.  And how lonely some people must be.  There are mothers traveling along with their children, all sorts of business men and women, senior adults, teenagers with their headphones on, young girls dressed in "too old for them–or for anyone" clothing, and there is me.
And this diversity makes me think of the church.  I've missed my church for three weeks in a row now.  Not good for my mind or my soul.  Sitting here, I am wondering what makes the church different than a collection of people?
Everyone here at this airport has the same goal–to get somewhere.  But that doesn't make them a cohesive group of people.  No, a church is a very different entity–one I think we are not as appreciative of as we should be.
In a church, the lonely should find companionship and company.  In the church, the diverse should find commonality in Christ while exalting in their diversity.  In the church, the hurting should find healing.  In the church the people should find not just community but family.  The church is a living, breathing organism.  The solitude and aloneness that one finds in an international airport should never be characteristic of what one finds in a church.
I am grateful for my church, Seaford Baptist.  They truly are family.  The common goal is to worship and glorify God.  Together.  To pray–together.  To love the world and each other, together.