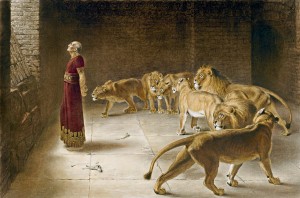 I listened tonight to the first part of a two-part sermon series on Daniel.
Now Daniel for me growing up was all about the flannel graph.  I liked being the one chosen to put Daniel in the lion's den, mostly because they made the lions look so tame and I thought they were beautiful.  But that's pretty much my extent of knowledge when it came to Daniel.
So I read Daniel's story and discovered that there is so much more to the story than his night in the lion's den.  It's a very rich story with a fascinating background of kidnapping, being taken to a foreign country, learning the language and ending up serving as one of the king's top advisors.  And yet, in all that time, Daniel never once denied His faith in God.  Not one time.
The others in the king's court were jealous of Daniel and sought a way to get rid of him.  They knew their only hope was centered around Daniel's unwavering faith to His God:
Daniel 6:5 Then these men said, "We shall not find any ground for complaint against this Daniel unless we find it in connection with the law of his God."
So they deceived and flattered King Darius into writing an unbreakable decree "that whoever makes petition to any god or man for thirty days, except to you, O king, shall be cast into the den of lions."
Daniel, being of the character that he was, longed more for God than he feared the king's decree.  His desire was to be with God, his longing was to commune with his God. So as had been his practice, with his windows facing Jerusalem, Daniel kept doing what he did daily, which was to approach the only true God 3 times a day in prayer.
You see, His relationship—his character that had been built over time through God's shaping and molding Him–this is what had gotten him through tremendous difficulties in the past, and would get him through the upcoming trial of the Lion's den.  Did he want to be thrown into the lion's den?  My guess would be no–who would want to?  But he knew it was coming, yet he continued to worship God in the midst of this terrific challenge.
This story about Daniel got me to thinking about my own life.  I had not been a believer for very long before my ex-husband was arrested and jailed and we lost all income, housing and security for the future.  And the crimes he committed were crimes that were so hard to stomach, literally.  I sat on the verge of throwing up for days.  I had just returned from a fantastic mission trip to Kenya, to find my entire world had been turned inside out and upside down–my world and my children's worlds.
And I remember crying out to God and asking Him why in the world would He allow something like this to happen so soon after I had become a believer?  There was so much more I needed to learn, so much more I wanted to do.  To be thrown into this test so soon after belief seemed unfathomable.
But thinking about Daniel tonight, I am reminded that what if Jack had been arrested before I became a believer?  What, then, would I have had to sustain me?  What, then, would I have had to long for like Daniel longed for God's presence.  Where would I go without God to go to?  Yes I got angry with God.  Yes I lived through some terribly dark days that I don't even remember now.  Yes, suicide was not far from my mind.  And yet–and yet in all of it, there was God.  I couldn't deny Him even though I tried.  I couldn't turn away from Him even though I tried to.  The first few days after the arrest I refused to open my Bible Software or my paper Bible or anything that had to do with God.  But He kept bringing me back to him, because like the disciples in John 6:67 : 67 So Jesus said to the Twelve, "Do you want to go away as well?" 68 Simon Peter answered him, "Lord, to whom shall we go? You have the words of eternal life,
So it was by God's design that Daniel had developed such a longing for God and a practice of praying to Him while facing Jerusalem three times a day.  And it was by God's design that I would become a believer in God and My Jesus before life fell apart for me and my crew.
I don't think I've ever really articulated it this way.  I don't think I've ever really understood the significance of it.  I do remember asking God why couldn't He have waited for this disaster to befell us until I had been a believer for a longer time and was more well-versed on "how-to" be a believer.  But that wasn't the plans He had for me, and as a result of that, I had to learn to depend on Him even greater for just our basic needs, let alone the needs of our souls.  And because being a new believer was still so fresh in my soul, the desire to see God–the longing for God, like Daniel (though his longing evolved over years) is one of the things that kept me alive.  That kept me pushing forward for my children.  That slowly pushed me back to pursuing God through scriptures fervently.  Because, like Daniel, it was a life or death situation for both of us.
Whew.  I never thought I would see myself in the Daniel narrative before.  It pushes me to want to worship my God, to thank Him once again for His unfailing mercy and grace poured out on me and my crew since Jack's arrest.  It moves me to pray, to study, to worship.
No one knows what challenges tomorrow may bring.  What tragic circumstances or just daily difficulties may befall any one of us.  Isn't it better, then to be sure we are developing a well-worn path from our soul to our God on a daily basis; knowing that He alone sees and knows and provides what we need and can minister to those deepest needs of our soul?