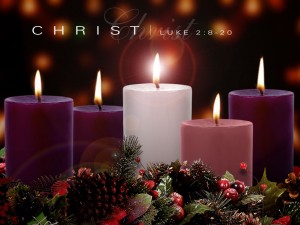 Today is December 1st….the first Sunday of the month….the first Sunday of Advent.
I love the Christmas season…the lights, the traditions, the awe, the wonder.
And I love Advent.
Tonight before we each settle down for the night, we will gather around our Advent wreath and as a family, light the first candle.  As we sit in the dark under the glow of one candle, we'll talk about what it means for the world to need hope.
I don't do this with them because we are "super-spiritual".  We are far, far from it.  But we've seen enough of life that I don't want my crew to miss where their hope comes from.  Especially during this Christmas season.
Earlier this afternoon, as I prepared for what we are going to do tonight, I got to thinking.  I wonder if much of the world doesn't realize that they need hope.  I wonder if much of the world isn't so caught up in materialism and selfish pursuits, that they have no idea that they are living a life with no hope.  A life that is absent of the expectation that observing Christ's birth brings.
I know I am guilty of living that way at times.  Of being so caught up in this world, that I forget my depravity.  That I forget my need of the hope that only Christ's birth, death and resurrection can bring.
But I also know, in my soul, just how much I need that hope.  How much I long for it.  For I've seen what this world has to offer.  I've seen the destruction of evil, of death, of disease, of crime.  I've known the hurt of broken relationships.  Of abandonment.  I've seen my children cry for their father.  We need that hope.  We need that hope.
The good news is that, that hope is available.  It is real!  We see it throughout scripture, from Genesis to Revelation.  It's called the gospel.  And it's the only true hope that is available to the world.  The only true hope that is available to you and to me.
The verse we are going to focus on tonight is Psalm 130:5.  It reads:
I wait for the Lord, my soul waits,
    and in his word I hope;
What a beautiful verse.  Quiet.  Anticipatory.  Truth.
My soul is waiting this Christmas.  It's waiting not for the birth of Christ, which has already happened, but for the fulfillment of time–the culmination of Christ's birth and death and his resurrection that will ultimately lead to my forever home with Christ for all of eternity.
And in His word I hope.  Men fail us.  They lie.  They don't follow through on their promises.  But God's word is truth.  It is truth and it is in His word that we must hope.  It is in His word that we are told to wait expectantly this advent season.
May this be our prayer as we enter this season of expectation:
Father God, we wait for you.  Our soul waits.  In your word we hope.  We look toward this Christmas season, knowing that what we need–what we long for–is hope.  And that hope is available only in You.  Forgive us when we look for that hope elsewhere.  Make us aware–clearly aware–that you are our hope.  And our response can be nothing less than absolute adoration of your son, during this Advent.  Amen and Amen.