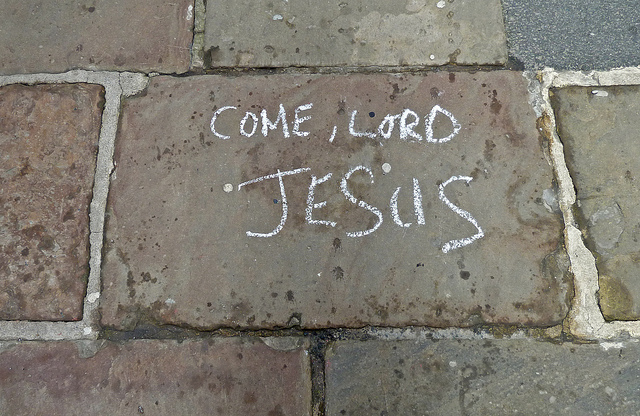 Oh God.
Why so long?
We watch–most of us, from very afar–Nepal.  We watch the death toll rise above 4000.  Still rising.  Homes destroyed, orphans created, livelihoods decimated.  Years of recovery ahead.
We watch–most of us, from afar, but some very near–as people in Baltimore absolutely tear each other apart.  Tear apart.
We watch–most of us, from afar, but some, in our own backyards–as the Supreme Court prepares to hear arguments on same-sex marriage.  And we wonder how to stem the tide of sin, and still provide care for those in our world who are on this path.
And, God, we try to do right, and yet fail so often, in our own lives.
And—do you hear me God, do you hear us?—life can seem so long, at times.  I know it is just a breath.  I recognize that each day as I watch my amazing kids inch closer to adulthood.  But, good grief, it can also seem so long.
It seems, to us, so long, since you said (recorded in Revelation 22) that you were coming soon.  (vs. 7).  Since you said this:  "He who testifies to these things says, "Surely I am coming soon."" in verse 20.  And since the recorder (John, I think) said this:  "Amen.Come, Lord Jesus!"
So.  Very.  Long.
But surely, scripture is truth.  I know it is.  I have seen far too much grace to know that scripture is truth.  I have seen the evidence that Thomas longed for.  And, so, we can't bear for part of scripture to be truth, and part of it to not be truth, because if one part were untruth, the whole thing would be shaded with the coloring of untruth.  Because what is true about salvation makes what is true about justification and what is true about sanctification.  And vice versa.  The same goes with forgiveness, and mercy, and grace.  And love.
That's the hard one–love.
Surely scripture is truth, and therefore, you will return.  You will return for the Nepalese, for the people of Ferguson and Baltimore.  You will return for orphans and widows.  You will return for exhausted shepherds trying to care for their congregations in this quickly changing world.  You will return for the abused and neglected.  You will return for the businessman trying to provide for his family.  You will return for the very lonely.  You will return for the shattered.
You will return for us.  For me.
A new heaven and earth….that's how it is described.  And that is what we long for.  And rest.
And rest.  God, how we–how I–long for rest.
It's interesting, though–and I've never seen this before God, that the very last words of scripture…..goodness, I am just now seeing this, why have I never bothered to look at the end of the Bible?
That the very last words of scripture, the closing of your revelation (overall, not the book, though the book as well) to us, the culmination of what you have given us in Your words (thank you, thank you for choosing words as the medium) is this—Grace:
21 The grace of the Lord Jesus be with all. Amen.
A prayer for grace.  Amen and amen.
That's what we need, God, to not just endure, but to persevere.  To push forward.  Grace to meet the needs post-earthquakes and tsunamis and famines and war.  Grace to show love and mercy to Baltimore, to Ferguson, to New York, to Norfolk, to this tiny marshy peninsula of Seaford.  Grace to stand against sin yet care for those drowning in it.  To care deeply for those around us.  To meet deep soul needs.  To not give up on each other.  To not abandon.
To minister, though I don't usually use that word because it is so very churchy.  To worship.  To work hard.  Work hard, so very, very hard.  (God, do you see that?  We are working hard.  I am working, so very hard.  Do you see?)  Grace to wake up each and every day.  Whew, grace to sleep at night, trusting You enough to do so–to sleep.  Grace to love well.
Grace to wait, for your return.  Grace to worship, care and work while we wait.
Grace, to wait, for home.