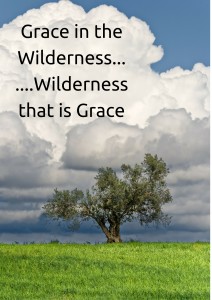 This passage, tonight, in Jeremiah.  These words.
Oh God, accept our prayer, in response to your words:
"The people who survived the sword
    found grace in the wilderness;
when Israel sought for rest,
3     the Lord appeared to him from far away.
There is a surviving, Oh God.  A surviving maybe not of the sword, but of things that cut like the sword.  A surviving that only comes from the saving that you provide.  That you grant.
And grace.  In the wilderness.
And, sometimes, the wilderness is the grace.  The vast loneliness that is the wilderness.  The very solitude that is the wilderness.  Even when we long for something different, sometimes the wilderness is the grace.
And grace is in the wilderness.
And Israel sought rest, and we seek rest.  Here on this eve of the busy-ness that is work.  And school.  And a multitude of needs.  And the tiredness that is in our soul.  Israel sought rest.  And we seek rest.
And, though at times you see far away, you appear.  You are near.  You are the provider of rest.
Even tonight.
I have loved you with an everlasting love;
    therefore I have continued my faithfulness to you.
An everlasting love is that which is solid.  That which is dependable.  That which can be trusted.  That does not disappear.  And, the outpouring of that love is continued faithfulness.  Yesterday.  Tonight.  Tomorrow.  Next week.  Next year.
Until we go home.  Even after we go home.  There is no end, to your faithfulness.
'He who scattered Israel will gather him,
    and will keep him as a shepherd keeps his flock.'
11 For the Lord has ransomed Jacob
    and has redeemed him from hands too strong for him.
You who scatters Israel, will also gather him.  And you who scatter us–through your sovereignty–will also gather us.  Gather our minds back into a settled place, from their unsettled scattered-ness.  You will gather us, and will keep us, just as the shepherd keeps his flock.
And you ransom us.  You pay the price, for our souls.  And redeem us.  Redemption is an amazing word.  It is filled with all things "wanted".  If something is redeemed, it is valuable.  It is wanted.  It is not tossed aside.
They, we are, I am redeemed.  From hands that are too strong.  Hands that hurt.  Hands that choke.
I will turn their mourning into joy;
    I will comfort them, and give them gladness for sorrow.
Mourning turned into joy is a miracle.  It is of the miraculous.  It is of the unexplainable, and can only be done by the hands and the will of the father.  Joy is not happiness.  It is something deeper.  Something much more akin to the source.  It is a longing for the now and the not yet.  It is a comforting, an exchange greater than any barter or marketplace transaction.  A quid pro quo that is so ridiculously imbalanced that the world would laugh at it.  Gladness in exchange for sorrow that is taken by the one who bore and bears all things, including our sin.
It is a gift of a magnitude that cannot be quantified; that is what joy is.  Please, God, grant us joy.
17 There is hope for your future,
declares the Lord,
    and your children shall come back to their own country.
Is this truth, God; this "hope for your future?"
The idea is preposterous on the surface, and yet settling on the deep.  Hope.  Future.  Two words that I never, ever thought would have meaning apart from entries in a dictionary.  To have hope.  And to have a future.  And to have hope for the future.  It's nearly too overwhelming.
And our children, God.  Our children.  When, if, when, if they stray, bring them back to the safety of our umbrellas, which stand under your umbrella.  By your grace.
'You have disciplined me, and I was disciplined,
    like an untrained calf;
bring me back that I may be restored,
    for you are the Lord my God.
19 For after I had turned away, I relented,
    and after I was instructed, I struck my thigh;
I was ashamed, and I was confounded,
    because I bore the disgrace of my youth.'
God, we need your discipline.  We yearn for it, even, which is so odd, because it is not pleasant.  Necessary, but oh, so hard.  But there is a comfort in the discipline.  A comfort, because you would not bother to discipline that which you do not love.  Your discipline comes precisely because you love us.  Like a father disciplines a child.
Because you are our father.
And yet, we are ashamed.  And confounded.  Because we bear the disgrace of our youth.
Yes.  Dear God.  Yes.
Please forgive.
And yet, this:
Therefore my heart yearns for him;
    I will surely have mercy on him,
declares the Lord.
You yearn for us.  You yearn for us.  And my soul can barely stand the magnitude of what that means.  The weight-iness of that kind of love.  And mercy.  Mercy that you not only have, dear God, but that you surely have.
We are bending beneath the weight of your mercy.
And, so.
So we set up markers for ourselves along the way; milestones, if you would.  Stones of remembrance.  And when we see them, whether actual stones are placeholder in our souls and minds, we remember.  We remember your mercy, your unfailing love, your holiness.
Have mercy upon us, tonight.
How long will you waver,
    O faithless daughter?
Yes, O faithless one.  Daughter.  Whew.
How long.  How long will you stamp your foot in the ground and demand John 20 evidence such as Thomas post-the-resurrection.
How long will you waver, in your cynicism and doubt.
Because, in your wavering, you may miss this:
For I will satisfy the weary soul, and every languishing soul I will replenish."
…and we don't want to miss the replenishing of our souls.  Please, God.  Help my unbelief that leaves to faithlessness and wavering.  Help me not to waver, but to be as steady as sun in its march across the sky.
And then our sleep will be pleasant, and not anxious-filled, terror-induced hours:
 At this I awoke and looked, and my sleep was pleasant to me.
Hear, o God, our prayer.  Grant us grace in the wilderness, and wilderness that is grace.  Bring to completion these words, for us, as you declared you would do for Israel.
Please, God.
Amen.  So be it.