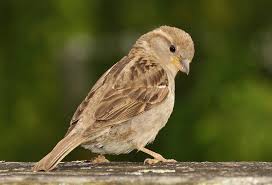 As a little girl, we would occasionally visit my grandparents, who lived in a tiny town (population 300, so the sign said) in Southern Illinois.
I loved visiting my grandparents.  I loved the long drive from Iowa to Illinois, through the big town of St. Louis, where I would lay in the back of our ugly station wagon and crane my neck to see the top of the arch as we drove by.  I loved falling asleep in "our room", where my sisters and I slept–a box fan in the window to draw out the hot air, and the consistent and predictable trains that would rumble past the house, under the trestle where my name had been carved in the wood by my grandpa.
I loved going there.  It was quiet.  It was safe.  It was peaceful.  I would sit on their screened-in porch for hours, reading classics that I found on their shelves–Little Women.  War of the Worlds.  Black Beauty.  (That was my favorite; I was horse-crazy.)
My grandma could be a bit grumpy.  Ok, maybe more than a bit.  Ok, maybe a whole lot more than a bit.
But not my grandpa.  He was soft-spoken.  Quiet.  An architect, he worked in a tall glass building in town, and had done some of the design work for The Mitchell Museum–a beautiful building.  I thought he was famous.
He was famous, in my eyes.
I loved my grandpa.  He once made me a dollhouse, and surprised me with it.  I loved that thing.  And I only remember him getting angry at me one time, when a sudden midwest storm came barreling through the town, and instead of running to the stairway closet (the storm shelter) like he had told me to, I ran and hid in the living room, right in front of the plate-glass window, because I wanted to see the storm.  He couldn't find me, and he was scared, and when he did–well, let's just say that I couldn't sit for a bit.  I deserved it.
But here is what I remember most, about my grandpa.  He would patiently walk around his yard with me, while I hunted locust shells.
I loved locust shells.  I have no idea why.  I know that is odd; but I'm an odd duck.  I liked to find them, clinging to trees, and then carefully remove them from the tree and place them into my toilet-paper lined shoebox that I kept them in.  I even had names for them.
My grandpa never made fun of me.  He would help me look for them.  So we walked around the property at least once a day during our visits, hunting locust shells.
And, as we walked, he would sing.
He didn't have a great voice; he just liked to sing.  A lot.  And his favorite song was this:
His Eye is on the Sparrow
He told me that Ethyl Waters used to sing that song.  I didn't know who Ethel Waters was, until years later.  He told me that it meant God cares for the birds, and cares for us even more.
When I was little, I believed that.  When I got older, I wasn't so sure.  And, at one point, I was certain that it wasn't true, at all.
But, o my soul, how I know it to be truth, now.  Today.  Many years after my grandpa's death.  Many year's after many hard things.
I know that God is a God who not only sees, and knows, and acts.
He also cares.
A sparrow is a non-remarkable bird.  It isn't pretty.  It's very average.  It doesn't have striking plumage, or a beautiful song.  It's a small, brown bird.  Amongst thousands of birds.  It is, for the most part, nondescript.  They are nearly invisible.  No one notices them.  No one goes to a zoo, to look at sparrows.  No one goes to a pet store, to buy a sparrow.
So I wonder if that is exactly why a sparrow was the bird chosen in this passage, found in Matthew 10:
28 And do not fear those who kill the body but cannot kill the soul. Rather fear him who can destroy both soul and body in hell. 29 Are not two sparrows sold for a penny? And not one of them will fall to the ground apart from your Father. 30 But even the hairs of your head are all numbered. 31 Fear not, therefore; you are of more value than many sparrows.
I can barely read these 4 verses, without being wrecked.
Do not fear those who hurt the body; they cannot kill the soul.  Yes.  O, my soul.
Not one of these non-remarkable, invisible, small, brown birds falls to the ground, without God–the Father–knowing.  Or caring.
He cares.
And then, verse 31.
You, child of God, are of more value, than many, many sparrows.
He cares.
This coming Sunday, I will get to sing these words.  A gift.  A declaration.
Why are you discouraged, o my soul?  Why do you long for heaven and home?
Jesus is my portion.
He is my constant friend.
His eye is on the sparrow; and I know–it must be truth–I know, He watches me.
So I'll sing.
With joy.
And I'll remember my grandpa's tenor voice, and his words as we walked around his yard.  And I'll remember what I have discovered to be truth.
Even I–in all my messed-upness, and odd-duckness, and cynical-ness, and sinful-ness, and hard-hearted-ness, and awkward-ness, and prideful-ness, and prone-to-fail-ness, and my unremarkable-ness.
Even I am loved, by God, my Father.
And that, my friends, is remarkable.