Well, once again, it's Daylight Savings time.  Or Daylight Savings ends.  Or something like that, I don't remember which.  Either way, it's 7:16pm Eastern, and it feels like Midnight, folks.
The Duffer Crew had a fantastic weekend filled with all things Homecoming 2015 and Pumpkin Carving.  Good Times.
And, here is my list of Good Stuff, Volume 4: a compendium of interesting items I've come across over the past week.
I like my days to be very structured; probably too structured.  And, I don't much welcome interruption.  Ugh, I know I have certainly been far less than gracious, when my day has been interrupted by a phone call, or by a neighbor stopping by, or by something that suddenly needed my attention.  That's embarrassing to admit.
This post by Joseph Tenney was a good reminder that interruptions quite possibly may be God-ordained.  Focusing on a quote from Bonhoeffer in his book "Life Together" we are given a gentle kick to be more flexible and to view interruptions as exactly that–the invitation from God to live life together, corporately.
I am still slowly digesting this post; it's a bit overwhelming.  Paul Maxwell talks candidly about how we should address the fears in our lives.  This right here; whew:
When we are vanquished by hypothetical monsters that dominate our hearts with fear, God breaks their kneecaps with the blunt force of his character: "I don't work that way." "For by grace you have been saved through faith; and that not of yourselves, it is the gift of God; not as a result of works, so that no one may boast" (Ephesians 2:8–9). No man, no monster, no master will boast — because the God who saves you from ungodliness without condition, also supervises the universe without condition "so that no human being might boast in the presence of God" (1 Corinthians 1:29).
I need to remember that God is a God who, in regards to the fears that haunt me, will "break their kneecaps with the blunt force of his character….no man, no monster, no master will boast….."  Yes.  Amen.  Good Stuff.
Open Culture is quickly becoming one of my favorite spaces on the web to visit.  I always, always find interesting stuff there in the literary, arts or music worlds.  Here is an interesting article that points us to the works of Bach and Beethoven, with explanation as to why.
All who wander are not lost….
Stuff around the world….
I met a new friend a few weeks back, who happens to know where Fairfield, Iowa is located.  In fact, he kind of incredulously asked "You mean you are from there?"  He was right in his curiosity–it was quite an odd little town to grow up in.  This article, by Willy Blackmore, does a good job of trying to capture some of the essence of what being "from there" means.  Oh, and by the way, Fairfield was featured on the show Blacklist a couple of weeks ago.
I've only had the opportunity to see this happen once, and good grief, it was spectacular.  I don't understand all the science, but somehow lava flowing into the cold ocean, can sometimes create its own weather system, including isolated tornadic clouds and lightning.  Folks, there isn't much more amazing than watching God create land in real-time, to the background of stunning lightning flashes.  This link will take you to footage that will give you a taste of it.
Mauna Kea:  My Favorite Place on Earth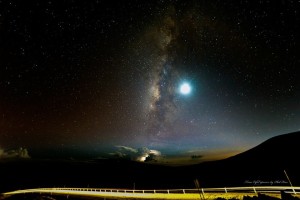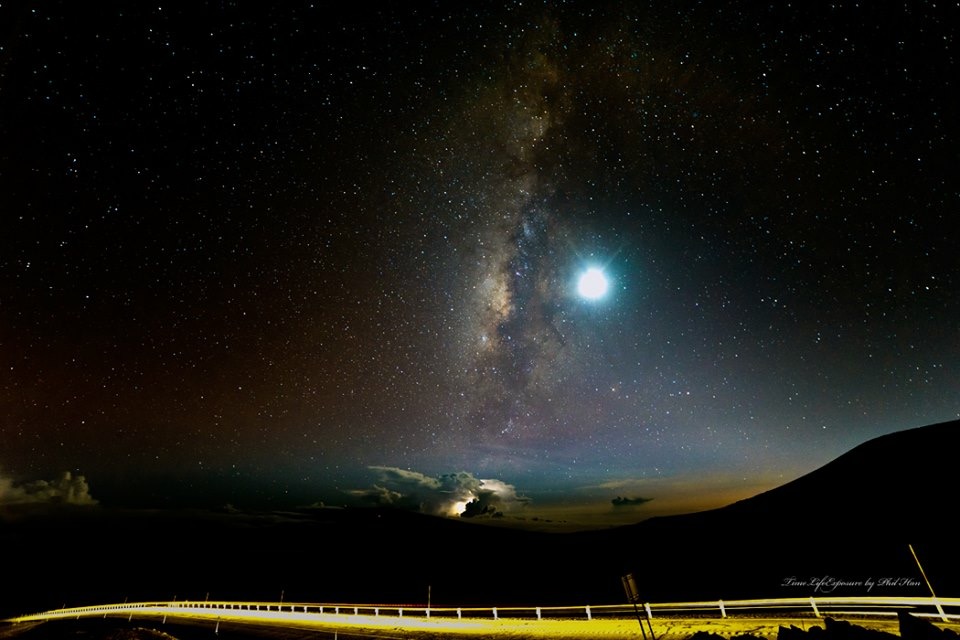 This picture was taken by a friend of a friend, in Hawaii.  It's a picture of the Milky Way, as seen from Mauna Kea.  I can't even begin to describe to you how amazing it is to stand under the stars in one of most clear atmospheric locations in the world.  It's where I first saw the rings of Saturn.  I love this place.
Sports:
I'm a failure at all things sports, but for some reason I love watching Kansas City play both football and baseball.  Maybe because they are the only two professional teams I have ever seen play in person.  So, a shout-out to the KC Chiefs for beating the Lions today, and a HUGE shout-out to the KC Royals for looking at the possibility of winning the World Series tonight.  #TakeTheCrown
Recipe
I do not enjoy cooking.  At all.  It is very rare that I bake or cook something.  But I was intrigued by this pumpkin bread made in a crockpot, and so I attempted it.  It was A.M.A.Z.I.N.G.:  Crockpot Pumpkin Bread Recipe
Music of Note
Here are some tunes I've come across, that I've enjoyed lately:
It's November, bring on the Christmas tunes!  I know people complain about Christmas music starting too early, but I now look forward to it every year.  I love the old, familiar stuff, and a handful of the newer offerings as well.  My girl and I are working on this version of O Holy Night, in preparation for our church's Ladies Christmas Tea, a fancy-shmancy event.  I love singing with my girl.
November also means cooler weather, which means, blankets, and I love curling up under a blanket to read; and while I would never seriously pay this kind of money for a blanket, doesn't this blanket from Pottery Barn look like it just screams "Grab a book by Dostoevsky, light a fire, and read for hours?"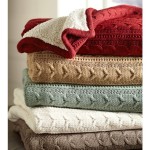 On Thursday this past week, my boy and his buddies participated in the Homecoming Pep Rally as a Powder Puff Cheerleading team.  I didn't know whether to be mortified or proud.  This has to be one of the best–and funniest–routines ever.