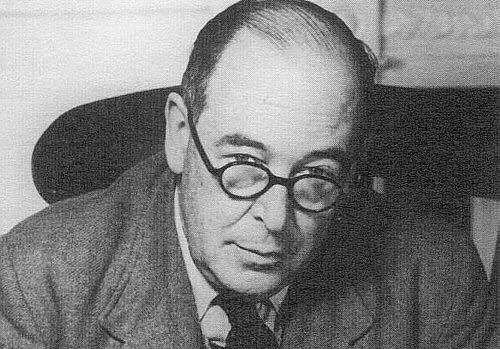 On this date, in 1963, my friend C.S. Lewis stepped through the wardrobe and found himself at the feet of the God who had pursued and secured his soul.
No, I wasn't born yet, when Lewis died, but he is a dear, dear friend to me.  I even, often, refer to him as my "Uncle".  I have a lousy imagination–I never was much one for making up scenarios in my head–but on occasion, I have imagined what sitting down to chat (debate) with him would be like, in his sitting room, before a roaring fire.  Possibly while he drank a glass of stout port wine and smoked a cigar.
I imagine, that we would have much to discuss.
God changed my soul through the study of scripture, no doubt.  But he also changed it through the writings of this man.  I should like to thank Lewis, some time, for his words.
I was very resistant to reading Lewis, when it was first suggested to me to do so.  I found his fiction writing–namely, the Chronicles of Narnia, to be dreadfully tiresome.  I don't like allegory, and I definitely, at the time, had no desire to read allegory pertaining to something I didn't actually believe in.  And, besides, the tales seemed too childish to me.  And, honestly, not all that well written.
So, I had no interest in reading his other, non-fiction, words.
But I found myself on a long flight from the East Coast, to Hawaii, and I needed something to read, so I packed his auto-biography "Surprised by Joy", in my backpack.  I grudgingly pulled it out as we took off, headed west.
And somewhere over the Pacific Ocean, I finished the book.  And something, somewhere in the depths of my brain, was different.
I felt I had "met" someone who thought like me.  Someone who asked the same questions that I did (I experienced a similar reaction to the writings of Philip Yancey).  In fact, Lewis himself has the best words to describe how I came to view him as my friend.  He wrote this, in the book The Four Loves:
"Friendship is born at that moment when one man says to another: "What! You too? I thought that no one but myself . . .""
Yep.  That's exactly how it was.  I thought that no one but myself thought, reasoned, contemplated the things that I did or do.  Yet here was this dead author, writing words that resonated with my brain.
I had met a friend.
And he has remained my friend, since that first trans-Pacific flight.  Rarely do I return to books in general, but Lewis' books are comforting friends.  I keep his autobiography near my bed.  Many times in the middle of the night, when I've been unable to sleep, I've read the words I've highlighted and underlined in that book.  The same goes for his books Mere Christianity, and The Problem of Pain, and The Weight of Glory.  A Grief Observed is on my shelf, but is too painful to return to very often.  But these others–they are as comforting as my favorite blanket or worn sweatshirt.
I think I find a home in Lewis' writings, because they are so honest.  So real.  So logical.  So basic.  So earnest.  There is no flowery, emotion-laden words dripping with sentimentality or over-the-top expressions designed to manipulate the reader into "feeling" something about God.  No, instead Lewis tackles things with–well–the best word I can come up with is authenticity.  He is who he is.  And, he is who he is, before God.  And God is who God is; so Lewis describes him as such.
Authentic.  Earnest.  Honest.  Real.
And such words wash over my soul and settle me.
So often.  So often.  So often.
So, when Lewis writes these words in Surprised by Joy, I find myself saying "Yes.  YES.  This I understand, because me too, my friend; my uncle!  Me too!":
"You must picture me alone in that room in Magdalen, night after night, feeling, whenever my mind lifted even for a second from my work, the steady, unrelenting approach of Him whom I so earnestly desired not to meet. That which I greatly feared had at last come upon me. In the Trinity Term of 1929 I gave in, and admitted that God was God, and knelt and prayed: perhaps, that night, the most dejected and reluctant convert in all England. I did not then see what is now the most shining and obvious thing; the Divine humility which will accept a convert even on such terms. The Prodigal Son at least walked home on his own feet. But who can duly adore that Love which will open the high gates to a prodigal who is brought in kicking, struggling, resentful, and darting his eyes in every direction for a chance of escape? The words "compelle intrare," compel them to come in, have been so abused be wicked men that we shudder at them; but, properly understood, they plumb the depth of the Divine mercy. The hardness of God is kinder than the softness of men, and His compulsion is our liberation."
Yes.  Because, you see, God's compulsion was my liberation, too.  I was that prodigal brought in kicking, struggling, resentful and darting my eyes, looking for an escape.
And I duly adore that Love–that God–My Lord and my God–who pursued me and captured my mind and soul, and accepted me with His Divine humility, even in my ridiculous state.
Lewis talked much about that day, when he would see God face-to-face.  He spoke often of the "realness" of that home which awaits us.  I long for that day; I ache for that day.  I think my Uncle Lewis did, too.  And on this cold, November day 7 years before I was born, he no longer longed for it, because he was home, and is home, and can say with a very realness, these words which he wrote in "The Last Battle", from The Chronicles of Narnia:
"I have come home at last! This is my real country! I belong here. This is the land I have been looking for all my life, though I never knew it till now…Come further up, come further in!"
And, someday too, I will reach the land I have been looking for, all my life.  I belong there.  And my uncle Lewis belongs there, too.
And, maybe we will sit down together, and have a nice long chat.