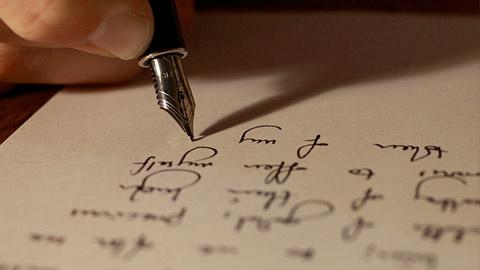 I love words.
I collect them, like some people collect baseball cards.
I have a deep appreciation for a well-structured sentence.  When I find a word that I've never read before, I get a feeling akin to joy.  When an author explains a concept in such a way that it causes me to pause and think and consider their argument—and then causes me to write a counter-argument or supporting essay….
Nerdy.  I know.
However, here's the thing:  There is something about writing words as opposed to speaking words that truly pulls at my mind and soul.
I've always written something.  Since I was a little girl.  Mostly I would just write what I saw around me:  The sky was shockingly turquoise.  The snow was biting my ankles.  My school's gym is cavernous.
On very rare occasions, I would try to write a "story", but I never got very far.  I am not creative, nor am I imaginative.  I don't think I could write a work of fiction if my very life depended on it.  It's not that I don't enjoy fiction.  I do, sometimes.  But I don't know how to write what is not true.  Story-writing eludes me.  I've written one children's book, and it was like pulling teeth.
But observations?  Yes.  Arguments?  Absolutely.  Debates?  Any time.  Thoughts?  Constantly.  Prayers?  Daily.
Writing, quite literally, keeps me sane.  (See what I did there?)
Sometimes, my brain is so full of thoughts and words and concepts and questions, that it nearly feels like it will burst.  Writing helps me sort all of that out.  If I can put one thought at a time, down in a document, it settles my mind and my soul.  I've been accused of overthinking things; and that accusation would be accurate.  But I don't know how to turn my brain off.  But writing helps me think clearer.  Sensibly.  Rationally.  It helps me see more clearly where my thinking is wrong, and helps push me toward right thinking.
Writing also settles my soul.  If I can put what churns me up, into concrete words on a page, my mind and soul both settle down.  I find this especially true in the writing of prayers.  90% of my praying is done through writing.  And those prayers are password-protected and locked away on a hard drive.  I never go back and read them; I don't have to.  Just knowing that they are there, helps assure my soul that God sees, He knows, and He hears my pathetic attempts at prayer.
I love to write.  I love words.  They are dear to me.
But, what I love infinitely more than writing, is reading the words that God chose to leave with us, as a revelation of Himself, for us.
I am so, very grateful, that God chose the written word–scriptures–to show Himself to us in a very real and tangible way.
In fact, at the very beginning of the book of John, John refers to Jesus as "The Word":
 In the beginning was the Word, and the Word was with God, and the Word was God. 2 He was in the beginning with God. 3 All things were made through him, and without him was not any thing made that was made. 4 In him was life, and the life was the light of men. 5 The light shines in the darkness, and the darkness has not overcome it.
But why?  Why was Jesus "the Word"?
I love John Piper's explanation of this:
John calls Jesus the Word because he had come to see the words of Jesus as the truth of God and the person of Jesus as the truth of God in such a unified way that Jesus himself—in his coming, and working, and teaching, and dying and rising—was the final and decisive Message of God. Or to put it more simply:What God had to say to us was not only or mainly what Jesus said, but who Jesus was and what he did. His words clarified himself and his work. But his self and his work were the main truth God was revealing. "I am the truth," Jesus said (John 14:6).
Truth.  Yes.
The words of Jesus were the truth of God.  The person of Jesus is the truth of God.
And while words clarified who He is and what He has done, it is Himself that was being and is revealed, through the words we read in our Bibles.
Jesus is the Word.  And Jesus is truth.
And those words are precious to me, and that truth is precious to me.
And Jesus…He is precious, to me.
So.  I am so grateful for the gift of His Word.  And, for the gift of The Word.
And, I am grateful for the avenue of writing words, and the settled knowing that He sees and knows what I pour out, onto paper.
And, I am grateful for you, dear reader, for taking the time to read my words.  So very grateful.  It's a strange experience, knowing your words are being read by others.  A bit disconcerting, actually.  My hope is that you will find my words to be authentic and real, and that always they will point to the only true Word and our only hope, the one who Thomas, the "doubting disciple", came to proclaim "My Lord, and My God."