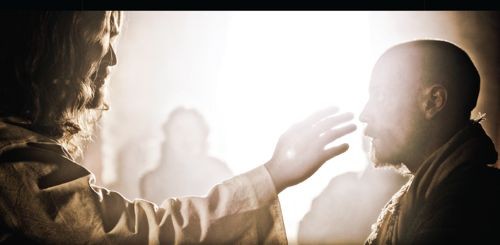 What was it like, the day after the Resurrection?
Or, rather, the days following the empty tomb?
When Jesus was there again, in their midst.  With them.  Eating, talking, smiling, teaching, walking.  Alongside them.
He had been dead.  Truly dead.  And His followers surely had sunk into the depths of despair.
Hope had disappeared.
Everything they had seen and heard and learned and felt and experienced and did—all of that, during Jesus' years of active "ministry" (is that the right word?  It must be)–between the turning of water into wine at the wedding feast to the very last act of forgiving the criminal who hung beside him on the cross—they had absorbed all of that.  Marveled at it.  They had, at times, been doubtful; surely that is true.  They had, at times, been foolish–arguing over silly matters among themselves, or vying for his attention.  At times they completely and utterly missed what Jesus was teaching them, and then at other times they seemed to grasp the truth with such clarity that surely their hearts wanted to beat right out of their chests:  "You are the Christ, the son of the living God." said Peter.
And, they had placed their hopes in that son.
To forgive them, though they probably didn't fully realize just how deeply they were in need of that forgiveness.
To save them, though they couldn't possibly have fully understood what that meant.
To reconcile and justify and sanctify them, though how could they know the depth to which these words would reach within their souls?
To guide them as a shepherd and to adopt them as their Father, though surely they were not aware that these were roles that needed fulfilling in their lives.
To love them with a magnitude of love that they couldn't have even imagined was possible.
Their hopes rested in this friend, this teacher, this man who was not a man, who claimed to be the Messiah…..
…..and yet, He had been murdered.
Their hopelessness had to have been a bottomless pit of unfathomable depths.
Three Days, of not just "not knowing".  No, these had to be three days of certainty that not only was their friend dead, but their only hope was dead as well.
We all experience hopelessness at one point or another.  There is the hopelessness when a situation seems to have no answer.  There is decided despair when the doctor says that nothing more can be done.  There is darkness when a marriage disintegrates, or a child persistently chooses a harmful and destructive path, or when a business faces financial ruin, or when a disaster takes away everything, much like Job experienced in scripture.  We who are Christ-followers, are not immune from hopelessness.
And then, there is also the hopelessness that we experience when we are apart from God; when we are mired in sin and cloaked in suffocating doubt and dwelling in the murkiness of fear.
There is nothing quite like the mind-numbing state of hopelessness, no matter what the source.
But, oh my soul, the moment that even a shred of light illumines the dark that is hopelessness, is earth-shattering.  Mind-quaking.  Relief-inducing.
Was that what it was like, in those post-resurrection days?
When Peter and John ran to the tomb, did they dare hope?  Was their quickness a result of adrenaline-fueled energy by the thought that–maybe….just maybe……He had returned?
Mary Magdalene, when she recognized Jesus standing there outside the tomb–when she cried out "Rabboni", did she not find her weeping in despair suddenly turning to weeping in utter joy and astonishment?
And Thomas.
Thomas, who I identify with more than any of the other early Christ-followers.  Thomas, who (I think) deliberately chose to not be around the other disciples in the days following Jesus' death, who chose, instead, to be alone.  Thomas–what did you do in those days?  Were you angry?  Were you stoic?  Did you walk away and throw yourself into the routine of work; the sameness of daily life–to forget?  Did you sit alone, staring at the sky for hours, trying to make sense of the things you had seen and heard?  Did your doubts threaten to tear you apart?
And when your friends approached you with the news that they had seen Jesus–that He had returned–you refused to believe.  You were not going to fall for the hope again.  It was too painful to hope like that, too painful to experience that kind of love, only to have it ripped from you by life–by circumstances–by hard things.
You, Thomas, would not believe unless you saw for yourself.
Oh Thomas, how I understand you.
And, so did our God.
Because He came to you, right in the middle of your unbelief.  Right in the middle of your doubts, and provided you with the evidence to believe–and that evidence was Himself.
Then he said to Thomas, "Put your finger here, and see my hands; and put out your hand, and place it in my side. Do not disbelieve, but believe."
28 Thomas answered him, "My Lord and my God!"
And, God, you do the same for us.
You come to us, in the midst of our hopelessness and in the quagmire of our sin and in the ocean waves of our doubts that threaten to drown us, and you say "I am here.  Do not disbelieve, but believe."
And, we fall to our knees and say "My Lord, and my God.", like Thomas.
And, we fall to our knees and say "I believe, help my unbelief!" like the gut-wrenchingly honest father in Mark 9, when pleading to Jesus for a miracle to save his boy.
And, we fall to our knees and utter words from our souls, "God, you are truth.  And you are my only hope.  In you, I place my trust. (Psalm 56)
And, we cling fast to the joy and the hope and the assurance that is the post-resurrection days, and we rest in His presence in the here and now, and we long for the day when we shall no longer see as though through a glass darkly, but rather, face-to-face–when we …..
"…..shall know fully, even as I have been fully known." 1 Corinthians 13:12
And then on the third at break of dawn,
The Son of heaven rose again.
O trampled death where is your sting?
The angels roar for Christ the King
(O Praise the Name ~ Hillsong)