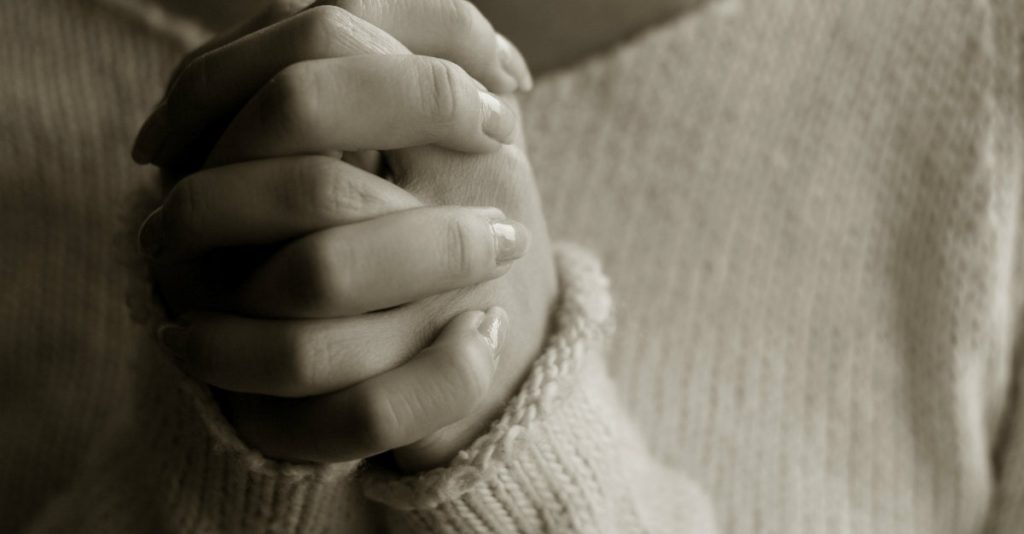 (**Part One on Prayer)
I don't understand prayer.
I suppose that is an odd way to begin a book about prayer.  And also a very strange way to begin a book containing prayers.
Which is the intent of this book.
But it is true.
I don't understand prayer.
And yet, as I grow older and more reliant on the daily spiritual discipline of prayer, I find it to be ever-increasing in its indispensability to my every-day-living.
I would go so far as to say that I need it—rely on it—depend on it….as much as I do upon food, water, and even oxygen.
Does that sound fanatical?  Over-the-top?
Maybe.
But maybe not.
Maybe it is not that radical of a statement, because of the very definition of prayer itself.
Definition of Prayer
Webster defines "Prayer" with the following words:  "…an address (as a petition) to God or a god in word or thought." (Encyclopedia Britannica)[1]
That's a good starting place, I suppose.  It supplies us with the noun "Address".  Prayer is language, directed at someone.  The recipient or hearer of the petition/address, according to this dictionary entry, is "God" or a god.  And, because the object is language (address), the delivery method is word or thought.
This definition is helpful.  It provides some boundaries for a discussion on prayer.  However, while it may be a good start, it is not the best start.
The best start, as Christ-followers, is always scripture.  Always.  And while a dictionary entry is useful in helping us put our thoughts and questions into language, it does not give us the needed foundation of truth upon which to stake those thoughts, questions and language.  We need an anchor.  We need a base that will not rust…that will not evolve or change as cultures and worldviews change definitions.
We need the Bible, in order to begin to wrestle with this odd thing that prayer is.  We need the unchanging, always inerrant truth that the Word of God is, in order to delve into the depths of the mystery of prayer.
So, that's where we will begin.
But first, a disclaimer.
I am no expert.  There are many, many men and women far wiser and more knowledgeable than myself, that I am indebted to.  Some are authors whose books I cherish:  Tim Keller.  Philip Yancey.  C.S. Lewis.  John Piper.  John Stott.  And so, so many more.
And some are dear friends, who have patiently answered my questions and heard my frustration as I've walked this journey both before I became a Christ-follower, and in the years since.  Pastors who have boldly and bravely and unapologetically preached biblical truth from the pulpit week after week.  And friends who have modeled the discipline of honest, earnest and real prayer for me, as they have addressed our God in both the joyful times and in times of great grief in their own lives.
And, of course, friends who have prayed with me and for me during some of the darkest times of my life.
I am deeply grateful this "cloud of witnesses" that has and continues to surround me.[2]
Even though I am certainly no expert, I am a fellow sojourner bumbling and stumbling through the spiritual discipline of prayer.  And as a non-expert, I invite you and hope that you will join me over the next 30 days, as we work together to implement the things we see and learn about prayer in scripture—and particularly in the Psalms.  You will not find this to be a deeply academic tome, or an exhaustive examination of all aspects of prayer.  I will leave that to those far more qualified than myself.  But I do hope to stir you to think a bit deeper about prayer—its purpose and its practice.  Because, truly, it is practice.  It is not something we will ever perfect.  It's not meant to be perfected, because if we could ever perfect it, then there would be no place for grace and that sweet yet challenging need to be dependent upon the one who has granted us the very gift of prayer.  His accessibility, and our dependence upon him culminate in the words we utter to Him.
Each day will consist of a short essay on an aspect of prayer, followed by a prayer reflecting on a Psalm or other passage of scripture.  The prayers I share are nothing special.  They are not eloquent.  They are not magic formulas.  I share my prayers as a window into my attempt to address our gracious and merciful God, who sees us, knows us, and listens to us.
Your Words, O God:  A Prayer with Psalm 119 in Mind
Our words often fail us, God.
We approach you in our fumbling attempts to pray to you.  This very strange and wonderful and odd act of addressing you in thought and word—how does it work?  How do you hear us?  Why did you choose prayer as the form in which to communicate with you our deepest fears and griefs and joys and anxieties and elation and frustrations?
Why did you create language and sentences and words and letters to foster communication not only among ourselves as humans, but more importantly with you—our creator and savior and sustainer?
It is a marvelous mystery.
A beautiful mystery.
At times, a comforting mystery.
At other times, a hollow mystery.
We are bewildered by it, yes.  But we are also grateful for this avenue to be heard by You.
And, to hear you.
So.
Teach us God, how to pray.  What to pray.  When to pray.
Teach us, because prayer does not come naturally to us.
At least, it does not come naturally to me.
Teach me, O God.
Through the wise words of those who have walked this path before us—yes.
Through those around us who are gracious to mentor us from the pulpit are as they walk—and pray—beside us:  yes.
But mostly teach us through your very own words God, in scripture.  Give us a hunger to seek you out in scripture, and to seek out what You would have us learn about prayer, in scripture.
It's the words in Psalm 119, God—such a beautiful intertwining example of a passion for Your words and a longing for the very core of who you are.  The two are inseparable.   The Psalmist cries out, in 119:94, "I am yours; save me, for I have sought your precepts."
Yes.
And we pray, too, alongside the Psalmist in 119.
We are yours.
Save us…..for we have sought your precepts.
Teach us to long for your precepts.  Teach us to long for you.
Teach us to pray.
References
Encyclopedia Britannica. Merriam-Webster Dictionary. 2016. <http://www.merriam-webster.com/dictionary/prayer>.
The Holy Bible: English Standard Version. Wheaton: Standard Bible Society, 2016.
[1] (Encyclopaedia Britannica)
[2] (The Holy Bible: English Standard Version)