I often file away interesting tidbits that I come across while meandering (um, wasting time) on the internet.  Here are a few things I've come across lately, that I've found interesting or helpful.
Productivity Tool:  Trello
Yes, I'm one of those productivity crazies–always looking for ways to be more productive and efficient with my time.  Searching for just the right tools and processes to help me get more done in a day, and stay organized.
I've been using Trello now for about a year, and I'm absolutely sold on it.  I've used it for big projects, such as our family trip to Hawaii earlier this year, to my Everyday Task List, which I use, um, every day.  Combined with Evernote (my system for holding all pieces of data that I may need to keep), Trello has become nearly indispensable for me.  And, if you are familiar at all the Project Planning and Agile development–Trello is owned by the same folks who created JIRA and Confluence, so it is great for team work, too.  Here is a sample of one of their blog posts, so you can get a taste of all that Trello has to offer:  Trello Blog
Johnny Cash
Johnny Cash–probably one of my all-time favorite musicians, so any time I see an article about him, I read it.  I enjoyed this article over at Open Culture, and their posted video of Johnny and Joe Strummer (who I had never heard of before) singing one of Bob Marley's songs, "Redemption Song".  Always good to hear a Johnny Cash song:  Redemption Song
Our History in Pictures
The folks over at 22-Words gathered together a photo essay of 49 iconic and powerful pictures from the history pages of the United States.  I usually prefer words over pictures, but I was mesmerized by the images captured through the years, and the stories those images tell without words:  Historical Pictures
The Call to Write
Loved this article this week, from DesiringGod.org:  "God Made You a Writer".  I'm not sure that I agree with the author 100% – I did find tremendous encouragement in it.  I love the written word, I love that God uses written words (Scripture) to reveal Himself to us, and, I personally love to write.  I particularly loved this quote–it resonated with me deeply:  "Christianity is not a quiet faith, but a loud one, full of words."  It even made me chuckle, because even my writing is loud, because I type loudly.  Check this article out by David Mathis, and take up the challenge to write:  God Made You a Writer
Scientists and Engineers Needed!
I so loved this article, featuring my dear friend, DaNa Carlis.  Dr. Carlis is a meteorologist, for NOAA.  But even more than that, he is a tremendous role model and encourager of young students of all colors and ethnic groups, to work hard in school and pursue their passions.  He takes time to mentor boys through his church, and never turns down an opportunity to talk to school classes about science careers.  Teacher friends–this would be a fantastic article to share with your students, especially if you teach in the STEM areas of education:  Calling Scientists of all Colors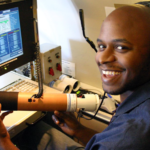 The Milky Way and the Aurora Borealis
I could watch this video a thousand times.  Check out this timelapse capture of the Milky Way and the Aurora Borealis.  Amazing.  Definitely on my bucket list, to see this occur in person some day.