I often file away interesting tidbits that I come across while meandering (um, wasting time) on the internet.  Here are a few things I've come across lately, that I've found interesting or helpful.
74 Ways Characters Die in Shakespeare's Plays
The folks over at Open Culture delighted me yet again this week,with their infographic and article about all the ways Shakespeare killed off his characters.  Love it.  My favorite:  Baked into a Pie.  That's an awesome way to go.  Make mine cheesecake, though:  74 Ways Shakespeare Offed His Characters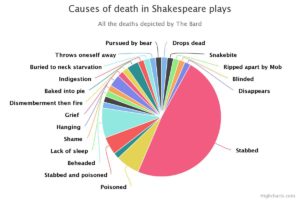 Paying Attention
Brainpickings is another website I enjoy exploring from time to time.  I thought their recent article about William James and his thoughts on the concepts of "paying attention", multi-tasking and genius, was an interesting read, especially in light of how "distracted" as a society we have become:  Habit of Mind
We Should Not be Colorblind
I have come to love Trillia Newbell and her writing.  I find it to be solid, biblical, and both encouraging and challenging.
In the aftermath of recent events in Charlottesville, VA and other cities, she wrote a brief, excellent article that I wish I could get into the hands of so many people:  Four Reasons You Shouldn't be Colorblind
Travel to the Stars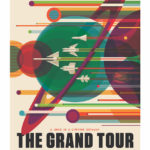 Yet another gem from OpenCulture this week—NASA's Jet Propulsion Laboratory's Design Team has created free, downloadable "retro" travel posters depicting trips to other worlds.  I found them to be unique, fun and overall wonderful.  My favorite book growing up was "Journey to the Mushroom Planet", which had a sort of "retro" look to its cover, even back in the early 70's–and these posters remind me of what fun I had reading that book over and over again.  NASA Travel Posters
Mattress Mack
Like all of America, I've been heartbroken by the stories coming out of Houston and other areas of Texas.  On Sunday, I anxiously waited for word that my ex-husband's aunt and uncle had made it to safety–they ended up having to be rescued from the second floor of their home, by boat.  They made it out with just some clothes and their medicines.
I've also been encouraged–as I'm sure you have been, as well, dear reader–of the stories of heroism and fortitude and sacrifice that have also poured out in the wake of the monster Harvey.  So many.
One of my favorites is the story of Mattress Mack.  Take 5 minutes and watch this news story.  Watch how he cares for the people taking shelter in his showroom and warehouse.  Be grateful, inspired and challenged.